Welcome back to Atlassian Team 22 Announcements
This follow up blog deep dives into even more exciting Atlassian Team 22 updates announced in Las Vegas, April 2022.  Read part 1, then explore part 2 below. Part 2 provides a deeper review on Atlassian's DevOps approach, micro services and Atlassian Cloud FDA Part 11 validation.
Atlassian's Approach to an Open Toolchain
Atlassian are recognised as Gartner Visionary and winner of the Forrester Leader 2021 awards. So, it's fair to say they have the skills and experience to develop software for teams and enterprise.
On day 2. of the Atlassian Team 2022 conference, Co-Founder and Co-CEO Scott Farquhar, discussed tools and integrations. He noted there are competitors that want you to move to a single tool that does everything. Farquhar explained that it is not possible to standardize one tool for all your service needs.  You need different tools for different teams.  
A good tool should integrate well, allowing teams to use what they want while still reducing silos.  Farquhar reiterated that this statement included non-Atlassian tools as well, which is why their open toolchain approach includes non-Atlassian tools. Atlassian built their Cloud platform with over 1500 microservices because they know that one tool does not fit all use cases.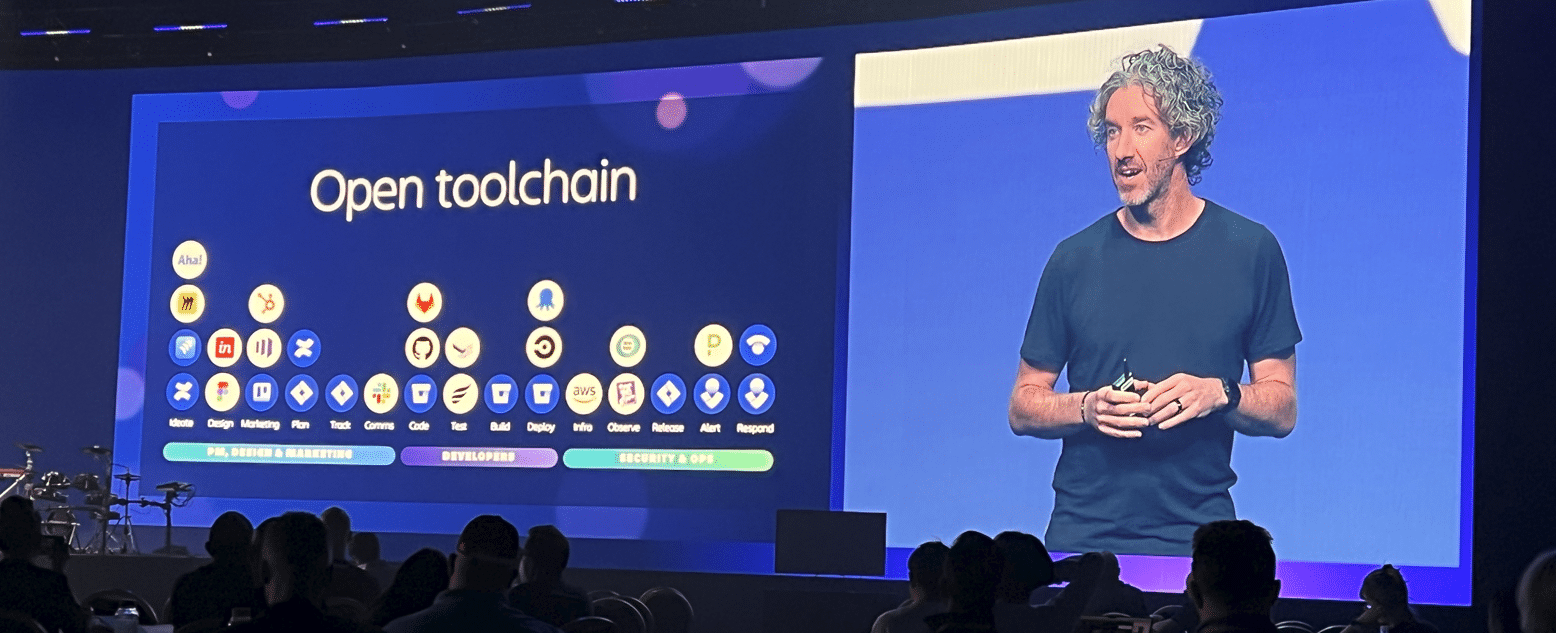 Farquhar and Head of Marketing for Agile and DevOps Solutions, Justine Davis, detailed how Atlassian are investing dedicated development time to create intentional integrations. Their focus is to integrate with many dev and team products as possible. This will support businesses to efficiently and effectively release digital products. 
With deep integrations for Jenkins, GitLab, Dynatrace and more, Atlassian is investing in delivering authentic DevOps practices.  If development teams already have tools they use, no problem.  It's simple to swap out the tools in Open DevOps because of the way they approach the market.
Atlassian Team 2022: Compass and Jira Software Announcements
Tiffany To, Head of Product for Agile and DevOps Solutions at Atlassian, described Compass, its main components and how they benefit the organization.  Her focus was three fold: 
Component catalog – This feature intends to allow developers to see application project details, project related dependencies (including when those projects were updated which is super useful), technologies used in that project and more.
DevOps Health – Compass provides a DevOps health status that gives teams scorecards regarding their technologies and processes.  To said "Automated score cards are the missing piece to your DevOps implementation."  Compass can provide recommendations and provide teams guidance and ideas on how to improve their in-progress digital assets.
Extensibility engine –

 Within Compass is the e

xtensibility engine

which gives teams different tool options to achieve success.  It is built with extensibility in mind to help customers easily integrate with any internal or third party tools, Compass ingests and displays relevant data in one place. This aims to reduce time wastage and improve focus on action instead.
Lastly, Tiffany To displayed an example of the previously mentioned "Design" tab coming soon to Jira Software.  Along with Jira Product Discovery and Compass, this shows Atlassian's commitment to support teams and the open toolchain. Ultimately, Atlassian wants to make it easier for teams to get work done.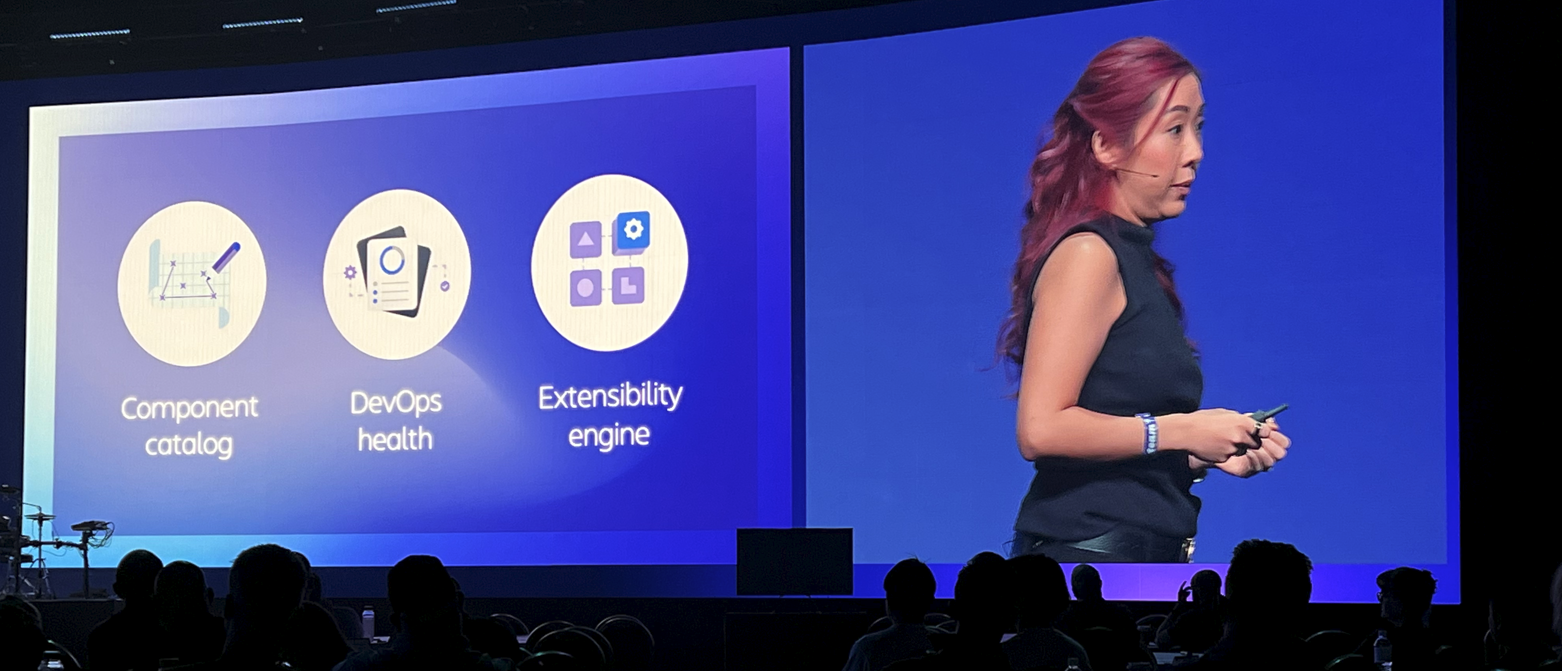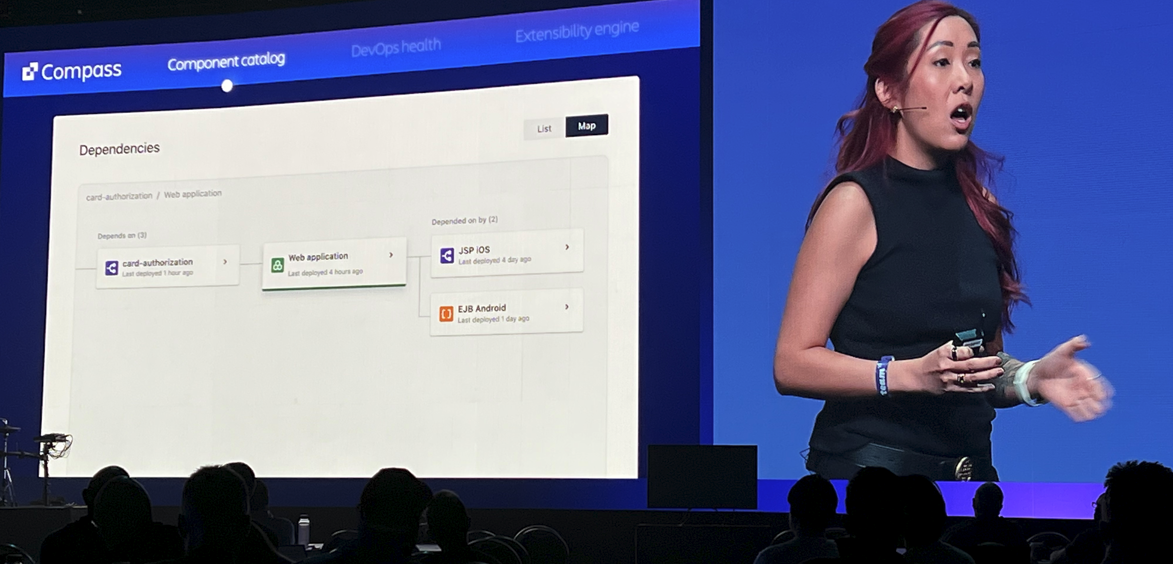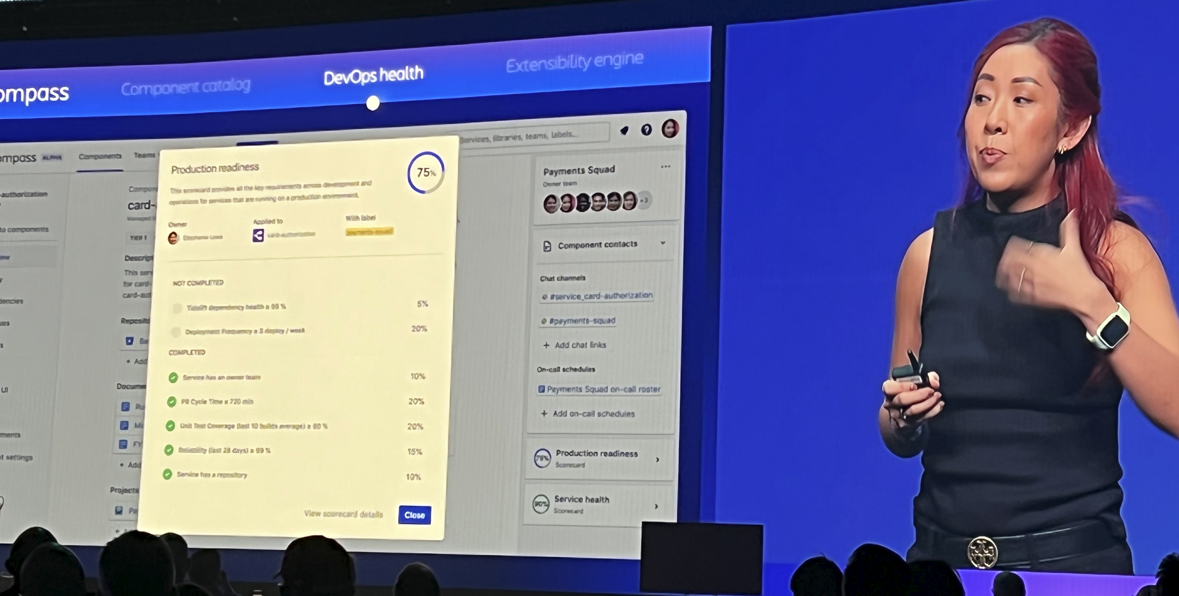 Jira Service Management Form Builder
Distinguished Product Manager for Atlassian, Sherif Mansour, announced a new  Jira Service Management (JSM) feature that was extremely very well received by the audience at Atlassian Team 22. 
The use of a low-code/no-code form builder in JSM, much like Google forms will have over 300+ form templates for anything from catering requests to legal reviews.  Additionally, you will no longer need to purchase an additional marketplace add-on to simply display a form in JSM Cloud.  Now, you'll be able to select from a template, modify to your needs, and save it. 
Data can now be captured and used as you need to in your service project.


Atlassian JSM Announcements 2022
There were also several other JSM features announced for the upcoming quarter. 
Monsour announced a JSM built-in knowledge base.  While it was not discussed in much detail, the theme of modern support complimenting this announcement would mean organizations would not have to purchase Confluence if using solely as a simple knowledge base system with their service desk.  We expect to see further announcements on this in the coming months. 
Another JSM announcement was regarding a feature for Change Management Scheduling.  This would assist Dev and IT Ops working in a better harmony while still using separate tools, Atlassian showed how CI/CD tools would be integrated with JSM allowing change managers the ability to automatically approve low risk changes. High risk changes would still require human review. It was also announced that this risk assessment engine would contain the ability for medium risk changes to 'soak' and potentially be deployed to staging for a period of time.  After that time had expired without further incidents, the change would be eligible for moving to production.  Additionally, a calendar view aligns teams (or change managers) when other changes are scheduled, automatically ensuring changes are not scheduled overtop of one another.
No Waiting for Trello:  It's already FedRAMP Certified
As showcased at the Atlassian TeamTour Government edition in early 2022, Space Force is digitizing onboarding processes and work management with Trello from Atlassian. 
When Space Force was created in 2019, they used the same analog onboarding process most agencies are familiar with. Since then, they have completely transformed their onboarding process.   Erika Trautman, Head of Work Management for All at Atlassian detailed how Trello is already FedRAMP certified. Trainman also explained how Space Systems Command (SSC) shifted its employee onboarding experience from an in-person paper-and-pen environment to a digital water cooler and communication hangout.
This could be one way for government agencies to begin using Atlassian products. Implementing them on the work management side while waiting for FedRAMP compliance for Atlassian Cloud products in the next few years.
FDA Part 11 Validation for Atlassian Cloud
As a trusted partner to the medical device community for computer system validation, SPK felt it important for Atlassian to put out guidance regarding validating the Atlassian Cloud for FDA Part 11 validation purposes for traceability. 
The Atlassian Cloud product team acknowledged they had not communicated validation processes due to other certifications being higher priority in order to open up markets like healthcare and finance.  Be on the lookout for updates from Atlassian in the coming months with additional guidance.  SPK will lead the charge to get guidance published for validated systems.
How "Associating" Can Drive Change
The keynote at the end of day 1 was from author and former monk, Jay Shetty.  His topic was how connected thinkers will build the future. 
He had some very interactive methods to divide the audience and highlight the importance of collaboration to succeed. In the process of discussing different personality types, he made mention of a study of 6,000 top executives.  The top common skill within this executive study group was "associating".  Jay explained, associating meant that they could see common actions and ties when talking to different people from different industries.  These executives could associate or connect the common thread in different industries and situations.  This gave them an enriched and more integrated understanding of the world around them. It is the ability to associate that brings leaders to the forefront of change.