Codebeamer Cloud Hosting
SPK and Associates offers cloud hosting services for PTC Codebeamer ALM, leveraging the robust infrastructure of either Azure or AWS.  With our expertise in both platforms, we provide a reliable and secure environment for hosting your Codebeamer ALM solution. Whether you choose Azure or AWS, our team ensures seamless integration, high availability, backups, and optimal performance, allowing you to focus on your application lifecycle management without the hassle of infrastructure management. Benefit from the scalability, flexibility, and industry-leading security features of Azure or AWS, combined with SPK and Associates' dedicated support, technical expertise and service level agreement will provide maximum efficiency and effectiveness of your Codebeamer ALM implementation.

Contact a Codebeamer Hosting Expert Today!
Codebeamer ALM Cloud Hosting Services with SPK
SPK and Associates offers three distinct Codebeamer Cloud Hosting packages to cater to varying needs: Basic, Standard, and Enterprise. The Basic package provides a cost-effective solution with essential features, reliable hosting, and standard support for smaller teams or projects. With the Standard package, you gain additional benefits such as advanced security measures, larger infrastructure, and enhanced support services, making it ideal for medium-sized teams and projects. For enterprises with complex requirements and high demands, the Enterprise package offers top-tier performance, dedicated resources, advanced integrations, 24/7 support, and advanced security features. Whether you are a small team, a growing business, or a large enterprise, our Codebeamer Cloud Hosting packages provide monitoring and backup solutions to ensure seamless application lifecycle management with maximum efficiency and reliability.
24/7 Monitoring & Response (Availability)
24/7 Monitoring & Response (Performance)
1 - 50 Registered Licenses (or equivalent)
25 - 99 Registered Licenses (or equivalent)
100+ Registered Licenses (or equivalent)
12 Month Backup Retention
What makes SPK and Associates different?
On average, clients work with SPK and Associates for 8+ years
20+ Years of experience with medical device, aerospace, automotive and other regulated industries
Uniquely positioned with years of understanding of both hardware and software product development
Their talent is top notch and augments and deepens our engineering capabilities in technical areas where we lack expertise and cannot add dedicated personnel. 
Working with SPK feels like working with co-workers in my company, not like interacting with a typical technical support vendor. SPK staff are responsive and partner with me.
The personalized attention and detailed communication we receive working with SPK and Associates is pretty special. The accessibility of SPK team members is impressive...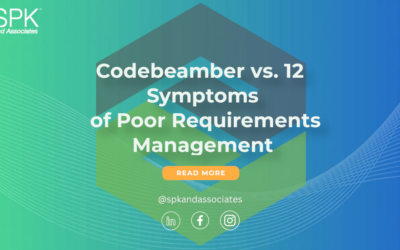 Managing requirements can feel like a flawed game of telephone—messages get distorted by the time they reach their destination. This doesn't just waste time and resources, but puts the entire project at risk. Legacy tools often fall short in meeting modern project...