Selenium Consulting Services
Automating Testing Experts
SPK's consultants are experts in using Selenium for automating website testing. Whether you're new to Selenium or already have BDD/TDD experience, our team can help take your automated testing to another level. Quality is important to us and our teams pride themselves in helping clients move their products from idea to implemented as quickly as possible. Trust the experts at SPK to help with all your Selenium automation consulting needs. SPK's Selenium experts can help you get your automation up and running quickly. Our experts will work with you to come up with the best Selenium strategy and framework for your needs. Also, because of our extensive
Software Development Lifecycle
understanding, we can help with not only Selenium, but also other delivery needs including other DevOps services. Contact SPK today to start your automated testing journey with us.
Talk with SPK's Software Testing Experts
Their talent is top notch and augments and deepens our engineering capabilities in technical areas where we lack expertise and cannot add dedicated personnel. 
Working with SPK feels like working with co-workers in my company, not like interacting with a typical technical support vendor. SPK staff are responsive and partner with me.
The personalized attention and detailed communication we receive working with SPK and Associates is pretty special. The accessibility of SPK team members is impressive...
SPK's Selenium Consulting Services
SPK can help with many facets of automated testing, including implementation, training or actually doing the automated testing itself.  Need test automation up and running fast? We can get it going quickly so you can reap the benefits.
SPK offers multiple options for engagement models.  If your team would like to own Selenium automation, we can build it, then turn it over to your team.  We can offer the proper training and maintenance options as need.  Alternatively, if you want SPK to be your Selenium partner, we can take care of it for you as long as you'd like.
Talk to us to learn how our Selenium practice can help you reach your goals.
Talk with an Expert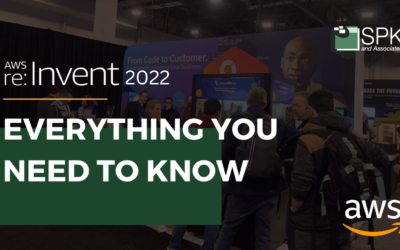 Miss out on AWS re:Invent 2022? Or, just looking for a recap on the latest AWS updates and releases from the event? Check out the summary below. What is AWS re:Invent? AWS re:Invent is an annual conference hosted by Amazon Web Services (AWS) for developers, customers,...