Google Workspace Managed Services
SPK's comprehensive Google Workspace managed services to businesses help streamline your operations and maximize the benefits of this productivity suite.  As an award-winning, woman-owned MSP, SPK can handle the setup, configure, and provide ongoing management of Google Workspace accounts, ensuring that you have a seamless experience while leveraging the full potential of the platform.  Our services include things such as user provisioning, email migration, data backup and recovery, security configuration, and ongoing technical support.   Why waste time researching, configuring, and modifying your Google Workspace account when you can focus on their core business activities while relying on experts to handle the complexities of the platform.
Our team will act as your technical expert by providing best practice Google admin usage for your organization.  We provide security consulting along with advice on integrations and configurations to maximize your Google investment.  Our team will act as your Google Collaboration Engineer, which will be a core part of your team.
Example Google Workspace Managed Services
Security Health Check
Designed specifically for Google Workspace, this service includes a security checklist from the Center for Internet Security (CIS) to review best practices and benchmark your Google Workspace instance across Google's Security & Data Protection guidelines.
Event Management & Observability
SPK's team will make sure configuration items and services are constantly monitored and to filter and categorize events in order to increase resiliency.
User Administration
Our team will be responsible for account creation and deletion, along with the setup of 2FA as needed.  We'll also work with you to develop the right groups and security roles.
Integrations & Automations
Focused on employee efficiency, our team will provide you with some of the best productivity features that your team can implement to maximize performance.  Our experts can enhance productivity and collaboration for your users, while reducing costs.
Their talent is top notch and augments and deepens our engineering capabilities in technical areas where we lack expertise and cannot add dedicated personnel. 
Working with SPK feels like working with co-workers in my company, not like interacting with a typical technical support vendor. SPK staff are responsive and partner with me.
The personalized attention and detailed communication we receive working with SPK and Associates is pretty special. The accessibility of SPK team members is impressive...
Google Workspace Expertise At Your Fingertips
Our team of experts are ready to advise you on Google Workspace solutions, including co-creating your collaboration and security strategy, any cloud migration, license management, and helping you achieve efficient business operations with your Google investment.
Talk with an Expert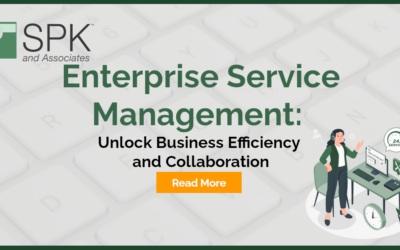 IT Service Management (ITSM) does more than just offer IT support. At SPK and Associates, we see it as a key to delivering seamless IT services from start to finish. Because technology is at the heart of every business team today, ITSM supports various technologies...