PTC Windchill PLM Implementations & Consulting
PTC Windchill is the premier PLM software solution providing security and traceability for your intellectual property while managing every aspect of your product development and manufacturing processes.  As trusted PTC Partners, SPK and Associates brings the expertise and experience needed to provide the best possible prices and the highest level of support for every PTC product.  Contact us today to learn more about how we can provide licensing and implementation support.

Talk to PTC Partners and PLM Experts

SRAM deployed PTC Windchill to integrate and unify the engineering processes for all its brands. The company's rapid growth through acquisition resulted in engineering and development groups that were not able to communicate and share information across departments.  The company needed a solution that would support its holistic business process approach to the creation and management of product data, with PLM integrating processes, technology and people into an information backbone to facilitate a lean enterprise. Nucleus found that PTC Windchill enabled SRAM to create uniform product data management and workflow practices, resulting in increased engineering productivity, improved customer satisfaction, and more accurate decision making across the enterprise.

STRATTEC Security Corporation deployed PTC Windchill to replace its existing product lifecycle management (PLM) solution and improve product design tracking and collaboration. Nucleus found that PTC Windchill enables the company to increase productivity and reduced design costs and waste.  Learn how STRATEC Security got 122% ROI in 11 months and an average annual benefit of over $1M.
PTC Windchill  PLM Software
PTC Windchill is a family of Product Lifecycle Management software products that is offered by PTC and sold/serviced by it's partners, such as SPK and Associates.   PTC Windchill is a proven out-of-the-box PLM software solution to help manage every aspect of information about your product development and manufacturing process.  Windchill acts as the single source of product information all the way up and down the organization.
PTC Windchill Capabilities & Benefits:
Built-in integration with all major product development software including all PTC products
Easy connectivity to other enterprise systems
Supports distributed product development and enables real-time collaboration across firewalls
Drives cross-enterprise understanding of complex content – regardless of source
What makes SPK and Associates different?
On average, clients work with SPK and Associates for 8+ years
20+ Years of experience with medical device, aerospace, automotive and other regulated industries
Uniquely positioned with years of understanding of both hardware and software product development
Their talent is top notch and augments and deepens our engineering capabilities in technical areas where we lack expertise and cannot add dedicated personnel. 
Working with SPK feels like working with co-workers in my company, not like interacting with a typical technical support vendor. SPK staff are responsive and partner with me.
The personalized attention and detailed communication we receive working with SPK and Associates is pretty special. The accessibility of SPK team members is impressive...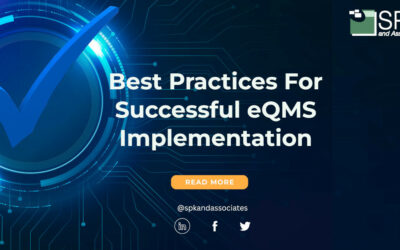 Are you a medical device manufacturer seeking to overcome the challenges of your current quality management? Let me help you show you the light. In this blog, we will show you the advantages of adopting an Enterprise Quality Management System (eQMS). Better yet, one...