Cucumber Consulting Services
Testing using Behavior Driven Development Framework
SPK provides architect support and implementation for the powerful Behavior Driven Development (BDD) framework with Cucumber for better collaboration, simplified process, early test involvement, and faster Automation.   Our experts can form a strong alliance for with your stakeholders in order to accomplish your business goals.
BDD tools such as Cucumber are used by SPK in order to easily integrate with build tools like Maven, Ant, and CI/CD tool like Jenkins.  SPK's DevOps experience gives us the advantage over others because of our extensive experience in years of Software Development Lifecycle experience.  Talk with an expert today so we can learn more about our Cucumber and BDD can improve your time to market.
See what SPK's Cucumber experts can do for you!
Their talent is top notch and augments and deepens our engineering capabilities in technical areas where we lack expertise and cannot add dedicated personnel. 
Working with SPK feels like working with co-workers in my company, not like interacting with a typical technical support vendor. SPK staff are responsive and partner with me.
The personalized attention and detailed communication we receive working with SPK and Associates is pretty special. The accessibility of SPK team members is impressive...
Benefits of Behavior Driven Development with Cucumber
Reusability
BDD implementations service the purpose of end-to-end test environments and provides code to be reusable with simple test scripts.  Being able to reuse code allows teams to build solutions in a more modular fashion allowing for better architecture and less technical debt.
Cost Reduction
Using Cucumber and BDD, organizations can reduce development efforts by 20%, which also helps improve quality and reduce early defect detection.
Accelerating Time to Market
Cucumber is a BDD tool, which is part of the evolution of Test Driven Development (TDD).  The practice of TDD enforces a quality first approach, and starts with tests first in the development process.  This methodology reduces defects and leads to less rework, thus a faster time to market on a much more quality product. 
Integration with Other Tools
Unlike other tools, Cucumber is a modern software application that integrates with many core DevOps pipeline tools. Regardless of your stack, there are ways to integrate Cucumber into your CI/CD pipeline along with other critical tools in your stack. 
Shifting Left Securely
Testing early means detection of defects sooner in the process, and reducing the time it takes to find those defects.  With Cucumber, your team can create test case definitions in the requirements gathering phase of development, thus empowering developers to be part of the security and quality solution.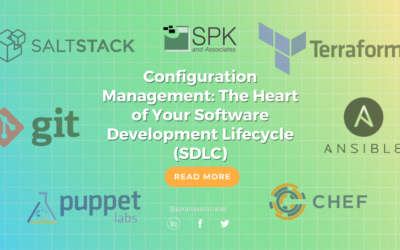 Does your software development organization have a well defined and implemented configuration management (CM) process? For many organizations, they equate the CM process with having a revision control tool in place. While versioning is a necessary prerequisite to...