Purchasing PTC Codebeamer ALM Licenses
As a leading Application Lifecycle Management (ALM) platform, PTC's Codebeamer ALM empowers organizations to streamline their software development processes, enhance collaboration, and achieve greater efficiency along with fitting into regulatory compliance needs. This overview will provide you with valuable insights into the various licensing options available, discounts that SPK can provide as a PTC partner, and a recommendation on the right mix between concurrent (floating) licenses and registered (named) licenses that fit your needs. Whether you are a small development team or a large enterprise, SPK is the right partner for acquisition of Codebeamer ALM licenses since our team can provide quick start programs to full workshop assessments to setup the right solution with the right level of training for your needs.  Our team will ensure that you can optimize your development lifecycle while staying within your budget.
Codebeamer License Basis Types
Codebeamer ALM offers few flexible license basis types for customers.  This includes two different licensing options.
Concurrent (Floating) Licenses
A Concurrent license (also known as a floating license) grants an organization a set number of 'seats', meaning a certain number of devices or users can access the software application and data at any given time.  For example, an organization that has 20 people in the US, 20 people in Europe and 20 people in Asia may opt to get 15 Concurrent Codebeamer licenses which will allow up to 15 people to be logged in at any one time.
Registered (Named) Licenses
Registered licenses (sometimes called named licenses) give an exact number of registered users the right to use a resource, e.g. a software or platform. This means that only a predefined number of selected users may access the resource. Named licenses are also known as single licenses or user licenses.  For example, an organization with 60 users that needs access to Codebeamer may buy 60 Registered licenses.

Codebeamer Licenses
PTC has streamlined Codebeamer licensing to be very easy.  As such, the following license options are how licenses can be purchased for Codebeamer.  Each of the 4 license types below can be purchased as a Concurrent or Registered license.
OSLC Client & OSLC Server
Automotive Template (ISO26262 & ASPICE)
Avionics Template (DO-178C, DO-254)
Medical Audit & CAPA Template
Medical Software Engineering Template
Pharmaceutical Template (GAMP 5)
Quality Management Template (ISO9001)
Restrictions/Notices:
To purchase more than one template, Codebeamer Advanced or Premium must be purchased.
Customers cannot mix 'Codebeamer Basic', 'Codebeamer Advanced' & 'Codebeamer Premium' but they can always add 'Codebeamer – Collaboration' to any of these three.
Each Codebeamer customer receives 1 Concurrent & 3 Registered licenses for both Test and Development environments at no additional cost.
As a PTC partner, SPK and Associates has the ability to provide discounts for 1 and 3 year commitments.  Contact our team to determine discounts available.
Codebeamer Feature Explanations
Requirements, Risk & Test Management
All requirements, risk and test engineering capabilities
Dashboards, reports and trackers
Kanban board
Burn down and burn up charts
Scrum planning & backlog grooming
All review capabilities, including create reviews, assign reviews, etc.
Import projects from other Codebeamer instances
Export projects and configurations for other Codebeamer instances
Manage SLAs with automation and notifications.
Content Management
Easy to use wiki and knowledge management.
OSLC Capabilities
Link and trace with other PTC and 3rd party tools using OSLC
Client and Server capabilities
Working Sets
Manage parallel product development with PLE.
Branching and merging to manage complex projects.
DOORS Bridge & ReqIF Import/Export
DOORS Bridge to enable migration from IBM Doors Classic to Codebeamer
Includes the capability for baseline sets and history import
Jira Connector
Data synchronization between Jira and Codebeamer
2-way synchronization
SCM/GitHub Integration
Source code development integration between Codebeamer and GitHub
Advanced Content Management
i.e., Tracker Type Document
Secure, role-based document access to share, upload, download, browse, version, approve and track documents
Clustering Capabilities
Performance and high availability management/features.
Horizontal and vertical scaling.
Deployment Functionality
Capabilities for the deployment of Codebeamer projects across multiple Codebeamer instances
Windchill Requirements & Validation
Ready to Speak with a Codebeamer License Expert?
With the complexities of software licensing, SPK and Associates has the ability to understand your requirements and find the best deal for you.  Contact our team today.
Their talent is top notch and augments and deepens our engineering capabilities in technical areas where we lack expertise and cannot add dedicated personnel. 
Working with SPK feels like working with co-workers in my company, not like interacting with a typical technical support vendor. SPK staff are responsive and partner with me.
The personalized attention and detailed communication we receive working with SPK and Associates is pretty special. The accessibility of SPK team members is impressive...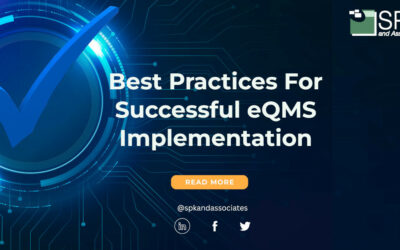 Are you a medical device manufacturer seeking to overcome the challenges of your current quality management? Let me help you show you the light. In this blog, we will show you the advantages of adopting an Enterprise Quality Management System (eQMS). Better yet, one...