Certified GitLab Experts
SPK's team of experts has the experience to help you in your DevOps journey.  At a high level, each GitLab implementation/migration is different.  To address those differences and understand the quickest way to value, our team will hold discovery sessions with your software and systems engineers, security specialists, and other IT stakeholders to understand your deployment requirements. Using the GitLab reference architectures as a guide, our team will provide a detailed roadmap that will utilize industry standard architecture and tools to walk your engineers through how to deploy the multi-component, highly available architecture. 
Our DevOps as a Service model allows us to be invovled as much or as little as you desire.  SPK's flexible services can include building a plan for disaster recovery, planning for software version upgrades, infrastructure management and more.  Trust a certified partner for your implementation.
Talk to Our Experts About Your DevOps Journey
GitLab Product Overview
Get a free GitLab demo in 12 minutes.  Watch the video below.
GitLab DevSecOps Quick Start
Designed for organizations that are just starting their DevOps/DevSecOps journey, SPK's GitLab DevSecOps Quick Start package is aimed at clients looking for best practices guidance in an effort to avoid creating technical debt.  Our experts will give you a path forward and help you document your policies, procedures, and technology in an effort to start producing value more quickly.  
Discovery
Our team will review your environment and provide a gap assessment to show you and your team areas of optimization for your DevOps process.  This includes Gitflow, any CI/CD current processes or tools, the security in CI/CD Process, and any existing Infrastructure as Code Process.  This can take anywhere from 3 to 15 days of effort depending upon existing complexities.  The outcome of this stage is to provide our clients with a discovery document that outlines our findings and provide you with a roadmap forward.
Setup / Migration
As we begin to execute the plan from the roadmap created in the Discovery phase, our team will help do the heavy lifting ofimplementing the new platform based upon requirements, or we can migrate existing projects from other systems/tools.  The outcome of this phase of the engagement is to setup and configure GitFlow, CI/CD, IaC, Secret Management Standard Operating Procedures, create user management/issue management Plans, migrate issues and users (as needed) and establish between 1 and 3 projects depending upon your needs.
GitLab Training
Once systems are setup or migrated, our team will work with your teams to perform thorough training in order for all members of your organization to be able to utilize, troubleshoot, and improve the system in an on-going basis.  Training will be in a sandbox environment with references to your production environment.  The outcome of this stage is that our clients will be able to show that they understand the system that has been configured.
Review
The last phase of our engagement will focus on a review.  After the training event, we will determine a "capstone" event.  This could include your internal engineers and security teams briefing IT leaders and other stakeholders in showing they know how to use the system, or it could include an actual demo or deployment of systems into production by your team.  Our team is always available and standing by during this Review stage, but this allows organizations to see the fruits of their investment.
What makes SPK and Associates different?
On average, clients work with SPK and Associates for 8+ years
20+ Years of experience with medical device, aerospace, automotive and other regulated industries
Uniquely positioned with years of understanding of both hardware and software product development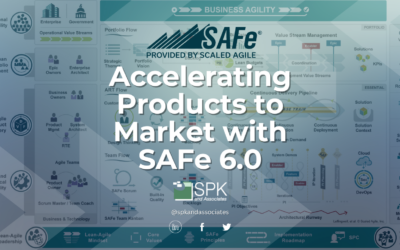 Earlier in March 2023, Scaled Agile, Inc., provider of SAFe®, the world's most trusted system for business agility, announced two new flagship products: SAFe® 6.0 and SAFe® Studio. SAFe 6.0 is the latest version of the Scaled Agile Framework®, which includes courses,...