I hate being unprepared. When I was in high school, I had a locker. I even had one of those clever plastic shelves and a magnetic mirror. You know what I stored in there? Nothing — I spent far too much time watching MacGuyver. So I carried around all my books, pens, pencils, calculators etc. etc with me because you just might need that graphing calculator in your Spanish class.
I realize that for most people this is a silly mentality, but there's something to be said for having the right tool for any IT services job, even if I know the end result is going to be that I walk around with a cane at an early age. So what all do I carry? Lets take a look:
Computing
I've gone back and forth with the Mac/PC thing for years and the truth of the matter is that I don't really have a preference as far as the operating system goes. For the most part, I'm a fan of Mac hardware. For the most part, they put good quality components in their machines and are fairly reliable. That said, I'm using the last of the 17″ Macbook Pros and am not thrilled about the fact that the new Retina MBPs aren't upgradeable. I've removed my DVD drive in favor of a second hard drive — an option not available on the Retinas.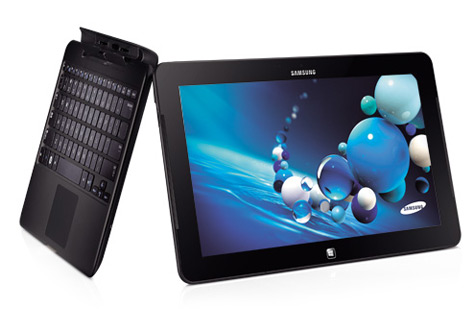 I also keep a Samsung 700T ATIV Windows 8 Tablet with me. This is a bit of a newcomer to my collection. I needed something that I could take with me when I'm on call that doesn't look absurdly out of place in a bar when inevitably the interwebs die and I have to remote in to fix it. To be fair, it still looks out of place, just, less… The 700T is replacing my iPad 3 as my tablet of choice right now as I was finding more and more that I was having to come up with workarounds to make my iPad a useful troubleshooting tool. I'm also a huge fan of being able to use a stylus — which is at best hokey on the iPad since the iPad's screen isn't designed with the stylus in mind.
For a brief while I was keeping a Raspberry Pi with me, but at some point I realized I was just using it to tinker with and wasn't something I really needed to carry around.
Video Cables
I actually started off this blog post writing about how to reduce the amount of cables and junk I carry with me, but when I started writing about how to reduce the number of Video cables, by the time I was done, I realized that I had not only not reduced the number, but had in fact added a few things to the collection.
I can't recall the last time I gave a presentation, but that hasn't stopped me from carrying around enough cables to present on your dad's old CRT furniture/television combo box. Okay, maybe I'm not quite that bad, but I get asked often enough for a cable of this type or that that it justifies the cost in space.
So whats in there? I have HDMI, DVI and VGA cables on hand as well as a variety of adapters and extenders. Now I realize that I could be clever about it and adapt DVI to HDMI or VGA to DVI or even be tricky and get a powered VGA to HDMI adapter, but the problem with this is that often enough, you don't know what you're going to need when you need it, and having an adapter is great if the conference room is nice enough to have a retractable HDMI cable handy, but you can't expect it — so I carry everything.
Networking
For a brief while I was carrying around a small 4 port Netgear GigE switch, but the number of times I've actually needed it thus far is zero. I do however keep a 10 foot length of Cat5 with me and a small ASUS a/b/g wireless access point with me. I've never actually used the access point, but I just haven't been able to bring myself to ditch it. I also carry around a USB to Ethernet Adapter — though this is mostly for my tablet since it doesn't have one. I have found in the past that sometimes having the adapter can speed up setup times for new computers as most of the time Windows will recognize the device without me having to load drivers for it. That way, I don't have to shuffle around between computers with a USB drive since the install disks with the drivers are usually the first things to hit the trash can with a new computer.
Also in my kit is a USB to Serial adapter with a Serial to console cable for Cisco switches. This is something I lend out more than I use myself, but still falls into the 'just in case' category.
Storage
At any given time, there's at least one bare hard drive (not even in an anti-static bag) floating around in my backpack. Not the best way to store a hard drive, but we can chalk this one up to laziness. I like having lots of variable storage handy. Hard drives are not reliable. If you're not backing up your data, you're asking for trouble. The most reliable media is still parchment paper, but I'm guessing most of you don't have a spare warehouse to store your MP3's in.
A failing hard drive is almost always an unpredictable affair. Sometimes its bad sectors on the drive, sometimes its a head crash and some of the most disturbing sounds you've ever heard as your data is literally being etched out of existence. Either way (well perhaps not the latter..) getting data off of a failing drive in a hurry is always a good plan. You're never going to have a circumstance where bad sectors led to more good sectors — meaning, its only going to get worse, and despite telling everyone 'backup backup backup,' there's always someone who doesn't get the message.
Knick Knackery
This is the worst part because having a 'be prepared' mentality can be as simple as keeping a pocket knife on you, to wearing a tool belt everywhere you go (you laugh…) I feel I've reached a bit of an equilibrium personally, where the amount of stuff I have on me is sufficient to be useful but unobtrusive enough that I can wear slacks and a tie.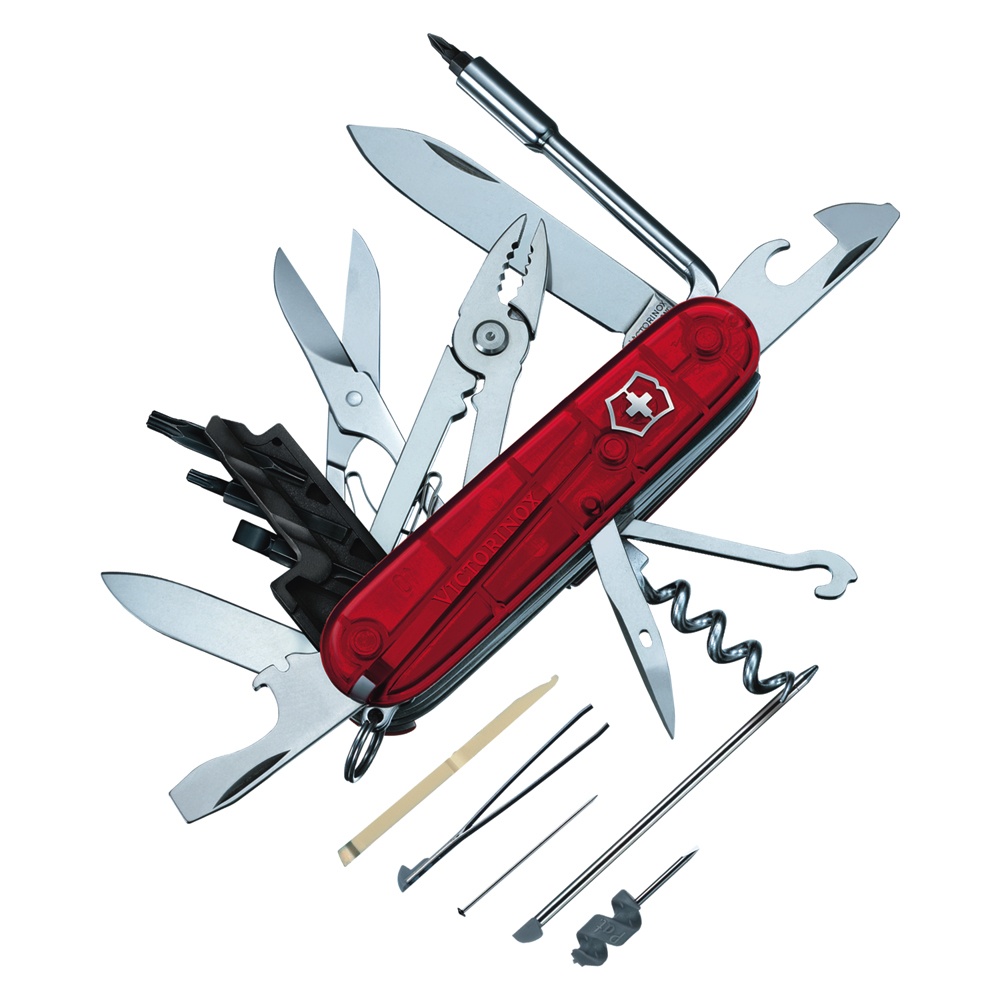 On my person, I have a small pen flashlight that tucks away in my pocket, and a Swiss Army Cybertool 34. I have a nice looking leather case for the pocket knife so it doesn't look out of place while I carry what is by far the most useful tool I've ever owned. While not the most ergonomic screw driver in the world, it has just about all of the necessities as well as a very well-thought-out bit set for the screw driver. I can count on one hand the number of times that I haven't had a bit that would do the job.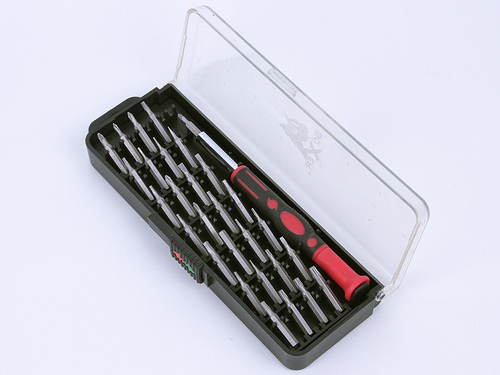 In my back pack, I have a Boxer 30 piece 4mm screwdriver set. I very rarely use this, but they're much more ergonomic than my pocket knife, so if I'm going to be working on something for an extended period of time I'll use them just to extend the time I have before I eventually get full blown carpal tunnel. But its a great set and I highly recommend it if you're going to be doing a lot of work on small objects or things with lots of torqx screws.
Along with my video adapters, I also have a variety of USB cables, eSata cables with adapters, express cards sata-usb adapters (not always in an enclosure…), a small CD binder, a USB DVD burner, some flash drives, a USB mouse that's also bluetooth (Razer Orochi), a Hilti laser range finder (its more fun than a measuring tape and good in a pinch when you really need to mess with a stray cat), a variety of power supplies, pens, a folding knife sharpener, a USB battery, gum, electrical tape, zip ties, velcro, a bluetooth ear piece, glasses (that I look horrible in), a couple of Clif bars, and a stick of deodorant (guys, you know why), all stuffed into a Swiss Gear Ibex backpack with a carabiner that I sometimes dangle my lunch bag from if I'm feeling particularly lazy. Sometimes I have an inverter with me, but it usually stays in the car.
Do I really need that much stuff?
Of course not!  I'm sure I could get away with my tablet and an internet connection, but it's a good feeling when you've got the right tool for the job as an IT professional. Just don't ask me about my closets.
Next Steps: