Change is inevitable, especially in our industry. And even more so since the birth of cloud services. So, as Jira Service Management (JSM) Data Center approaches its end of life in February 2024, you'll need to gear up. Otherwise you risk a seamless transition ensuring continued operational efficiency and support. So, If you haven't already begun preparations for what lies beyond February, now is the time to take action. This blog aims to guide you through the comparison of JSM Data Center and JSM Cloud, helping you make an informed decision for your organization's needs. And, if you want to check out how they compare for your business, skip to the bottom for an interactive quiz.
JSM Cloud: The Future Of Service Management
JSM Cloud is Atlassian's modern and cloud-based solution for service management. It provides a range of features designed to streamline IT service delivery, incident management, problem resolution, and change management. Plus, the cloud infrastructure offers a more agile and scalable environment, allowing organizations to adapt quickly to changing business needs and growing demands.
Key Differences: JSM Data Center vs. Jira Service Management Cloud
1. Deployment and Maintenance
Data Center:

JSM Data Center

is deployed on-premises, requiring organizations to manage hardware, infrastructure, and ongoing maintenance. This provides greater control over the environment but demands significant resources for setup, maintenance, and upgrades.

Cloud:

Jira Service Management Cloud, on the other hand, operates as a Software-as-a-Service (SaaS) solution. So, Atlassian manages the infrastructure, updates, and maintenance. Ultimately freeing organizations from hardware concerns. This enables a focus on service improvement rather than technical upkeep.
2. Scalability and Flexibility
Data Center:

While Data Center can be scaled, it might involve complex configurations and potential downtime during expansion. Flexibility is limited by the available hardware resources.

Cloud:

On the other hand, Cloud solutions offer effortless scalability. You can adapt to changing user loads by adjusting subscription plans, ensuring optimal performance without service disruptions.
3. Upgrades and Updates
Data Center:

Upgrading Data Center instances often involves planning and coordination to avoid downtime. Additionally, some updates might require manual intervention.

Cloud:

Cloud deployments receive automatic updates. That means your instance is always up to date with the latest features, security patches, and improvements. Essentially, this reduces the administrative burden and keeps your service management system current.
4. Cost Structure
Data Center:

Upfront costs include hardware, licensing, and ongoing maintenance expenses. While suitable for large organizations with specific security or compliance needs, it can be cost-prohibitive for smaller enterprises.

Cloud:

Comparatively, Cloud solutions operate on a subscription model, spreading costs over time. This makes it accessible to businesses of varying sizes, eliminating the need for substantial upfront investments.
5. Security and Compliance
Data Center:

Offers enhanced control over data location and security measures. So, yes, this can be beneficial for industries with strict compliance requirements.

Cloud:

JSM Cloud employs robust security measures and compliance certifications to safeguard data. However, while control over data location might be limited, Atlassian ensures industry-standard security protocols.
6. Integration and Ecosystem
Data Center:

Integrations with existing on-premises systems might require more complex configurations and potential compatibility challenges.

Cloud:

Jira Service Management Cloud integrates seamlessly with other cloud-based tools and offers an extensive marketplace of add-ons and integrations for enhanced functionality.
JSM Data Centre vs Jira Service Management Cloud Native Features
If you need to stay behind the firewall, you can still opt to host your Data Centre instance on IaaS or on-premise. Atlassian will still provide:
Continued investment in the areas of performance and scale, security and compliance, and infrastructure and operations.

Flexible deployment options including on-premise, infrastructure as a service, and Kubernetes.
However you will start to notice zero-limited functionality in particular areas. For example:
Project templates.

Change management.

Service based needs (e.g, service registry).

Sandbox and admin insights.

Password policies.

Business continuity and disaster recover procedures.

Mobile application.

And others.
Essentially, Atlassian has gone all-in on cloud solutions. If you're feeling hesitant right now, don't worry. The cloud isn't too far a leap. And if you need support assessing your cloud readiness, you can contact us for support too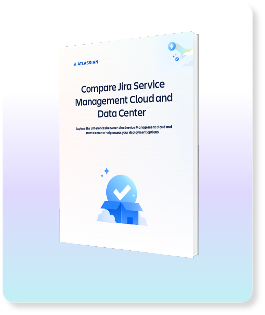 Take The Quiz To See What Works Best For You
Atlassian understands customers may have some preliminary concerns about making the move to Cloud. So, they've created this handy interactive quiz. You can use it to check out how JSM Data Center vs Cloud compares specific to your organization.
Need Support With JSM Data Center vs. Cloud?
SPK and Associates are Atlassian Gold Solution partners and we can guide you every step of the way. Whether it's figuring out how to swim behind the JSM Data Center firewall safely. Or, if you're ready to float in the cloud.