Small businesses, particularly those with remote teams, face unique challenges. This includes managing client relationships, fostering collaboration, and driving new business efforts all whilst maintaining an attractive workplace culture. Fortunately, Microsoft offers a comprehensive suite of tools designed to streamline these processes, enabling small businesses to thrive and grow. 
Can Small Businesses And Start-ups Use Microsoft?
Microsoft is not exclusively for big businesses. While they do cater to enterprises, Microsoft does offer great solutions for small businesses too. Their suite of tools and applications is designed to help small businesses enhance productivity, streamline operations, and drive growth.
For example, Microsoft 365 provides a range of affordable and accessible productivity applications, such as Word, Excel, PowerPoint, and Outlook. These applications allow small businesses to create professional documents, collaborate on projects, manage emails, and organize client relationships efficiently.
One of Microsoft's popular tools, Microsoft Teams, is invaluable for businesses of all sizes. That means small businesses like yours too. Teams serves as a centralized hub for communication, file sharing, project management, and video conferencing. It enables you as a small business to foster collaboration, improve client relationships, and drive new business efforts. 
Additionally, Microsoft understands the importance of affordability and scalability for small businesses. That's why they offer flexible licensing options and pricing plans tailored to suit different budgets. Small businesses can access enterprise-grade tools without straining their finances.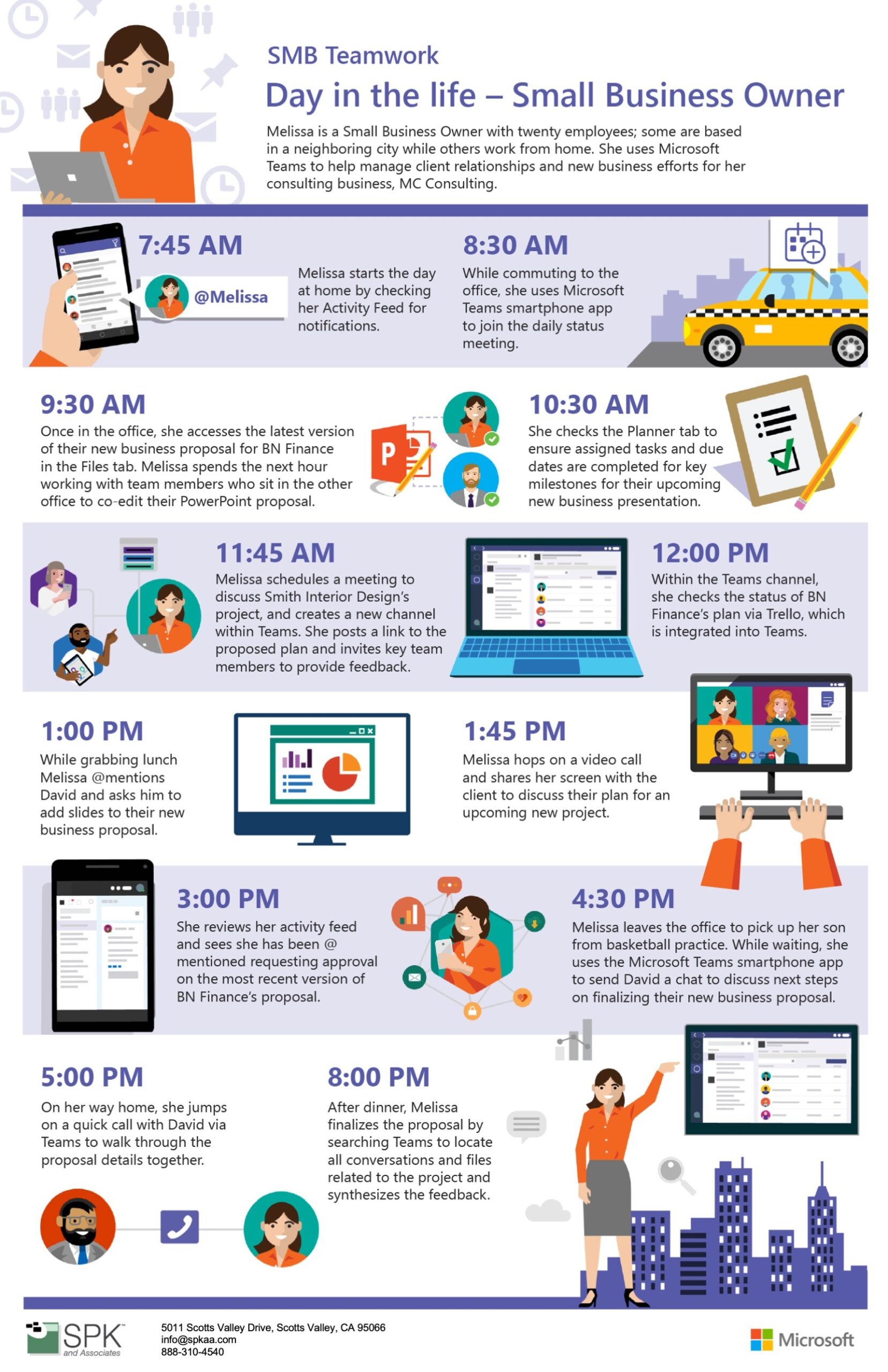 Streamline Communication and Collaboration with Microsoft Teams For Small Businesses
Microsoft Teams is undeniably one of the best investments you can make as a small team with a dispersed workforce. Here are a few of the best ways Microsoft Teams for small businesses works well:
Streamlined Communication
Microsoft Teams provides a centralized platform for communication, enabling your remote team members to collaborate seamlessly. With features like chat, voice, and video calls, you can easily connect with your team members and clients regardless of their location. This fosters efficient communication and keeps everyone on the same page.
Enhanced Collaboration
Teams offers a wide range of collaboration tools that empower your team to work together effectively. For example, co-editing documents in real-time, sharing files, and conducting virtual meetings. These features promote teamwork, streamline project workflows, and boost productivity.
Efficient Task Management
With Microsoft Teams, you can organize and track tasks using the integrated Planner. Additionally, you can assign tasks to team members, set due dates, and monitor progress. That means everyone knows their responsibilities and deadlines, facilitating efficient task management and project completion.
Video Conferencing and Meetings 
Teams' has incredible video conferencing capabilities allowing you to conduct virtual meetings with ease. You can host team meetings, client presentations, and even webinars. That's great if you're looking to foster effective communication and reduce the need for travel. Furthermore, the ability to share screens and collaborate on documents in real time enhances the meeting experience.
Mobility and Flexibility
Teams' smartphone app keeps you connected even when you're on the go. You can access chats, join meetings, and review documents from your mobile device. This flexibility enables you to stay productive and responsive, regardless of your location (and even helps to get on top of the day on those morning public transport commutes).
Integration with Third-Party Apps
Lastly, Teams integrates seamlessly with various third-party applications, expanding its functionality and versatility. For example, integrations with tools like Trello, SharePoint, and other business apps allow you to:
Consolidate your workflows.

Access important information.

Streamline processes within a single platform.
Check out the other apps you can integrate with Microsoft for small businesses here.
Other Microsoft For Small Business Tips
Client Communication Is Key
Firstly, in small businesses efficient client management is paramount. It can be the difference between your business propelling to success, or squandering at start-up status for longer than needed. That's why Microsoft offers invaluable features and integrations to streamline client interactions:
Contact Management:

Utilize Microsoft Outlook, part of Microsoft 365, to manage and organize your client contacts effectively. You can categorize, group, and access client information effortlessly, ensuring personalized and efficient communication every time. 

Email Communication:

You can elevate your email communication with Outlook's advanced features. For example, try using email templates, scheduling options, and read receipts. These can help you maintain professionalism, respond promptly to client inquiries, and manage emails efficiently.
Enriching New Business Efforts
Secondly, you can drive new business growth with Microsoft tools tailored to meet the specific needs of your small business:
Microsoft 365 Apps for Business:

You can create impressive business proposals, presentations, and documents using Microsoft 365 Apps for Business. Utilize the pre-defined templates in Word, Excel, PowerPoint, and OneNote to showcase your expertise. Or get creative and start from scratch to capture the attention of potential clients.

Document Sharing and Collaboration:

Simplify document collaboration with Microsoft OneDrive. You can store, share, and collaborate on business documents seamlessly.
Need Microsoft For Small Business Support?
Our team has been in business for over two decades and we're a Microsoft partner. We were a start-up too once, and we know the struggles you can face. We also used Microsoft to help shape our business operations over the years. These days, we're globally recognized as leaders in our industry. So, you can trust you're in safe hands. 
Contact us here if you're ready to accelerate with Microsoft for small businesses here.