Technology based companies rely on a growing suite of applications that digitally design, test, prototype and release new products. One such application is SolidWorks 3D CAD, and SolidWorks cloud PDM. These are extremely critical tools for the product lifecycle, and need to be always available and flexible for the engineers. With Cloud based PDM and CAD, engineering can access their data and tools anywhere, easily. Can an on-site SolidWorks PDM and CAD implementation accomplish this?
Engineering with Distributed Teams.
These days, companies employ design teams distributed across multiple geographies and time zones. Doing this provides more advantages and flexibility. It can also gain faster time-to-market for product release. Yet many of these companies still employ their CAD and PDM on local/on-site equipment. This approach is a relic of the days when engineers were at the same physical location as that hardware. Unfortunately, in today's hyper-competitive world of product development, this is akin to tying a ball and chain around your ankle as you prepare for a sprint.

Enter… VPN.
Some companies attempt the work-around of employing a VPN to connect users to the office remotely. However, they have discovered that their remote CAD and PDM performance is less than ideal, and in many cases unusable. Let's face it, VPN and WAN services were not designed for graphics-intensive CAD applications.
It is critical that technology based companies enable their global design teams to seamlessly store and collaborate on large CAD files. This capability is not adequately supported by a traditional on-site file storage solution.
Advantages of SolidWorks Cloud PDM and CAD
Cloud storage has emerged as the solution to this multi-site CAD collaboration challenge. Here are 4 advantages of cloud-based CAD collaboration.
Allows engineers to

collaborate more easily

.
It is essential to build a scalable collaboration platform that lets every designer reach the parts of the product they need to be working on. With SolidWorks cloud PDM and a global file system, manufacturing teams gain efficient cross-site CAD collaboration. CAD files are stored in the "new disk" – cloud object storage. Then, just the active work files are cached in each location by the global file system. This gives every manufacturing team member high performance access to CAD files and related documents. The caching appliances look and act like traditional file systems. But, they are only a fraction of the size since they are only storing the active project data.
Provides

secure CAD file transfer

.
Proprietary designs are at the heart of any profitable, successful company and associated product line(s). Transferring large CAD files that represent these designs – between engineers, contract manufacturers, and acquired companies – must be done securely. As such, public cloud storage (Amazon and Azure) and private cloud storage, together with a global file system, ensure these CAD file transfers are fast and secure. They encrypt the data at rest and in flight and add other safeguards. For many technology-based companies, cloud storage is now more secure than traditional data center storage.
Simplifies

IT.
Aging file infrastructure spread out at the edge slows down file sharing and causes CAD data to be inaccessible when devices go down. This infrastructure is equipment such as file servers, NAS arrays, backup systems, WAN acceleration, MPLS bandwidth, and file transfer tools. Managing this complex infrastructure puts an enormous strain on IT budgets and resources. Conversely, cloud storage and a global file system consolidate these disparate systems into a unified platform that is much cheaper and easier to deploy, operate, and scale.
Allows capacity and performance to

scale easily

.
The sheer size of modern design files can get in the way of storing and sharing them. Latency causes minutes to hours of wait times for CAD models to synchronize and open. Group directories and project shares constantly run out of space. The answer is a modern solution – a global file system that is based in cloud storage and extends to any number edge sites. Such a system offers unlimited storage capacity and performance for CAD files, across any number of locations.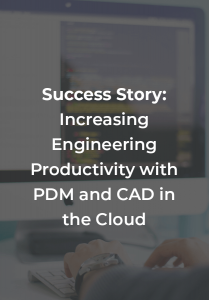 Easy PDM and CAD In the Cloud
As SPK saw the growing trend towards remote design teams, we developed a secure SolidWorks cloud PDM and CAD infrastructure and global file system that enables distributed teams to work remotely without interruption 24/7.
While SPK's cloud PDM can work well alone, when coupled with CAD in the Cloud, the performance and ease of use skyrockets. The CAD in the Cloud solution employs a Virtual CAD Workstation (vCAD) that is capable of running a heavy graphical processing load required by CAD designers. Together, SPK's PDM and CAD in the Cloud alleviate the pains of designing, collaborating and validating with distributed engineering teams. This secure Cloud-hosted CAD/PDM solution simplifies and reduces the cost of your current CAD infrastructure. In addition, it enables your remote workforce, while delivering instant ROI and increased productivity.
SPK's Cloud-hosting for CAD and PDM guarantees rapid deployment, secure hosting, predictable costs, and 24/7 application management, optimization and updates from SPK's experienced application specialists.
Next Steps