For the everyday user with a laptop or desktop, this article may not apply. And for those of you who have no need to have more than one PC on your desk — kudos! But from time to time, its necessary to have several PC's on your desk at the same time — especially while offering with Engineering services.
Now, for most people, running virtual machines is more than sufficient, especially if you're on the go, and this is a great solution for a lot of things — but sometimes the circumstances don't allow for this to be the practical solution. The scenario that comes to mind is the Quality Engineer. As most QA people will tell you, its important to be able to replicate the physical state of a computer in order to be able to replicate problems and more importantly to replicate an expected real world scenario. This may not matter if your product is something simple and has little to no significant hardware requirements, but for an application that has high demand on the CPU and/or GPU, or drive performance, virtualization just isn't going to cut it. Now, I know what you're thinking – just get a KVM switch. But what if I need to do a side by side comparison?
Suffice to say, I could sit here all day listing different reasons for needing more than one PC on your desk, but whatever your reason, for Windows users, there is a great tool called 'Mouse without Borders' from the Microsoft Garage. If you're a mac user, check out 'Teleport' by Abyssoft.
Mouse without borders will allow you to control up to 4 computers from one and will even allow you to share your clipboard contents so you can copy/paste between them. It works over wired and wireless connections (though there can be occasional lag over wireless for obvious reasons) — and can even let you override DNS resolution. My favorite feature is the wrapping option. For my personal setup, I have a laptop with an external monitor, a tablet with an external monitor, and a machine in the corner that I use primarily as a small file server. That's 5 displays to traverse. With the wrapping option, once I get to the end, my mouse can wrap back around to the first display, as if they were all in a circle.
This has been an invaluable tool for me personally. The application I spend most of my time buried in doesn't do well with running multiple instances of itself and very often requires me to run it on more than one computer (useful for side by side comparisons). I also spend a lot of time testing and watching the output of scripts that I'm writing and I'll end up with the application on one monitor, notepad++ on another, and a putty ssh session to the server watching the log so I can see the output without giving up screen real estate.
Go get it!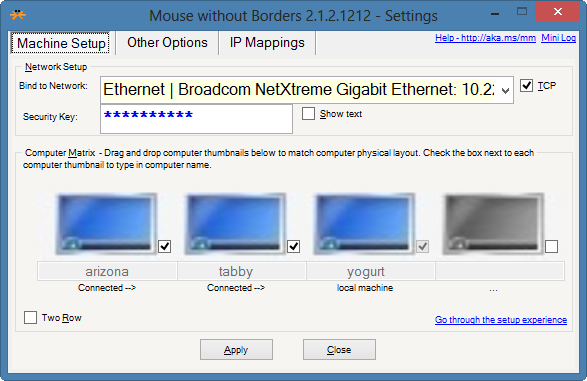 Next Steps: