Businesses simply can't afford to ignore the power of business intelligence tools like Amazon Web Services (AWS) QuickSight and Microsoft PowerBI. In fact, These tools provide valuable insights and enable business leaders to make informed decisions. Therefore they can help you gain a competitive advantage. In this blog we'll compare AWS QuickSight vs Power BI – two of the biggest market contenders.
But, it's not just about having access to data. It's also about being able to make sense of it and act upon it. And, by harnessing the power of data, you can uncover hidden opportunities and mitigate risks. That can lead to improved performance and increased profitability. Basically, business intelligence tools are essential for any business looking to thrive in today's fast-paced, data-driven world. Data is king. And the right business intelligence tools can help you make informed decisions. So, let's dive into Microsoft PowerBI vs AWS QuickSight.
Business Intelligence Tools Comparison
What Is Amazon QuickSight?
AWS QuickSight is a great option for businesses requireing a lightweight solution to handle data visualizations with minimal customization needs. The pay-as-you-go pricing makes it affordable for small businesses and suitable for mid-sized companies and bigger corporations. AWS QuickSight is fast and responsive even on vast datasets. And it can work well with various data sources, including other AWS products. Additionally, QuickSight has simple dashboards and reports that are easy to share with others.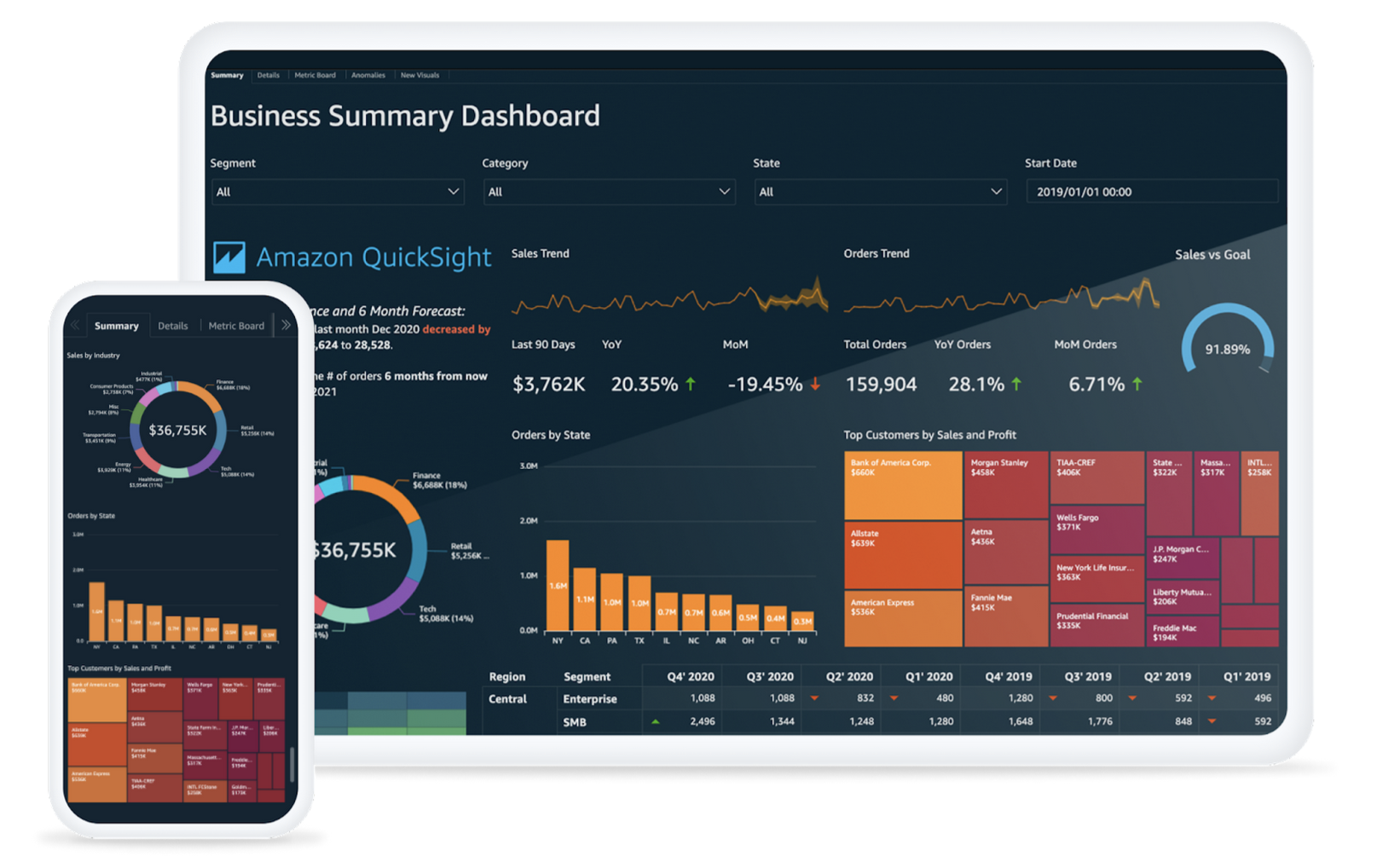 What Is Microsoft PowerBI?
Microsoft Power BI, on the other hand, is an enterprise-level BI tool with a per-user charge basis. Firstly, it offers robust features with extensive customization options. Secondly, its open-source repository allows users to access high-quality user-submitted visualizations that can be customized to their specific needs. Thirdly, Power BI can also interact well with Microsoft's Azure and Office 365 suite. And, its sharing tools make it easy to distribute and access dashboards across the organization. Finally, Power BI can handle large data sets and can provide valuable insights into data trends with its data analysis tools.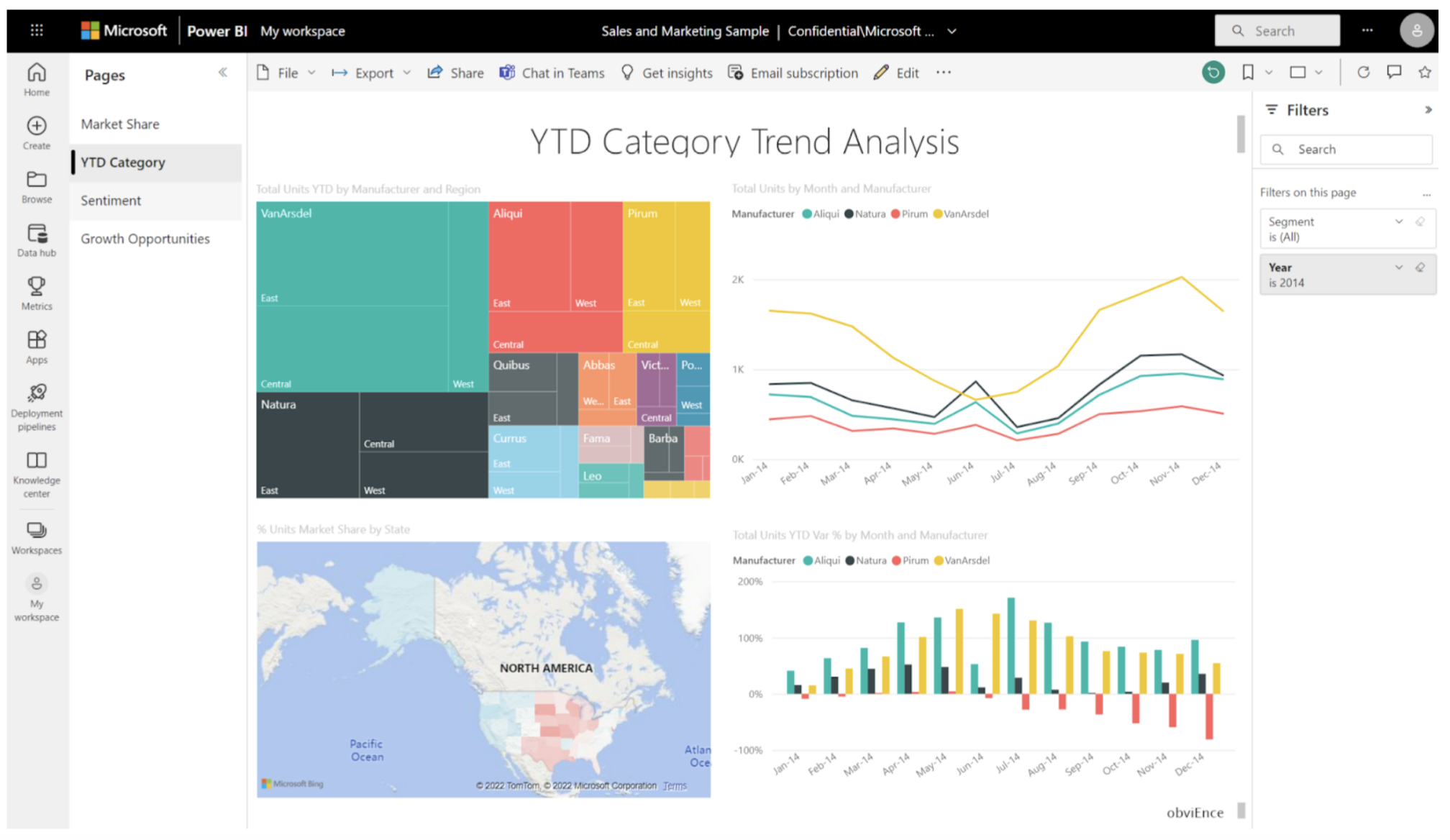 PowerBI vs AWS QuickSight?
Both AWS QuickSight and Microsoft PowerBI provide shareable charts and visualizations. However, they offer distinct advantages. 
Microsoft Power BI is the champion of versatility and customizability. This is thanks to its open-source repository of user-submitted visualizations that can all be personalized by end-users. Additionally, it's highly compatible with MS Azure and Office 365. Plus, its sharing tools make it easy to showcase your data visualizations to others.
Comparatively, Amazon QuickSight, is all about simplicity and ease of use. It's fast and nimble. Even when dealing with massive datasets and multiple users. Additionally, the collection of basic charts and visualizations in QuickSight can be easily applied to various data sources. Particularly those from other Amazon Web Services (AWS) products. And, it's available for a nominal per-use price. That means it is an attractive option for companies that don't require regular access to BI software.
While PowerBI is popular among SMBs, QuickSight is successful with mid-size and larger corporations. 
But, despite the great features listed above, both tools have some limitations:
QuickSight's user interface may not be as intuitive as other BI solutions. And, its library of graphs and charts is limited compared to its competitors. 

Power BI can have a steep learning curve for users who are new to the tool. Furthermore, some user-submitted visualizations may not have adequate documentation. 

Power BI can also consume a significant amount of computer resources. That means it can lead to slow performance for some users. 

The pricing model for Power BI can also be a bit steep, particularly for the Power BI Premium tier.
How To Decide If AWS QuickSight Or PowerBI Is Best For You
When deciding between AWS QuickSight and PowerBI, you need to consider three key factors. 
First, assess your existing tech infrastructure and whether either tool would integrate seamlessly. 

Secondly, determine the type and volume of data they need to process, as well as the level of customization required for their analytics dashboards. 

Finally, evaluate your budget and determine which tool offers the most cost-effective solution for your needs. 
By carefully considering these factors, you can make an informed decision on whether AWS QuickSight or PowerBI would work best.
Conclusion
Both AWS QuickSight and Microsoft Power BI offer valuable solutions for businesses looking to make data-driven decisions. The choice between the two depends on your company's specific needs, the size of the organization, and budget constraints. If you need support assessing which option is best for your business, you can contact our team for a no-obligation discussion. As a trusted AWS and Microsoft partner, we're in a unique position to offer you an unbiased assessment that truly focuses on your business needs.