More than ever we see businesses relying heavily on seamless integration of various applications and systems. And they're doing this to drive efficiency, enhance productivity, and gain a competitive edge. Microsoft Azure integration services, powered by the Microsoft Power Platform, have irrevocably changed how organizations connect, automate, and streamline their operations. In 2023, Gartner named Microsoft a Leader in the Gartner Magic Quadrant for Integration Platform-as-a-Service. So, let's uncover what that means, and why you should be paying attention to Microsoft's accolade.  
The Evolution of Integration Services
Just a decade ago, integration efforts were predominantly manual, time-consuming, and resource-intensive. Ultimately, organizations relied on extensive labor and custom-coded solutions to address their integration needs. However, with the advent of Azure integration services and the Microsoft Power Platform, businesses now have access to a comprehensive suite of tools and technologies. Now, your organization can unlock the power you once laboriously tackled. It's the crux of the reason why Gartner named Microsoft a Leader in 2023.
Gartner Named Microsoft As IPaaS Leader On Gartner Magic Quadrant 2023
Microsoft's leadership position in the Gartner Magic Quadrant for Integration Platform-as-a-Service (IPaaS) underscores its strategic vision, innovative approach, and track record of delivering successful integration solutions. 
As a recognized leader, Microsoft's commitment to continuous innovation and investment in the Power Platform has solidified its position at the forefront of the integration landscape. Essentially, the Gartner Magic Quadrant serves as a testament to Microsoft's excellence in delivering cutting-edge integration solutions, making them a trusted partner for organizations seeking robust and future-ready integration capabilities.
Gartner named Microsoft as an IPaaS leader in the 2023 Gartner Magic Quadrant due to several key factors. Firstly, Microsoft demonstrated a strong vision for integration and executed it effectively, positioning itself at the forefront of the IPaaS market. Basically, their strategic outlook, innovation, and ability to understand customer needs contributed to their recognition as a leader.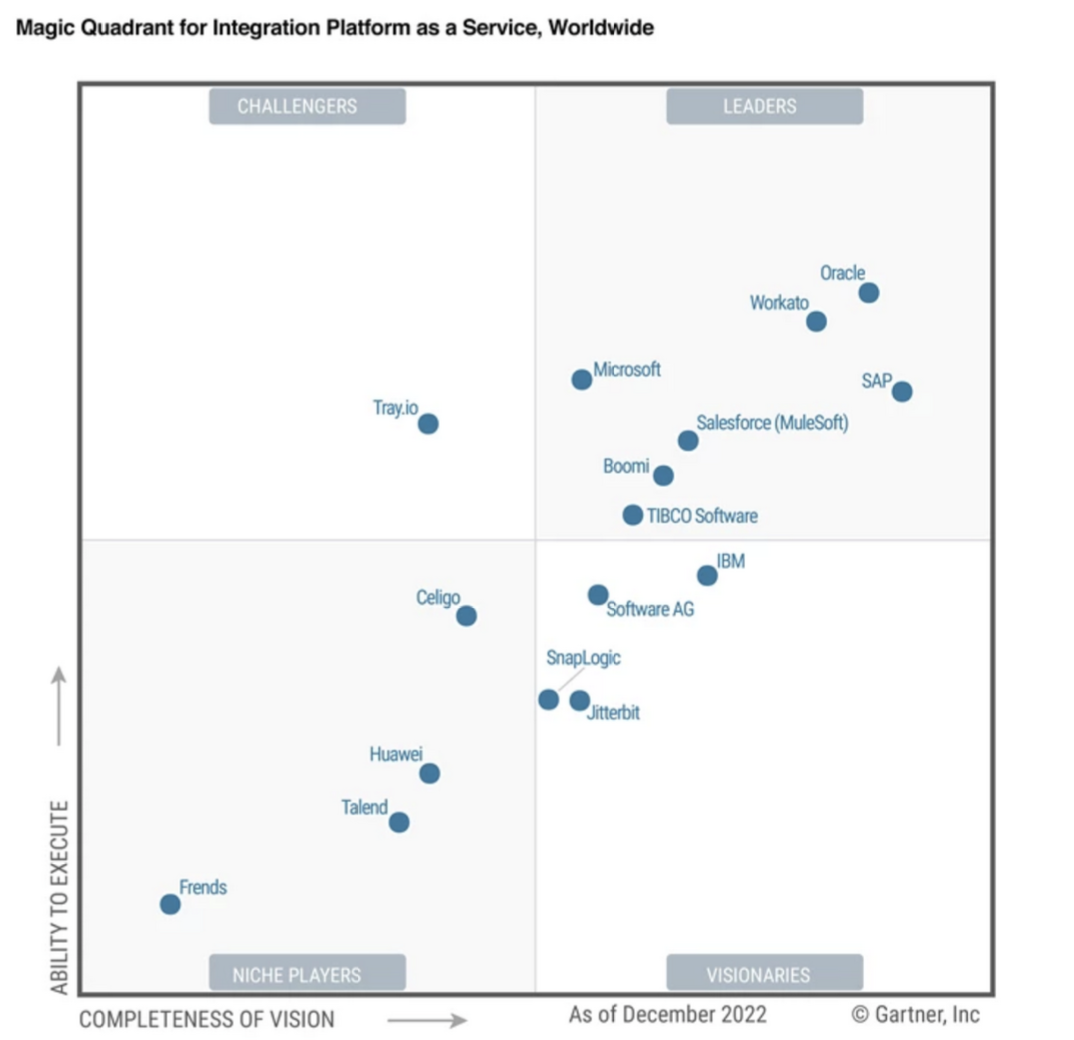 Additionally, Microsoft's IPaaS solution, powered by Azure, showcases its commitment to delivering cutting-edge integration capabilities. Furthermore, their continuous investment in the Power Platform, which includes Power Apps, Power Automate, Power BI, and Power Virtual Agents, provides a comprehensive suite of tools for seamless integration across applications and systems.
Lastly, Microsoft's strong market presence and successful customer deployments played a significant role in its leadership position. Their proven track record, extensive support ecosystem, and continuous innovation give organizations confidence in selecting Microsoft as their IPaaS partner. 
Benefits Of Microsoft's iPaaS Solution
Microsoft's iPaaS solution is built on the Azure platform. Fundamentally, it offers a comprehensive suite of tools and services to enable seamless integration across applications, data sources, and systems. These are the best benefits the Microsoft's iPaaS solution:
Simplified Integration:

With Microsoft's iPaaS, you can streamline your integration efforts and connect disparate systems with ease. The intuitive user interface and extensive connectivity options allow for rapid development and deployment of integration workflows.

Power Platform Integration:

Microsoft's iPaaS is closely integrated with the Power Platform which includes Power Apps, Power Automate,

Power BI

, and Power Virtual Agents. Essentially, this integration enables the building of custom applications, automating workflows, gaining data insights, and creating intelligent chatbots. And it's a seamless integration with existing systems.

Scalability and Flexibility:

Azure's cloud infrastructure provides the scalability and flexibility needed to handle diverse integration scenarios. Whether it's integrating on-premises applications, cloud-based services, or hybrid environments, Microsoft's iPaaS adapts to meet the demand.

Superb Security:

Microsoft has always been at the forefront and in the trenches of new security and compliance practices. Their iPaaS solution is no different. It offers superb security measures, ensuring sensitive information is protected throughout the integration process. Additionally,

Azure's

compliance certifications further enhance trust and peace of mind for businesses operating in regulated industries.
Microsoft Power Platform's Unparalleled Capabilities
Azure integration services utilize the Microsoft Power Platform, a low-code development backbone, consisting of four key components. And these components deliver a unified platform for data analysis, automation, integration, and application building across systems.
Power Apps:

With Power Apps, you can create custom applications without extensive coding knowledge. That means citizen developers and IT professionals alike can build intuitive and tailored solutions. And they'll seamlessly connect with existing data sources and systems.

Power Automate:

This tool enables businesses to automate workflows and processes across different applications and services. It provides a user-friendly interface to design complex workflows, ensuring seamless data synchronization and process orchestration.

Power BI:

Power BI offers exceptional data analytics and visualization capabilities. Ultimately, with this tool, you can gain actionable insights from their integrated data. So, with powerful reporting and interactive dashboards, you'll have more data-driven intelligence to make informed decisions. And, you'll be able to effectively monitor key performance indicators in real-time.

Power Virtual Agents:

Power Virtual Agents enables the creation of intelligent chatbots and virtual assistants. These AI-powered bots can be integrated with various systems and applications, providing efficient self-service options to customers and employees.
Get Started With Microsoft Integration Services
As a Microsoft partner, we're thrilled by their recognition as a leader in the 2023 Gartner Magic Quadrant for iPaaS. Fundamentally, this highlights the exceptional value they bring to integration. And with our experienced team, we've successfully integrated Azure services across industries, unlocking the full potential of digital ecosystems. So, partnering with us means you'll leverage deeply integrated expertise with Microsoft and enhanced agility, efficiency, and innovation. 
Need support with your existing Microsoft ecosystem? Or, ready to make the move to Microsoft?