Christine McHale, CEO and Co-Founder of SPK and Associates, is among the honorees on the 2022 Channel Futures DE&I 101 list. The list recognizes individuals from a wide spectrum of multicultural backgrounds. These individuals are driving diversity, equity and inclusion (DE&I) in technology channels through their words, actions and leadership.
Christine has over 25 years experience in the technology sector, starting in the trenches as a Unix consultant at Hewlett-Packard. She was the Business Manager of HP's western professional services organization, before co-founding SPK in 1997.  This early experience gave her a deep appreciation of the technology challenges faced by customers and engineers alike.  She holds a BA with Honors from University of Virginia, and an MBA from UCLA's Anderson School of Management.
"Because our company is an organization of people, we focus on the people first. Myself and our leadership team fundamentally believe that we will make better business decisions if we have diversity in thinking," McHale said. "Diversity of thinking, that requires participation from all genders, races and ethnicities. Being inclusive of the diversity of thinking allows businesses to truly grow and be a rewarding place for our employees and clients."
Channel Futures DE&I 101 List Honors SPK
The Channel Futures DE&I 101 list turns a spotlight on the dedicated and determined individuals working to eliminate discrimination in the industry. The need for DE&I has been acknowledged in the information and communications industries for many years. But while many tech organizations have received attention for the DE&I programs they've launched, it's the people at the grassroots level who get things started and keep the momentum going. And too often their efforts go unacknowledged.
"Diversity, equity and inclusion are vital for the future of all business, not just the channel," said Kelly Danziger, Vice President and General Manager, Informa Tech Channels. "But despite its importance, most DE&I work goes on behind the scenes. This list not only recognizes those dedicated individuals who are working to promote DE&I in the channel but reiterates the importance of this work as well."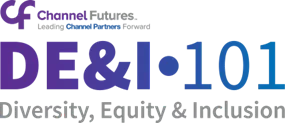 Nominations for the DE&I 101 list were solicited on the Channel Futures website and through social media. Between April 28 and June 27, individuals could nominate themselves or others for the list. Applications were open to managers, leaders and individual contributors. All submissions were thoroughly reviewed by members of the Channel Futures editorial team with input from advisory board members.
About SPK and Associates
SPK and Associates is a leading woman-owned Engineering & IT Services Company that serves product development teams.  For 25 years, we have helped our customers harness technology to optimize engineering and attain their business goals.  We understand the systems, processes, data and applications critical to successful product development, and dedicate ourselves to helping you build, test, and release your products faster and better.  Our core expertise covers four functional areas: Product Lifecycle Management (MCAD, PLM, PDM); Software Lifecycle Management (ALM, DevOps); Cloud for Engineering (Infrastructure, Security); Data Engineering and Analytics.
You can contact SPK and Associates here.
About Channel Futures
Channel Futures is a media and events destination for the information and communication technologies (ICT) channel community. We provide information, perspective and connection for the entire channel ecosystem, including solution providers (SPs), managed service providers (MSPs), managed security service providers (MSSPs), cloud service providers (CSPs), value-added resellers (VARs) and distributors, technology solutions brokerages, subagents and agents, as well as leading technology vendor partners and communication providers.
Our properties include many awards programs such as the Channel Futures MSP 501, a list of the most influential and fastest-growing providers of managed services in the technology industry; Channel Partners events, which delivers unparalleled in-person events including Channel Partners Conference & Expo, Channel Partners Leadership Summit, Women's Leadership Summit, the MSP Summit and Channel Partners Europe; and a DEI Community Group, our initiative to educate, support and promote diversity, equity and inclusion (DE&I) in the ICT channel industry. Channel Futures is where the world meets the channel; we are leading Channel Partners forward. More information is available at channelfutures.com.
Channel Futures is part of Informa Tech, a market-leading B2B information provider with depth and specialization in ICT sector. Every year, we welcome 14,000+ subscribers to our research, more than 4 million unique monthly visitors to our digital communities, 18,200+ students to our training programs and 225,000 delegates to our events.