Starting your cloud computing and cloud journey? Wondering how cloud services can help your business thrive? There's a lot to wrap your head around isn't there. But, don't worry, we've got you covered with this blog. In fact, we're going to provide you Cloud 101 and cover the basics of cloud services and compare IaaS vs PaaS vs SaaS. Also known as Infrastructure as a Service (IaaS), Platform as a Service (PaaS), and Software as a Service (SaaS).
Cloud 101: IaaS vs PaaS vs SaaS
Why Are Cloud Services And Cloud Computing Important?
Firstly, whether you're in manufacturing, healthcare, finance, or any other sector, the right cloud service model can empower your organization.
IaaS vs PaaS vs SaaS are all types of cloud services you should familiarize yourself with. Because, by understanding the benefits and applications of these models, you can make an informed decision that aligns with your business goals. 
What's The Difference Between Cloud Services And Cloud Computing?
We'll cover IaaS vs PaaS vs SaaS in detail shortly. But first let's cover the basics of Cloud. The terms "cloud services" and "cloud computing" are related. However, they have distinct meanings:
Cloud Computing
Firstly, cloud computing refers to the delivery of computing resources over the internet on a pay-as-you-go basis. It involves the provision of virtualized computing resources such as servers, storage, networking, and software applications. A good example of this is our own vCAD solution – learn more about that here. 
Essentially, cloud computing allows users to access and utilize them remotely. Furthermore, cloud computing eliminates the need for on-premises infrastructure and provides scalability, flexibility, and cost-efficiency. It encompasses various service models, including IaaS, PaaS and SaaS.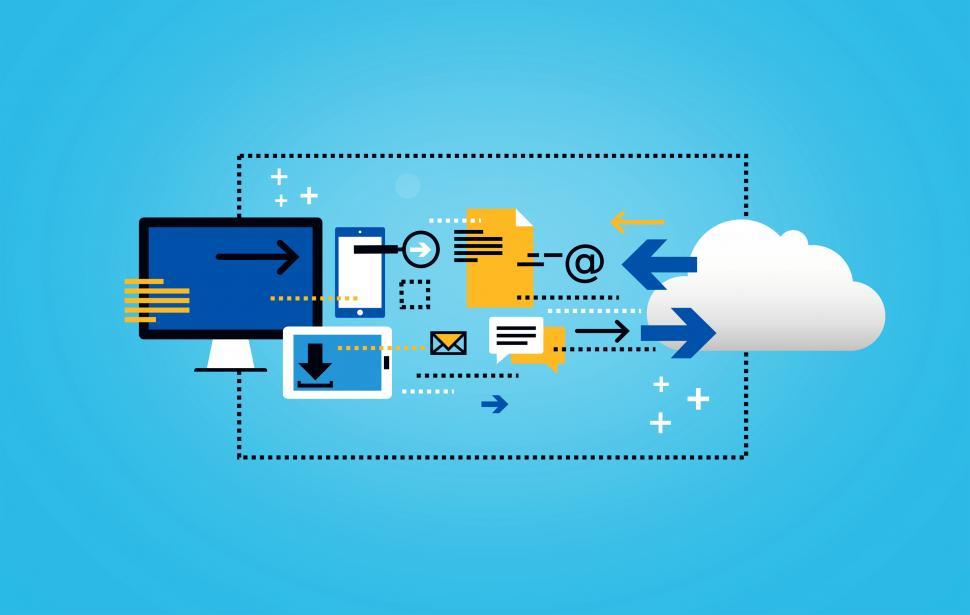 Cloud Services
Conversely, cloud services are specific services or applications provided via the cloud computing model. Essentially, these services leverage the underlying cloud infrastructure and are accessible over the internet. Cloud services can encompass a wide range of offerings, including:
Storage.

Databases.

Analytics.

Development platforms.

Collaboration tools, and more.
Examples of cloud services include Amazon Web Services (AWS), Microsoft Azure, Google Cloud Platform, and various Software as a Service (SaaS) applications.
Cloud Computing vs Cloud Services
Basically, cloud computing is the overarching concept that encompasses the delivery of computing resources over the internet. Comparatively, cloud services are the specific applications or services provided through the cloud computing model. Essentially, Cloud services rely on the infrastructure and capabilities of cloud computing to deliver their functionalities to end-users.
What Does "As-A-Service" Mean And How Does It Relate To IaaS vs PaaS vs SaaS?
IaaS, PaaS, and SaaS fall under the "as-a-service" umbrella. This refers to cloud computing services provided by third-party providers. Basically, it allows you to prioritize your core activities, such as coding and customer relationships, while reducing the need to manage on-premises infrastructure. Also, when it comes to on-premises IT infrastructure, you bear the highest level of responsibility as a user and manager. That means, it entails managing, updating, and replacing hardware and software components internally. However, cloud computing offers the opportunity to offload some or all of these responsibilities to a third-party provider. Ultimately, you free up your time and resources.
High-level Comparison IaaS vs PaaS vs SaaS
Offers a development platform and tools, simplifying app development, reducing time-to-market, and eliminating infrastructure management complexities.
Delivers fully developed applications on a subscription basis, eliminating installation and maintenance, providing easy accessibility and rapid deployment.
Offloads infrastructure management to a cloud provider, ensuring scalability, cost-efficiency, and focus on core business while the provider handles hardware maintenance.
Now, let's look at IaaS vs PaaS vs SaaS in more detail.
Understanding Cloud Service Models: IaaS vs PaaS vs SaaS
What is Infrastructure as a Service (IaaS)?
With Infrastructure as a Service (IaaS), you delegate the management of infrastructure components like servers, storage, and networking to a cloud provider. So, this relieves you from the burdensome task of infrastructure maintenance, while offering key advantages such as:
Scalability.

Cost-efficiency.

The ability to prioritize core business objectives. 
In the IaaS model, you outsource the responsibility of maintaining hardware to the cloud provider, while retaining control over operating systems, applications, and data. Basically, this grants you more flexibility and customization options compared to other cloud service models. And, by reducing on-premises infrastructure responsibilities, IaaS enables you to dedicate your resources and attention to core functions, fostering growth and innovation.
IaaS Examples
Virtual Machines (VMs):

You can provision VMs with specific operating systems, memory, storage, and processing power, all managed by the cloud provider.

Storage:

You can store and retrieve data in the cloud, eliminating the need for on-premises storage infrastructure. Cloud storage options include object storage, block storage, and file storage.

Networking:

IaaS provides networking capabilities to connect and manage resources in the cloud. For example, virtual networks, subnets, load balancers, firewalls, and VPN gateways. These enable businesses to build and manage their network infrastructure without the need for physical hardware.

Database Management Systems:

Leverage solid and scalable databases without the need for dedicated hardware or database administrators. Cloud providers offer various database options, such as relational databases (e.g., MySQL, PostgreSQL), NoSQL databases (e.g., MongoDB, Cassandra), and data warehousing solutions.

Content Delivery Networks (CDNs):

IaaS providers often include CDNs as part of their offerings. CDNs enable businesses to distribute content, such as images, videos, and web pages, to global audiences with low latency and high performance by caching the content at edge locations worldwide.

Disaster Recovery and Backup:

You can replicate your data and infrastructure to a secondary location, ensuring business continuity in the event of a disaster.
What is Platform as a Service (PaaS)?
Platform as a Service (PaaS) simplifies application development by providing a comprehensive platform with tools, libraries, and infrastructure components. Additionally, it eliminates the complexities of managing underlying infrastructure, allowing you to focus on writing code and building applications. Furthermore, PaaS reduces development time, simplifies deployment, and enables automatic scalability. And, it does this because the cloud provider handles hardware, operating systems. Additionally, they offer a preconfigured environment for development, deployment, and management. With PaaS, you gain a streamlined development process, faster time-to-market, and reducing the overhead costs associated with maintaining development platforms.
PaaS Examples
Application Development Frameworks:

PaaS providers offer development frameworks that simplify application development. Examples include Ruby on Rails, Django, and Node.js. These frameworks provide pre-built components and libraries, reducing development time and effort.

Database Management Systems:

PaaS includes managed database services that eliminate the need for businesses to set up and maintain their own database infrastructure. Cloud providers like

AWS

and

Azure

offer various database options. For example, MySQL, PostgreSQL, Oracle, and Microsoft SQL Server.

Middleware:

You can facilitate the integration and communication between different software components. These services include message queues, caching systems, identity management, and API gateways.

DevOps Tools:

PaaS provides tools for continuous integration, continuous delivery, and deployment automation. These tools streamline the software development lifecycle, enabling you to automate testing, deployment, and monitoring processes.

Analytics and Business Intelligence:

With PaaS, you can process and analyze large volumes of data. For example, data warehousing, data lakes, and tools for data visualization and reporting.

Mobile Backend as a Service (MBaaS):

MBaaS handles tasks such as user authentication, data synchronization, push notifications, and cloud storage, allowing developers to focus on building the front-end of their mobile apps.

Internet of Things (IoT) Platforms:

PaaS includes

IoT platforms

that provide the infrastructure and tools to develop, deploy, and manage IoT applications. These platforms enable you to connect, monitor, and analyze data from IoT devices.
What is Software as a Service (SaaS)?
Software as a Service (SaaS) delivers fully developed applications over the internet through a subscription model. With SaaS, you can access ready-to-use software without the need for installation or maintenance. Basically, the cloud provider manages the infrastructure, platform, and software, while you simply access the application through a web browser or dedicated client. SaaS offers easy accessibility, reduced IT overhead, and rapid deployment. Additionally, it eliminates the complexities of software installation, maintenance, and upgrades, providing convenience and flexibility. Furthermore, you don't need extensive IT expertise or infrastructure management to utilize SaaS products – they're designed to be user friendly!
SaaS Examples
The Key Benefits Of Cloud Services, Cloud Computing And IaaS vs PaaS vs SaaS
Rapid scaling of resources to meet fluctuating demands, allowing for quick deployment of applications and services. On the other hand.
Empowers developers with pre-configured environments, accelerating application development and time-to-market.
Provides instant access to applications, enabling businesses to quickly adopt and implement solutions.
Providers offer robust data encryption, access controls, and compliance measures to protect sensitive information.
Providers implement security features at the platform level, ensuring secure application development and deployment.
Providers adhere to strict security protocols, safeguarding customer data and privacy.
Pay-as-you-go model allows for cost scalability, ensuring that you only pay for the resources you use.
Eliminates the need for on-premises infrastructure, reducing capital expenditure and maintenance costs.
Subscription-based pricing eliminates upfront software licensing fees and reduces ongoing maintenance expenses
Customization and flexibility
Offers flexibility by allowing the integration of existing systems and the development of specialized applications.
Provides a range of tools and frameworks, empowering businesses to tailor solutions to their unique requirements.
Providers often offer industry-specific solutions that can be customized to meet specific needs.
Conclusion
There are key differences when it comes to IaaS vs PaaS vs SaaS. Choosing the right cloud service model for your businesses, regardless of industry can help you accelerate growth and time-to-market. Additionally, it can drive cost savings and improve your ROI.
If you need support navigating cloud services and cloud computing, or if you're ready to kick-start your cloud journey, contact our team. We're experts in cloud services and proud partners of AWS, Microsoft Azure and Atlassian.