Confluence, Atlassian's SaaS platform, aids diverse teams, from Marketing to Engineering, as an invaluable collaborative workspace. Confluence is versatile and user-friendly which makes it an ideal platform for teams of all sizes. However, over the years, I've heard individuals who are unfamiliar with Confluence say they don't want to use Confluence. Why? Because they are already documenting their software development process using another tool. But Confluence can be used for so many things!" I would tell them. Confluence benefits a wide range of types of teams, helping them work efficiently and collaboratively. So let's show some examples of how it can benefit teams beyond software engineering.
What is Confluence?
Confluence is a collaborative workspace platform. It enables diverse teams to work together efficiently, sharing ideas, documents, and organizing projects seamlessly. For those that have never been on a Confluence site before, you may want to take this video for a quick spin.
Confluence for Marketing Teams
Content Creation Support
Marketing teams thrive on creativity and content creation. With Confluence, marketers can bring all their ideas and strategies to one place. The SaaS platform allows marketers to create and share content, build marketing plans, and campaign strategies in real-time. So, the ability to collaborate seamlessly ensures that every team member is on the same page. Essentially it minimizes the risk of miscommunication and maximizing the chances of a successful marketing campaign. Plus, the out-of-the-box templates include those for marketing campaigns, content strategy, and email drip campaigns. You can see all of the available templates here on the Atlassian website. And it doesn't stop there. Additionally, you can create your own templates that are custom to your business processes
A Central Repository
Also, Confluence acts as a centralized repository for all marketing-related assets. It's great for everything from brand guidelines and logos to previous campaign data and performance reports. Essentially everything can be stored, organized, and easily accessed whenever needed. That means, it makes it simple for marketing teams to:
Refer back to previous campaigns.

Learn from past experiences.

Make data-driven decisions for upcoming projects.  
Additionally, it also benefits the business stakeholders who are always looking for information from marketing.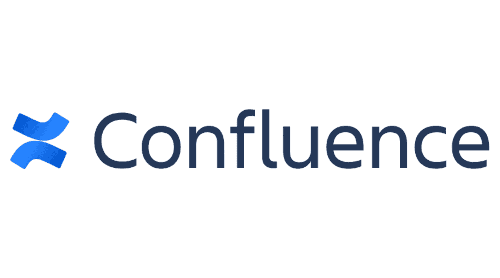 Confluence vs Google Docs
One thing I hear from marketers with regards to Atlassian products is "why can't we just use Google Docs for that?" 
Firstly, Confluence is open by default. That means it makes it easy for company-wide information to be readily accessible. Conversely, Google Docs, requires permissions on the file or directory to be given to the right person or group. If you've ever clicked on a Google Docs link only to find out you have to request access, you know what I mean. Secondly, if the default name of a Google Doc is "Unknown" and without a hierarchy and a good naming convention, files can be lost. That means knowledge is lost. With Confluence, pages are organized in spaces with a specific topic and structure that allows teams to share knowledge across the department or company.  
Lastly, with integration with project management tools like Jira, you can turn ideas into action more readily. Marketers can create, assign, and track tasks directly within Confluence, keeping everyone informed about the project's progress. That means, this integration fosters better collaboration between marketing and development teams, ensuring a smooth workflow from ideation to execution.  Something Google Docs doesn't have.  But the best part is if you have a Google Doc, Confluence has a free plugin. And the plugin allows you to easily embed a Google Doc link into a page. So these tools aren't mutually exclusive.
Confluence for Human Resources and Legal Teams
Now let's look at Confluence for Human Resources (HR) and Legal. Confluence has features that other platforms don't. For HR teams, Confluence provides a centralized hub for managing employee-related information, policies, and procedures. Additionally, HR professionals can create and maintain a comprehensive knowledge base. This can contain onboarding guides, employee handbooks, and training materials. Furthermore, HR professionals can also tie Confluence in with Jira Service Management (JSM) so there is a knowledge base tied to a service desk for employees. This connection of Confluence and JSM streamlines the onboarding process for new hires. And, it also ensures all employees have easy access to essential HR resources. 
Confluence Integration For HR
Additionally, Confluence's integration with other HR tools. This allows for:
Seamless coordination.

Enables HR teams to track and manage employee performance, feedback, and development plans efficiently. 
Atlassian also provides out of the box templates for HR teams. For example, an Employee handbook, a Career development plan, and an Employee promotion letter.
Using Confluence For Legal Teams
What about for legal teams? Well, Confluence proves invaluable in document management and knowledge sharing. Now legal teams can collaborate on drafting contracts, policies, and compliance guidelines in real-time. This ensures accuracy and avoiding version conflicts. Additionally, the platform's robust security features guarantee confidentiality. That means it makes it a safe space to discuss sensitive legal matters. Furthermore, you can lock down the Confluence space and limit access as needed. And you can do that whilst still taking advantage of all of the collaboration features such as comments and tagging.
Lastly, Confluence's search and organization capabilities aid in quickly retrieval of relevant legal documents and past cases. That means it enables legal professionals to make informed decisions and respond promptly to legal challenges.
Overall Confluence empowers HR and Legal teams to:
Work efficiently.

Foster collaboration.

Maintain compliance with ease.

All within a secure and user-friendly digital workspace.
Confluence for Product Management
Confluence serves as a game-changing tool for Product Management teams, revolutionizing the way they collaborate, plan, and execute projects. With its intuitive interface, Confluence becomes a centralized space for product managers to define product requirements, organize a product roadmap, or develop OKRs. Product managers can leverage Confluence's integration with other project management tools such as Jira Software to create actionable tasks, assign responsibilities, and track progress.
One of the most significant advantages of using Confluence for Product Management lies in its ability to foster cross-team collaboration.  Getting different groups of people on the same page can be difficult. But Product managers can collaborate with engineering, marketing, design, and other teams in real-time with Confluence, exchanging ideas and feedback seamlessly. This collaboration promotes an iterative development approach, where changes and improvements can be quickly implemented based on stakeholder input. Moreover, Confluence's version control features ensure that all team members are working with the latest information. This reduces the risk of miscommunication and ensuring that everyone is on the same page throughout the product's lifecycle. 
Confluence for Software Engineering Teams
If you've ever used Confluence before, it's most likely been for software engineering or software development documentation. This was the original purpose for which Confluence was created. After all, proper documentation is paramount to success when developing software.  Confluence provides a structured platform to document code, architectural designs, and technical specifications. And, this organized documentation streamlines the onboarding process for new team members and helps in knowledge sharing. Consequently, teams can reduce redundancy, avoid errors, and enhance overall productivity.
And, when projects involve multiple teams, a smooth handoff process becomes crucial. So, Confluence facilitates seamless transitions by allowing teams to hand over their work with all the relevant documentation and context intact. This feature reduces the learning curve for incoming teams and ensures the project's continuity, minimizing delays and bottlenecks.
Confluence's interactive nature empowers team members to provide feedback and suggestions at any stage of the project. Ultimately, this continuous feedback loop allows teams to make improvements iteratively. It ensures the final product aligns with the project's objectives and meets client expectations.
Conclusion
As you can see, Confluence proves to be an indispensable tool for both Marketing and Engineering teams, and in-between. Its versatility, user-friendliness, and collaborative features empower teams to:
Work efficiently.

Streamline their processes.

Deliver exceptional results. 
Whether you are a marketer looking to enhance your team's coordination or an engineer seeking an organized workspace for technical documentation, Confluence is the ideal solution. Embrace the power of Confluence today, and witness your teams productivity  transform. 
Interested In A Free Confluence Demo?
Contact SPK's team today so we can show you the power of this great platform.