Major portions of any PTC Integrity Solution are the test artifacts. Many customers when they initially start to look at PTC Integrity Lifecycle Manager are generally looking at it as way of managing their requirements, or as a way of maintaining compliance in highly regulated industry verticals like automotive or medical devices. What's often overlooked is how you can use your PTC Integrity Lifecycle Manager to not only manage your test cases, but plan your test strategies, lay out your testing objectives, and execute your tests and manage the results.
What I am going to talk about in this article is how PTC Integrity Lifecycle Manager addresses testing within their solutions. As with most of my articles, I'm writing this with an eye on the Medical Device solution, but the concepts apply to other PTC Integrity solutions like the ALM solution as well.
Testing, according to PTC Integrity, is broken down into three main tasks. These tasks are Test Authoring, Test Planning, and Test Execution. I will discuss each of these in more detail below:
1) Test Authoring
This is where you create and maintain your Test Protocol documents (including your Test Steps). A Test Protocol document is a document domain that is made up of the Test Protocol document item and the Test content item. Test Steps are items that you can use to further define what happens within your individual Tests. By using the Test Protocol document to define your tests, you gain the advantage to being able to trace your individual test directly back to your requirements and design documents without the need for a complex integration between third party tools.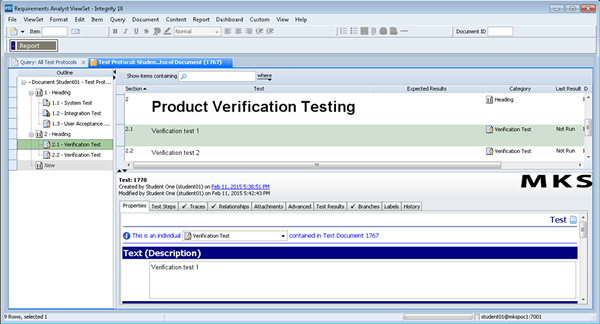 2) Test Planning
In this phase you are basically determining what tests you want to execute as part of your testing strategy. Your Test Protocol document(s) is essentially the master list of all the possible test cases you potentially can use in your testing. In your test planning phase you decide on your testing objectives, and determine which of the tests from your Test Protocol documents you are going to use to achieve those objectives. In this phase you create use the Test Plan item type to hold all of the Test Objectives. From within the Test Objective item you can choose what Tests to add to you Test Objective that are referenced from your Test Protocol document.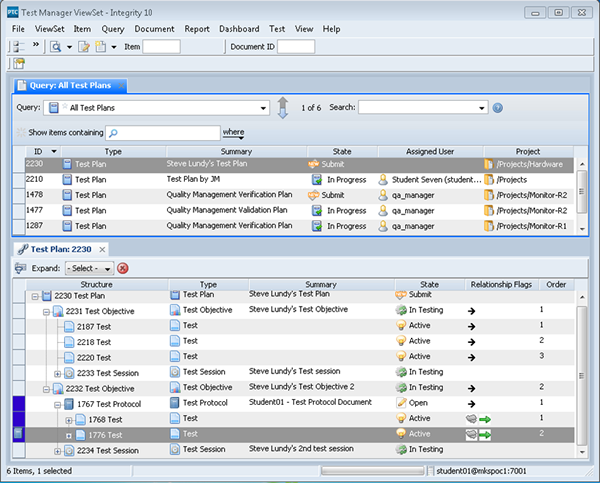 3) Test Execution
In this phase you are basically executing your Test Plan. This is achieved by creating Test Sessions against the one or more of the Test Objectives found in your test plan. Test Sessions can be as small as a single test case from one test objective, or it can be as large as you want to make it. The idea behind the Test Session is that it is the testing that is performed by an individual tester, and the results he/she gathers are entered using the Test Result editor. Furthermore, you can tie results of your testing through the Test Protocol document directly back to your Requirements and Design specifications. This means you can report on the requirement, the corresponding design, as well as the corresponding testing and view the results of that testing.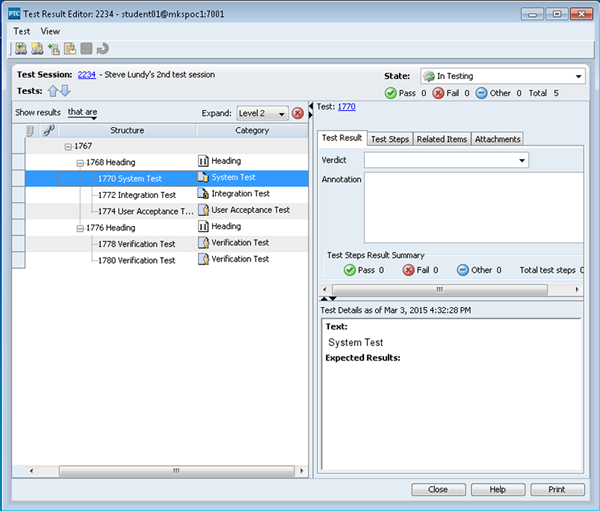 As you can see, your standard PTC Integrity solution out of the box, offers a pretty comprehensive methodology for handling your organization's testing needs. The advantage of using your PTC Integrity solution for not only handling your requirements but your testing as well, means that you have a tight method of maintaining control over your entire product release cycle without having to try to reach across several systems trying to make sense of data that is not necessarily compatible.
Next Steps: