In the past 3 years, our world has definitely changed.  This year was no exception.  From the early days of the COVID-19 pandemic to the great resignation, businesses have had to adapt to changing government regulations, employee needs, and methods of doing business.  In this 2022 technology review, our team at SPK and Associates put together interesting areas that summarize the important changes in technology that have enabled the evolution of business in order to develop resilience in the face of a seemingly unrelenting set of disruptions. What you'll see in this blog post is a roundup of some of our most innovative experiences of 2022.
Breakthroughs in Artificial Intelligence
Of all the tech breakthroughs in 2022, I'm most excited about the release of OpenAI's ChatGPT platform and API.  If you're not familiar with OpenAI, it's the Elon Musk-founded company that is building out cutting-edge AI technology.  Their newest release is an AI-powered chatbot named ChatGPT.  GPT (short for "Generative Pre-training Transformer") is a type of language model developed by OpenAI. It is a neural network-based model that is trained on a large dataset of text and is able to generate human-like text. ChatGPT is a variant of GPT that has been specifically designed for generating text for chatbots and conversational AI systems. It is trained on a large dataset of chat and dialogue data and is able to generate responses that are more appropriate for conversation. ChatGPT can be used to build chatbots that can hold natural conversations with humans, and can be fine-tuned for specific domains or tasks.
Now if you're not seeing why this is a big breakthrough, you may want to familiarize yourself with some of the blog posts that went out in late November, or early December of 2022.  This one in particular that talks about the abilities and limitations of ChatGPT are a good one. While ChatGPT can answer questions and build simple content, one of the most powerful tools I'm seeing is the ability to write and debug code.  Yes, it understands code.  This will allow developers to debug code, or even allow non-developers to start generating code.  Previously, this type of logic was only thought to be able to come from humans.  Given some of SPK's recent AI and machine learning projects, this tool will be helpful for both integrators and businesses moving forward.  Tell us how you will need ChaGPT support in 2023 and beyond.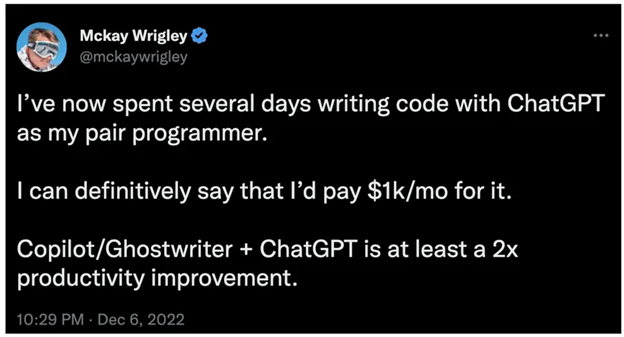 What's Atlassian Been Up To In 2022?
In our Q3 and Q4 blog posts about Atlassian, we've talked about lots of new products that have been released, including those for product managers (Jira Product Discovery), company directories (Atlas), and a DevOps health platform (Compass). 
In our Part 1 and Part 2 blog posts from Atlassian Team '22, we outlined many of these product announcements.  And as Atlassian's clients migrate to the Atlassian Cloud SaaS platform, Atlassian will continue to add features to the existing products like Jira Software, Confluence, and Jira Service Management.  Another major advancement for Atlassian Cloud in 2022 was their continued effort to enhance their data residency compliance, along with their roadmap for Cloud that includes several other compliance certifications such as HIPAA, BaFin, and others.
We have seen how Atlassian Cloud products have supported the innovation needs of companies and also helped companies streamline their workflow by automating features in Jira Software and JSM to minimize the number of staff members needed for that particular work item.  True innovation can only be achieved when our clients see what I call the "art of possible" and by being open to learning about how Atlassian products may support those opportunities with us, they find inventive methods that align with their business strategy and processes.
Be sure to learn more about some of these innovative methods in SPK's Atlassian white papers both here and here.
Cloud, Cloud, and More Cloud
SPK's team summarized several AWS product updates in September of 2022 which focused on the in-person AWS re:Inforce conference, Visual Embedding, and product updates to AWS Glue and EventBridge.  Of those updates, my favorite is the Visual Embedding which provides developers and data engineers alike with simple and easy-to-integrate graphs and charts to integrate into AWS applications.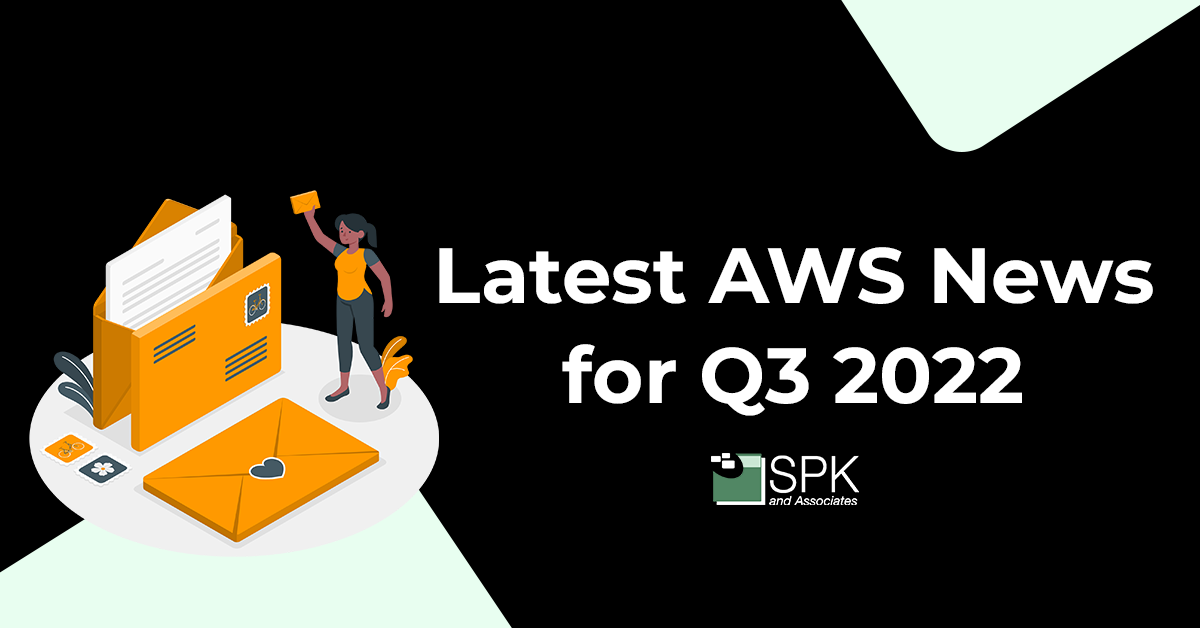 Microsoft also made several updates to their Azure products in 2023, which included updates to the Azure Web Application Firewall (WAF) that are now in general availability, a public preview of Azure Migrate which allows users to build a business case for moving to Azure, updates to their Cost Management plans.  SPK will be coming out with more news on our Microsoft partnership, especially concerning Azure, in the coming months so stay tuned for this.
Onshape, Arena, and Other Updates from PTC
In October 2022, SPK's team summarized some updates from PTC by way of product news.  This included updates to Onshape, which PTC acquired in 2019, along with other announcements regarding Onshape and Arena connection.  This article also spoke about the acquisition of Intland Software, makers of Codebeamer, which occurred in April 2022.  Also in October 2022, ABI Research named PTC a leader in generative design software in
The general theme from PTC's product announcements this year has been that of moving to more cloud-friendly solutions for CAD, PLM, VR, and IoT.  PTC's reported earnings over the past year have been mixed with 2 quarters exceeding estimated earnings per share, while 2 quarters were less than expected.  But the losses were not as much as other tech giants in 2022 such as Amazon, Netflix, Intel, Salesforce, and others.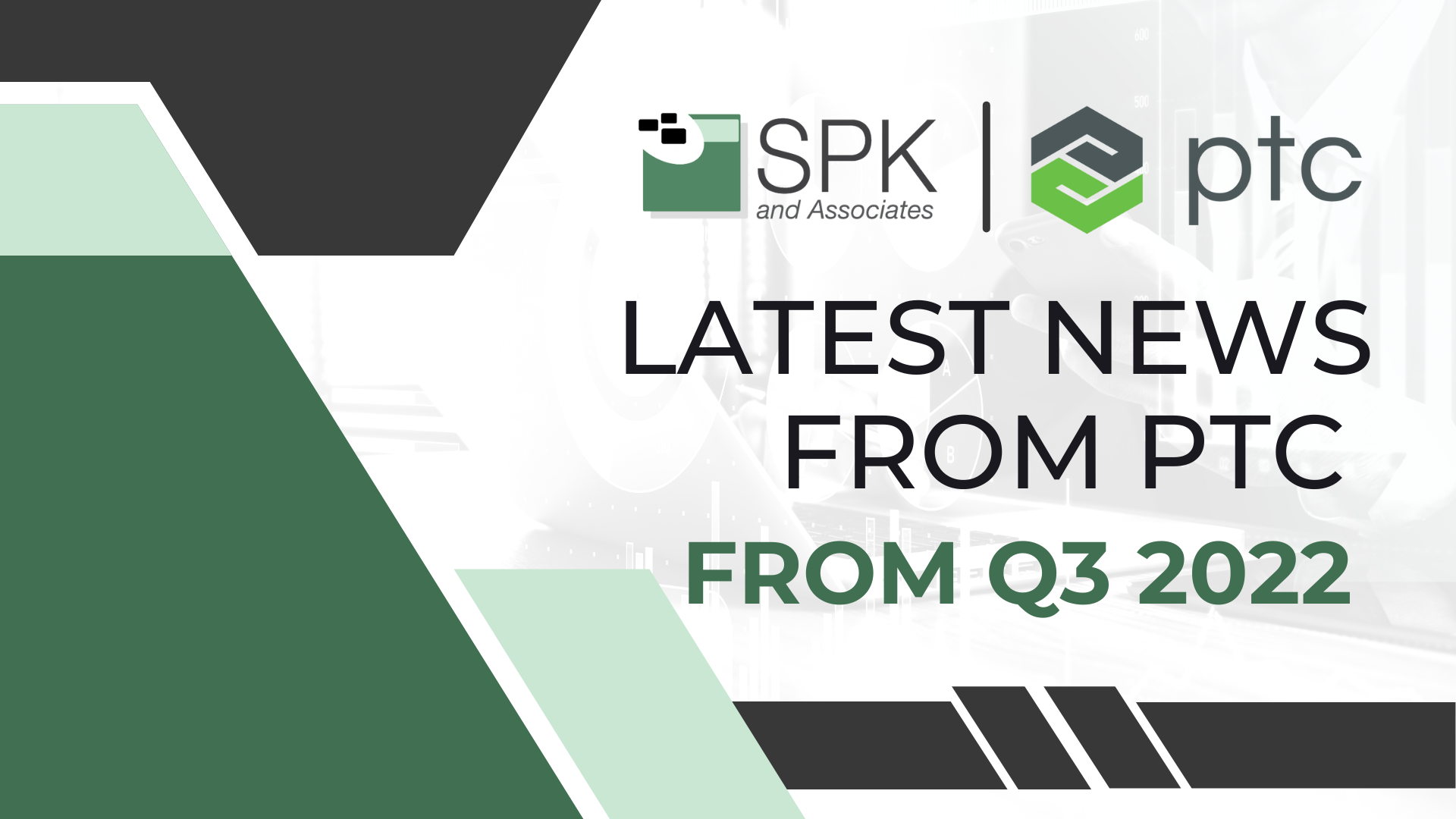 The Expanding Metaverse
Metaverse trends grew exponentially in 2022 as brands like Adidas, Burberry, Gucci, Tommy Hilfiger, Nike, Samsung, and Louis Vuitton have all staked their claims in it.  In the world's first Metaverse Fashion Week, launched by Decentraland, a $4,000 Gucci virtual bag outsold its physical counterparts. 
When Facebook (now Meta) bought industry leader Oculus in 2014, VR users were concerned about being forced to use their Facebook account, featuring their real or later "authentic identity," in the virtual worlds they visited with their Oculus headsets. At first, Facebook promised Oculus owners that they could go on using their devices without needing a Facebook login. Then, shortly before the release of the Oculus Quest 2, the company changed course: Quest devices would henceforth require a Facebook account and could no longer be used pseudonymously.  In 2017, it was reported that Facebook's acquisition of Oculus was a failure.  But the Metaverse has rebounded in the past years, allowing more interactivity between users.  In a blog post by Luisa Zhou, the reported "top reasons for joining the Metaverse are to experience things they can't in physical reality (41%), to communicate with others in the metaverse (40%), and to escape their physical surroundings (28%). These interests provide a wide metaverse user demographic range."  Given the trends of 2022, we expect there to be more investment into the Metaverse in 2023.  How is your organization going to use the Metaverse?
Other Technology News to Note
There were many other technology updates from top tech companies in 2022 that we didn't mention above, but we wanted to include some of them that could be beneficial to our readers.  Those include key inventory updates from different Nvidia models, the collapse of FTX, the Twitter situation with Elon Musk, Broadcom's purchase of VMware.  What big items did we miss that you'd like to hear about?
Conclusion
Did you find value in this blog post?  If so, please sign up for SPK's bi-weekly newsletter.  We continue to provide thought leadership in the areas of PLM/PDM, Software and DevOps, Data Engineering and Analytics, and Cloud technologies.  If you're interested in speaking with one of our experts in this areas, contact us today.