Protecting your business against the latest cybersecurity threats isn't easy, is it? Today, cyber threats are becoming more sophisticated, and they're targeting a broadening field of potential victims. Consequently, businesses are feeling the pinch with increasing remediation costs. According to Sophos "State of Ransomware 2021," the average cost of recovering from a ransomware attack now stands at a staggering $1.85 million. On top of that, Microsoft's Security Insider reveals that 2 in 5 security leaders feel they're at extreme risk due to cybersecurity staff shortages. 
Because of these dynamics, organizations like yours are seeking solutions that can adapt to this evolving threat landscape. So, our cybersecurity experts at SPK are sharing how you can protect against cybersecurity threats. And, specifically on how Microsoft XDR and SIEM can help.
Why Defense Against The Latest Cybersecurity Threats Is So Challenging
Let's be candid: Security Operations (SecOps) professionals have their plates full. They must secure email, endpoint devices, identities, cloud apps, and workloads. Additionally, attacks are no longer siloed. Now, they're increasingly coordinated, targeting multiple areas simultaneously. 
Additionally, the workplace has also changed. Yes, the modern workplace is under attack. But, now, security teams also have to factor in how to protect remote workers from cybersecurity threats too.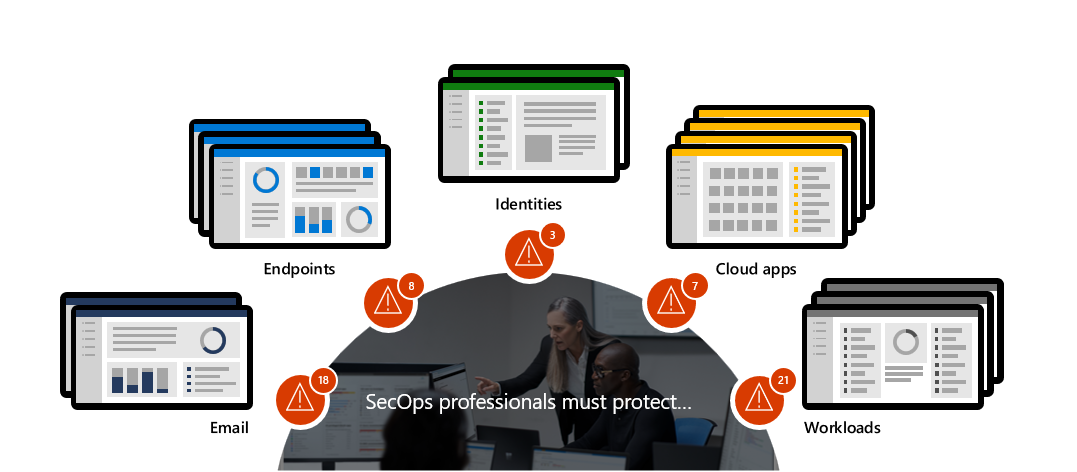 Understanding How XDR and SIEM Protect Against The Latest Cybersecurity Threats
To counter these challenges, technologies like Extended Detection and Response (XDR) and SIEM (Security Information and Event Management) are a great solution. 
XDR consolidates data across email, endpoints, identities, and workloads to detect threats. 

SIEM, on the other hand, provides real-time analysis of security alerts generated by various hardware and software.
By combining the might of XDR and SIEM, Microsoft's security solutions offer a proven way to secure your operations – from end to end.
Comprehensive Protection Across the Kill Chain Of Latest Cybersecurity Threats
Here's a quick overview of how Microsoft XDR and SIEM can help you protect against the latest cybersecurity threats:
Email Security: Safe links and attachments, Malware detection
Endpoint Security: Endpoint Protection Platform (EPP, Endpoint Detection and Response (EDR)
Identity Management: Verified IDs, Privileged Access Management
Workload Security: Workload threat protection, File share encryption
Cloud Apps: Controlled access, Data protection
Supercharge Your Defense with Microsoft's Threat Intelligence
Microsoft leverages global threat intelligence to identify potential adversaries and their infrastructures. Consequently, this helps you to better understand your digital attack surface comprehensively.
Modernize Your SOC with Microsoft Sentinel
Cloud-native SIEM powered by AI and automation is already helping businesses worldwide to improve their security. 
Microsoft Sentinel helps you collect and analyze data at a cloud scale, reducing your mean time to respond (MTTR). If you're a Microsoft 365 E5, A5, F5, or G5 customer, you can even save on Microsoft Sentinel.
XDR: The Linchpin for End-User Environments
With XDR, not only can you prevent sophisticated attacks, but you can also detect cross-domain attacks and remediate them using a single dashboard. Essentially, this is an incredibly potent way to protect your organization's digital assets, from emails to endpoints.
The Value Proposition: Better Security at Lower Costs
Microsoft's security offerings have been proven to:
provide businesses with 201% ROI over three years and,

are 48% less expensive compared to legacy SIEMs. 
Ultimately, Microsoft solutions like XDR and SIEM are industry-leading protection against the latest cybersecurity threats. And, they can save you money.
Partner with SPK for Seamless
Microsoft Security Integration
At SPK, we understand the gravity of your cybersecurity concerns. And, as trusted Microsoft partners, we can also support you to:
Consider XDR and SIEM, and how they can help identify gaps in your existing cybersecurity measures.

Provide recommendations to protect against the latest cybersecurity threats.

Partner with you to implement the best protection for your business.
Implementing the right tools can help you optimize your security operations and make your defenses impenetrable.