If you're in the midst of planning, or considering an Azure cloud migration, this blog is for you. The reason is because the shift to cloud computing is no longer a trend but a business imperative. However, the process of an Azure cloud migration or general cloud adoption can be fraught with complexity, risks, and hidden costs. That's why Microsoft's Azure Cloud Adoption Framework aims to simplify this journey. Instead, it provides a structured roadmap for organizations to transition to the cloud with confidence. Additionally, it serves as a comprehensive guide that offers proven methodologies, expert guidance, and tools for a seamless migration.
What Are The Six Steps Of The Cloud Adoption Framework?
The Microsoft Azure Cloud Adoption Framework outlines the six steps you should factor in to prepare for Azure cloud migration. The steps are:
Define your strategy and successfully build your cloud business case with cloud economics.

Plan and convert the aspirational goals of your cloud adoption strategy into actions.

Get ready and prepare the cloud environment for planned changes.

Adopt and migrate workloads to the cloud and modernize them to meet your customer needs.

Govern and establish cloud governance to ensure proper guardrails are in place.

Manage and follow the cloud operations principles to run reliable cloud environments.
Let's cover these in more detail.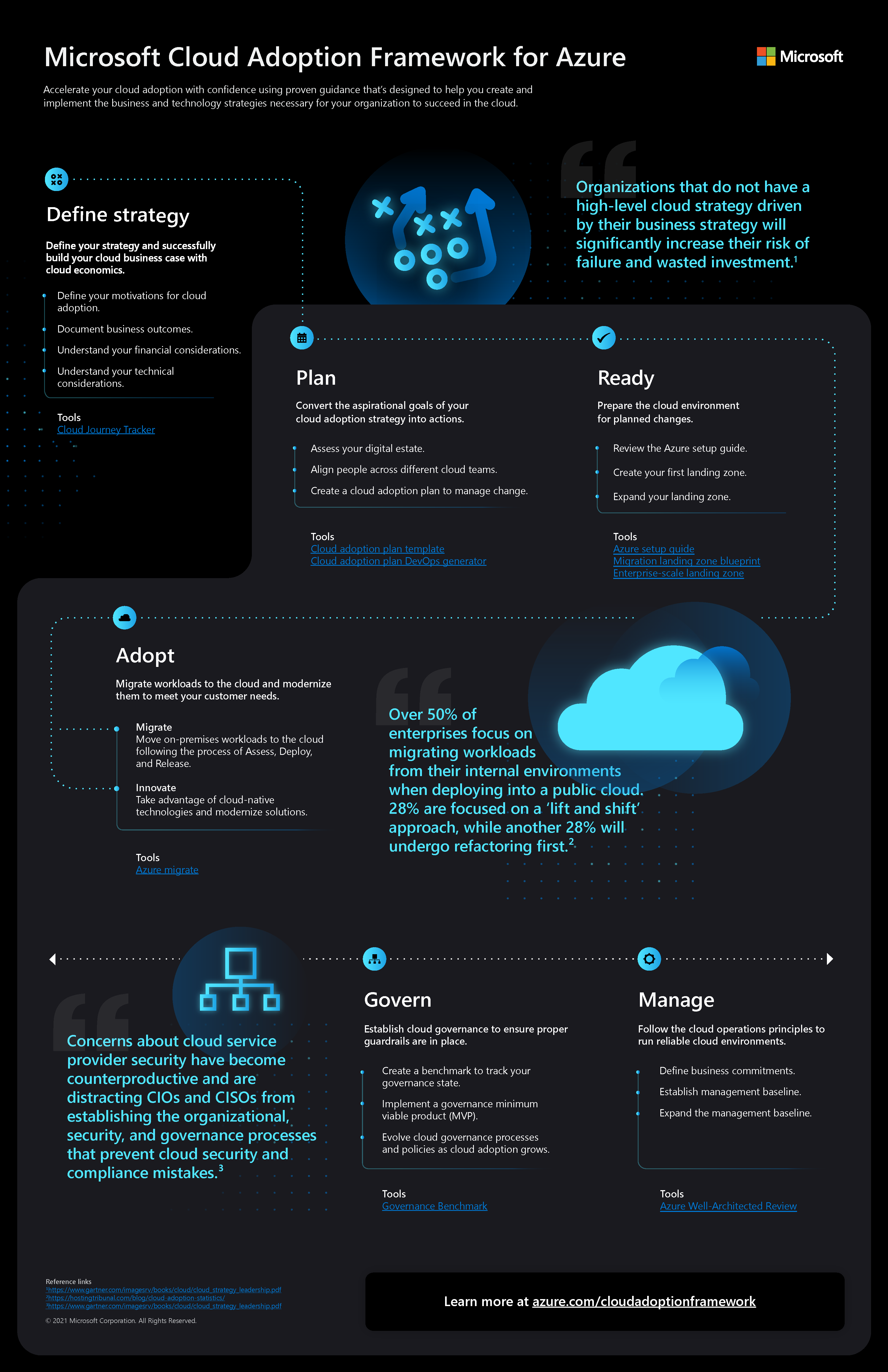 Azure Cloud Adoption: Why Strategy Matters
A successful Azure cloud migration starts with a solid strategy. That's why the framework emphasizes that businesses without a cloud strategy are at a greater risk of failing. Additionally, they'll waste valuable resources. So, the key to mitigating these risks is to define your motivations for cloud adoption. You'll also need to document the expected business outcomes, and understand both financial and technical implications. If you need guidance here, you can utilize the Cloud journey tracker tool to support you or contact a trusted Microsoft partner.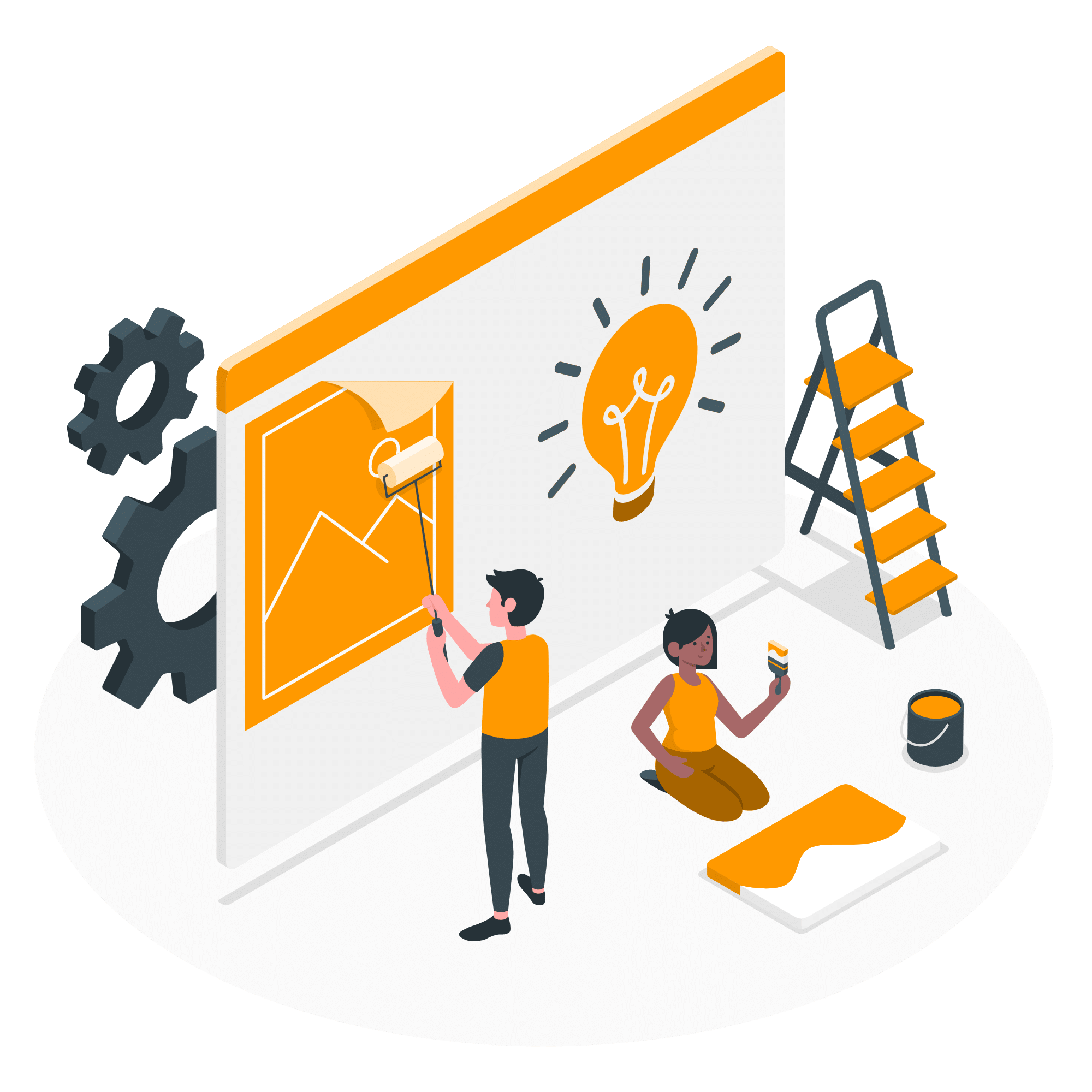 Assess your organization's current digital estate.

Align stakeholders across different teams.

Create an actionable cloud adoption plan.
Planning helps to convert the aspirational goals set in your strategy into tangible actions. Ultimately, reducing the likelihood of errors or missteps during the implementation phase.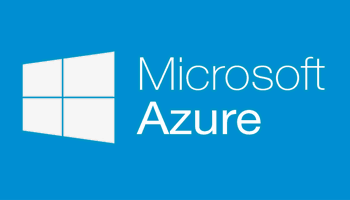 Preparing For Azure Cloud Adoption
Before you can begin migrating workloads to the cloud, your environment must be adequately prepared. So, Microsoft aim to support you with this via their Azure cloud migration setup guides and templates:
Essentially, these guidelines, best practices, and resources provide a blueprint for your Azure environment. Over time, this can be expanded to accommodate additional needs, helping to ensure scalability and performance optimization.
Adoption and Modernization
According to statistics, over 50% of enterprises prioritize migrating existing workloads to the cloud. So, whether you opt for a 'lift and shift' approach or refactor your applications first, the tools like Azure Migrate to facilitate this process. Furthermore, you're encouraged to innovate by leveraging Azure's native tools, modernizing your solutions to meet changing customer needs.
Azure Cloud Adoption: Governance and Security
Governance is baked in as standard to the framework. It stresses the importance of establishing a governance MVP (Minimum Viable Product) and setting up benchmarks to track governance states. As your cloud adoption grows, these processes should evolve to ensure that adequate controls are in place. Thus mitigating security and compliance risks. Check out Azure's Cloud Governance Framework for more information.
Managing Post-Adoption
Finally, the framework offers advice on post-adoption management. Organizations are guided to define business commitments and establish a management baseline that can be scaled as cloud usage grows. Tools like the Azure Well-Architected Review help in assessing your setup against Azure cloud migration best practices. Ultimately ensuring a reliable and efficient cloud environment.
Conclusion
Missteps in cloud adoption can be costly and counterproductive, and concerns about cloud security can be a distraction. Microsoft's Azure Cloud Adoption Framework helps organizations navigate these complexities by offering a comprehensive guide that covers every stage of the cloud adoption lifecycle. From strategy formulation to planning, preparation, migration, governance, and management, the framework aims to ensure a smooth transition, allowing organizations to leverage the full potential of cloud computing while minimizing risks.
Contact us here for a no-obligation discussion.