As a manufacturer, you have to be both structured and agile to constantly stay in line or ahead of the industry. You have to deliver quality products that meet the customer's needs today whilst being future-proofed for tomorrow.  Aside from that, you also need to balance stakeholder needs, governance, security and budget to name just a few. All whilst ensuring the product lifecycle runs smoothly. That's why having effective product lifecycle management (PLM) software is critical.
Having an effective PLM software suite reduces the rework needed by revisions. Additionally, it allows you to better understand the impact that changes have on:
The supply chain

The Bill of Material (BOM)

There are plenty of PLM software choices available, but at SPK we recommend PTC Windchill for our clients. Why? Let's find out.

Why choose PTC Windchill?

PTC Windchill is a proven out-of-the-box solution from the industry leaders at PTC. By using the PLM software from Windchill you can effectively manage and collaborate on each step of product development. It provides world-class performance enabling you to focus less on multitasking and more on delivery-focused tasks.

PTC envisions that every manufacturer should have an end-to-end solution for all research and development (R&D) tasks. With this PLM software, you can both establish and accelerate your products.

PTC Windchill was also named the leader in PLM Software by ABI Research.

Benefits Of Using Windchill PLM Software
In a highly competitive market, keeping on track to deliver high-quality markets is paramount. PTC's PLM software enables your business to work faster and smarter. Using the software allows for:
Identifying key strengths and weaknesses throughout the development

Strategic approach to development, success and reliability

Easy access to project information

Scheduling, design templates, change notifications

Integration with systems like CAD and virtual CAD (vCAD)

Optimized collaboration between teams

Reporting and analytics

Improved product quality

Reduced rework

Accelerated time to market

And more!

It's no surprise that global leaders in manufacturing spend the right time and money choosing the right PLM software.

ABI Research Names PTC Windchill As The Top Choice In The PLM Industry

ABI Research completed a competitive ranking that covers vendors offering Product Lifecycle Management (PLM) Software. They developed the research to offer an unbiased assessment and ranking of PLM vendors.

ABI Research listed the following criteria as measurement for the value chain of PLM software:

How comprehensive the solution is for collecting and editing product-related information

How customers access and use the software

Whether the solutions help manufacturers in their efforts to adhere to regulations

The extent that the PLM software helps manufacturers create a digital thread of their operations

The ranking criteria for ABI Research on PLM software is:

Leader: A company that receives a score of 75 or above for their overall ranking
Mainstream: A company that receives scores between 60 and 75 for their overall ranking
Follower: A company that receives a score of 60 or below for their overall ranking
Innovation Leader: A company that receives a score of 75 or above for their innovation ranking.
Implementation Leader: A company that receives a score of 75 or above for their implementation ranking.

PTC came out on top in the competitor ranking for vendors involved in the PLM Software ranking first for innovation and second for implementation.
Siemens came in second for innovation and first for implementation.
The scores for Aras, Dassault Systèmes, and Infor were close for both innovation and innovation; further demonstrating how leading industrial software suppliers are looking to help manufacturers bring new products to life.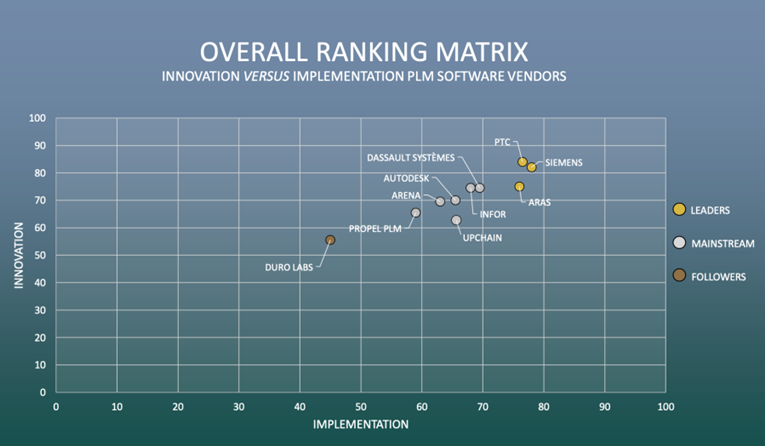 PLM Software Driven By Innovation and Implementation
PTC is a leader in PLM software for a reason. It stands out for both its innovation and implementation.
PTC Helps Businesses Innovate Through:
A single version of truth for all artifacts and documents that easily integrate with software
2. Accessibility to support remote working, cloud, mobile apps, and real-time collaboration
3. Analytics and simulation capabilities that detail the production line, perform what-if analysis, expenditure impacts and supply chain or material usage
4. A user experience (UX) that offers visualization tools
5. Supports new technologies including augmented reality and 3D visualization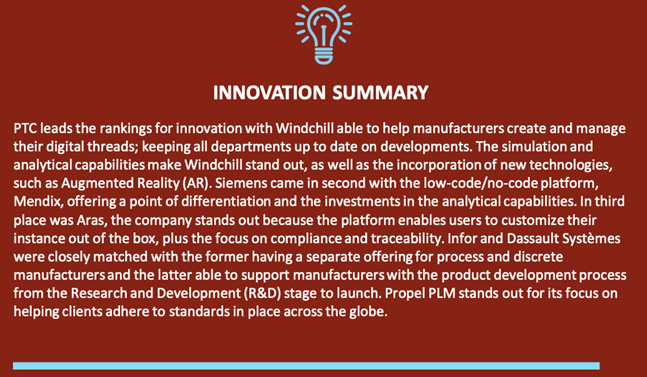 6. Supports providing a comprehensive digital thread to share product information and other software applications across the business
7. Enabling compliance and traceability to incorporate regulations and standards whilst adhering to product design.
PTC Also Ensures Their Implementation Is Consistently Relevant Through:
A growing order book and continuous revenue streams.
Showcasing industry expertise
Providing regular updates to the PLM software.
An effective GTM strategy that is delivered through their own revenue streams and effective partnerships, resellers and technology.
Being trusted by and providing their software to customers, globally.
Delivering an out-of-the-box solution, scheduling and design templates. It also provides a discussion forum for users.

Providing IT integrations via plugins and Application Programming Interfaces (APIs).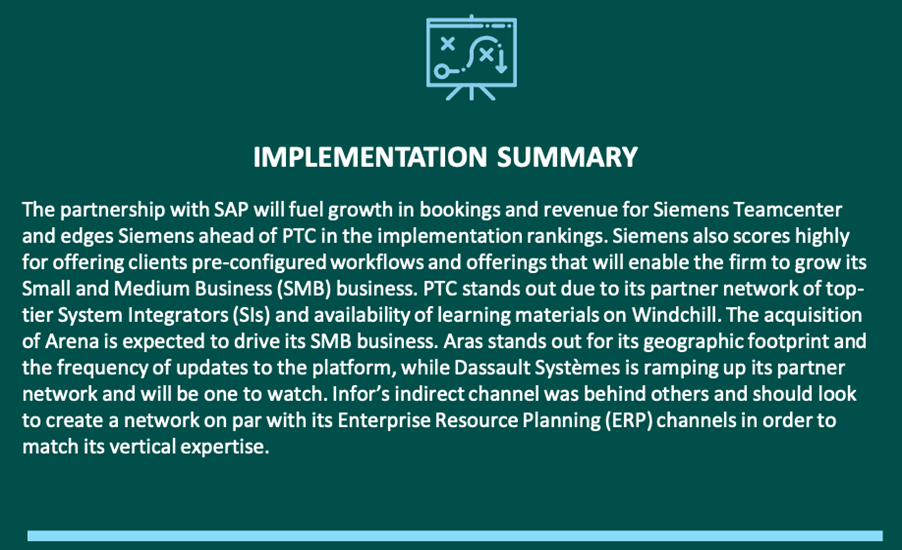 The Key Features Of PTC Windchill PLM Software
Here's a quick overview of the main features of PTC Windchill PLM software. Use this to easily check it has the right features for your business.
Product Management

Product Configuration

Product Change Management

Outsourcing Management

Process Management

Technical Knowledge base

Technical Assistance

Quality Management

Reliability Management

Integrations

Design details

Data Visualization and Analysis

Cost Estimation and Analysis

Collaboration Management

Suppliers' Management

Design Generation

Customer Experience and Feedback Management
Migrating Your Business to Windchill PLM Software
Ready to work with the best PLM Software? But already starting to consider the sheer volume of work in your pipeline?
Don't worry. At SPK we aren't just experts in our field, we're also PTC Windchill partners. We know the software inside out. We've supported our clients to both successfully implement and use Windchill for years. We also recently migrated a global leader in the medical device industry to Windchill in just three months. This was half their planned time when trying to migrate themselves. You can read more about the migration here.
Conclusion
PTC Windchill is a global leader in PLM software. They stand out from the competition because of their solid approach to helping customers innovate and deliver quality, regulated products to market faster. With this PLM software, you have one version of truth and a breadth of key features and benefits.
Windchill is trusted by leaders in the manufacturing industry for a reason. It's an out-of-the-box solution that works. And, if you need support to migrate your current PLM to Windchill so you can keep your business delivering and evolving at the same time, at SPK we can help. We're here to cut down your migration time and accelerate your speed to market without risk to your business, revenue or customers. We're a proud partner of PTC Windchill and can help you navigate your PLM software migration with ease. Contact us here to discuss your PLM needs.