SPK is a proud partner of Pax8. And Pax8 is a reseller of AFI Backup. Because of our relationship with Pax8, SPK clients can access AFI Backup at a discounted rate for our clients that utilize Office 365. And, because SPK is highly experienced with AFI Backup we are able to support our clients to both implement it well and provide ongoing expert support. 
What is AFI Backup?
Microsoft does not provide a single unified API to access all Microsoft 365 applications and data. Instead, backup vendors have to rely on multiple APIs to back up and restore Office 365 data.
However, due to frequent M365 updates, it can be time-consuming and expensive to support every data type. So, backup vendors, like AFI Backup, focus on a subset of Microsoft 365 applications. AFI Backup offers a unique edge in the market though due to its unique features including integration with Azure AD (enabling protection management by O365 user groups), cloud-based full-text search and AI-powered anti-ransomware. AFI is based on a new distributed microservices architecture. This helps users achieve two to three times faster performance than legacy alternatives. This is in addition to higher reliability and ten unique features.
Veeam Office 365 is another popular backup solution. However, Veeam does not provide a complete cloud service as AFI does. Instead, it relies on software tools that need to be installed, maintained, patched and managed. Cloud-to-cloud backup is the most practical option for Office 365 backup, that's why you should consider investing in AFI.
The Shared Responsibility Model And Office 365
With SAS applications such as Office 365, you may believe that everything is backed up. That you don't need to be concerned about data loss. However, this is not entirely true. In fact, all SAS vendors, including Microsoft and Atlassian follow the Shared Responsibility Model.
Essentially, within the Shared Responsibility Model, the vendor is responsible for all their infrastructure including ensuring their infrastructure is running the data security from their perspective. Why is this important to know? Because occasionally you, or a colleague, may delete something. This could be accidental or malicious. But either way, that action was taken within your company. And as far as the vendor knows, the intention was to delete the file. They see it as a legitimate action. That means that you and your company were responsible for the action and it is your duty to protect your data and/or processes to approve file deletion.
So, whilst vendors will give you the structure or the mechanisms to protect the data, you still have to ensure protocols are in place to protect it yourself.
Recently, The Cloud Security Alliance actually updated their assessment mechanism to include the Shared Responsibility Model. They took this action because they discovered most administrators believe their data is backed up in the cloud.
Consider Office 365 for example. That presentation you've been working on that's safely saved on Sharepoint is at just as much of a risk of being accidentally or maliciously removed. So are spreadsheets that might have years' worth of financial data, and any design work from months gone by. Additionally, you don't have an audit trail of the culprit who deleted it. You simply have to start the rework. Risky business.
AFI Backup takes a slightly different approach, and it's already trusted by thousands of customers.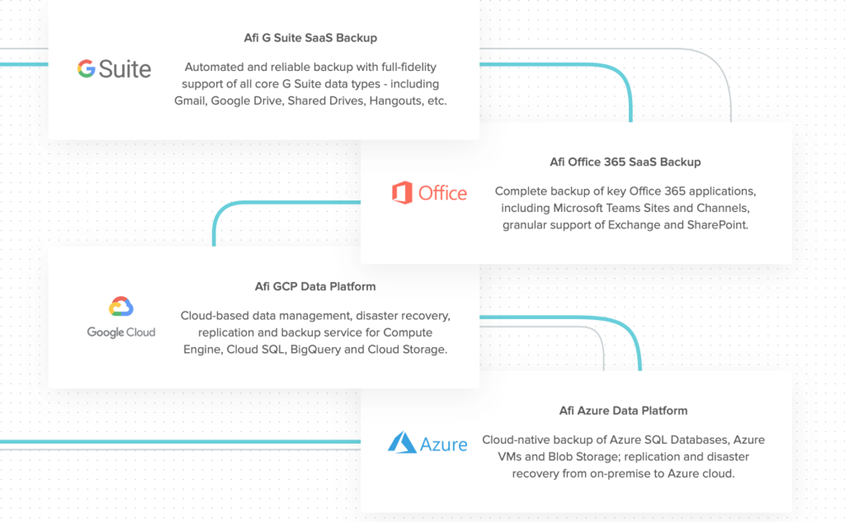 What are the benefits of AFI Backup?
1. Backups
The AFI engine is resistant to SaaS APIs faults that lead to failures. Backups are re-scheduled and re-tried to comply with protection SLA policies.
2. Backup is more flexible than ever with AFI Backup
With automated up to hourly (high-frequency) backups you no longer have to worry about permanent data loss. Additionally, on-demand backups can be triggered instantly by an admin for all users without any limits.
3. Storage on your terms
AFI Backup offers unlimited retention and storage locations in Europe and USA. And it can be backed up to the connected customer and partner-owned S3 cloud storage accounts.
4. Only product with full-text search
AFI Backup is the only backup solution with a full-text search. This allows administrators to search by email data contents, instead of only metadata fields (subject, user name, etc).
5. AFI Backup offers instant preview and export
Unlike legacy vendors, AFI Backup provides instant online content preview and export. And it does so without extra steps to request and/or generate download links.
6. Fast point-in-time browsing
Versioning with an unlimited number of recovery points or retention time is another fantastic benefit on offer. Access a granular Item-level or the whole account restored in place/to another account.
7. Backup all key applications
AFI supports all main G-Suite and Office 365 applications. These include Gmail, (Shared) Drives, Calendar, Contacts, Chats, Exchange, OneDrive and SharePoint. So, you can trust your entire data suite is protected.
8. Unique App Backups
Additionally, AFI backs up the workloads that aren't typically available by other vendors. This includes Microsoft Teams and the new Google Sites.
9. Full metadata support with AFI Backup
As if all the above wasn't enough, AFI also backs up cloud apps like no other vendor. It preserves all metadata, not just files, including sharing permissions, document IDs, email threads and more.
10. No confusing errors
With actionable protection messages, there is no need to go through message logs. Now, all your backup progress and status messages are summarized in one place.
11. Automated archiving
Auto-archiving is another incredible benefit of AFI Backup and it extends to deleted G Suite/O365 users. Additionally, you can save on licensing costs since there is no charge for archived users. And, their data is retained forever.
12.
Simple End To End Automation
AFI is the only Office 365 backup that enables mass management using Office 365 User Groups. You can assign protection settings for individual resources or entire user groups. Additionally, new O365 users and SharePoint are automatically discovered and protected.
13. Built-in multi-tenancy
You can also monitor and manage multiple domains. This is done in a single backup management portal with a single interface for Office 365 and G Suite backup.
14. AFI Backup Ransomware protection
Artificial Intelligence (AI) engines perform pre-emptive backups in case of attacks. An immutable cloud backup format is protected from data deletion or modification.
15. Granular access control
There are also granular admin/support roles. These include restore-only roles with no ability to see the contents of emails and files or the end-user self-service recovery portal.
16. Detailed audit logs
You can also access an audit log with records of all activity. These include access, configuration and restore operations. Additionally, these include session details including WAN IP & device type.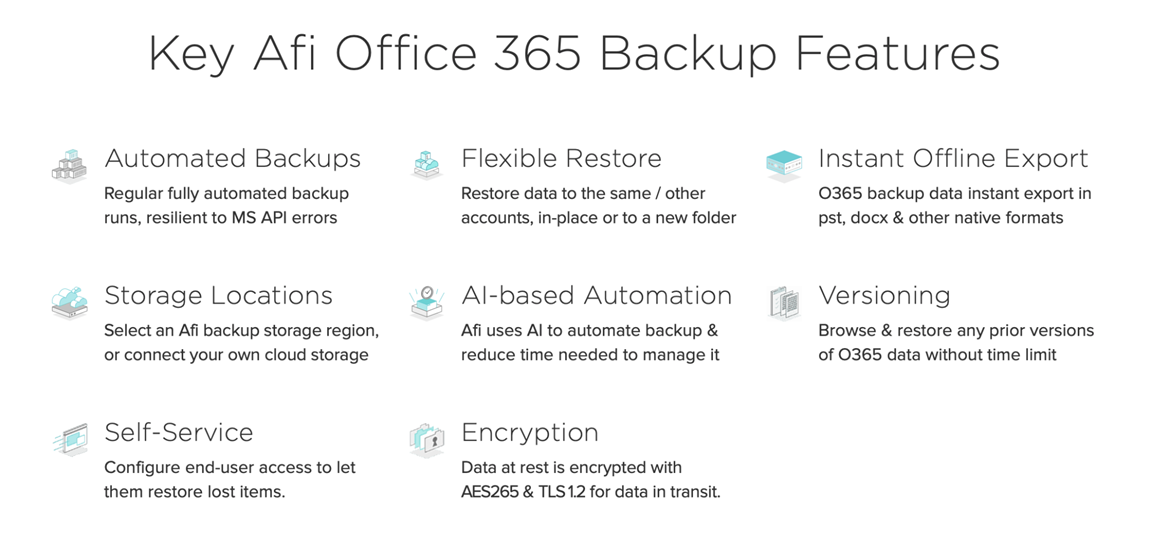 Where Is AFI Data Backed Up?
AFI offers various storage regions during the initial set-up. You can choose from locations including: 
United States (Iowa)

European Union (the Netherlands)

Britain

Canada

Australia
You can also manage backups for multiple Microsoft (Office) 365 organizational accounts, each with a different storage region, from a single AFI console. AFI also complies with GDPR, HIPPA, CCPA and other data protection regulations.
Conclusion
SPK is a proud partner of Pax8. And Pax8 is a reseller of AFI Backup. It offers cloud-to-cloud backup and an offering of unique app protection for all your O365 needs, including Microsoft Teams. Additionally, you can choose the storage backup region and ensure you are covering your team and your work in line with the Shared Responsibility Model.
Without a cloud backup solution, your team and your workload are at risk of accidental or malicious deletion, which could cost your business drastically.
If you would like to learn more about the Shared Responsibility Model or would like to discuss cloud-to-cloud backup solutions such as the discount on AFI backup, contact our team here.