Windows Server 2012/R2 is well integrated into business environments globally. However, as announced by Microsoft, its end of extended support is approaching in October 2023. So, if it's not doing so already, it's time for this change to start looming large in your mind. It's a significant milestone, especially if your business relies heavily on this technology. Understanding what this means for you is the first step. SPK and Associates recognize the urgency of this matter for your business. So, our expert team analyzed several upgrade options to help you transition smoothly. From Windows Server 2016 to 2022, various alternatives fit different needs. 
What Windows Server 2012/R2 End of Support Means
Windows Server 2012 will reach its end of extended support in October 2023. That's less than two months away. And, end of support means no more updates or technical assistance. That means security updates will cease too and your systems can become vulnerable. 
The end of support can have serious implications for businesses relying on outdated software. From security risks to non-compliance, the challenges are real. However, there are ways you can overcome these challenges. Keep reading to learn more.
How Windows Server 2012/R2 End Of Support Could Impact Your Business
This list is not exhaustive. However, it provides high-level insights into how Windows Server 2012/R2 end-of-support could impact your business sector.
Enterprise Businesses
Manufacturing and Production:

With integrated systems relying on Windows Server 2012, manufacturers may face disruptions and increased risks. Check out more info on how to

modernize your supply chain with Microsoft tools here.

Finance and Banking:

Compliance with stringent regulations is essential, and the lack of updates can pose serious challenges.
SMBs (Small and Medium-sized Businesses)
Retailers:

Dependence on legacy systems for inventory management and sales can lead to security vulnerabilities.

Healthcare Providers:

Patient data and critical healthcare applications must remain secure and compliant, and outdated servers may hinder that.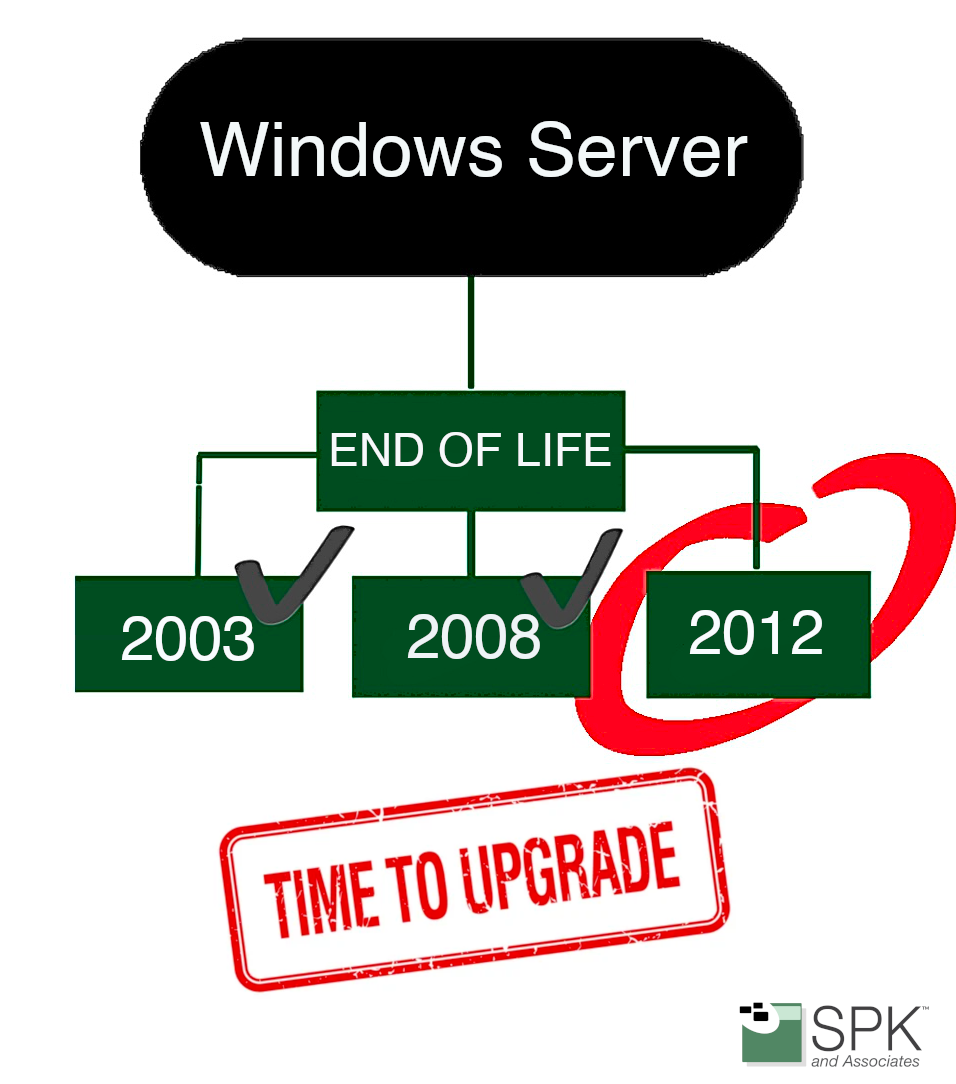 Start-ups and Innovators
Start-ups:

Growing businesses utilizing older technology may find themselves limited in scalability and exposed to security threats.
Public Sector Organizations
Government Bodies:

Maintaining public records and citizen data requires robust security. Unsupported servers may lead to inefficiencies and security concerns.

Educational Institutions:

Schools and universities may face challenges in managing student data and educational platforms.
Understanding Windows Server 2012 End Of Support Options 
So, now you may have started to consider your options, how do you choose what's next? 
Well, Windows Server 2019 offers a balanced combination of new features and stability.
And, for more aggressive technology adoption, Windows Server 2022 might be the perfect choice. Let's compare the two.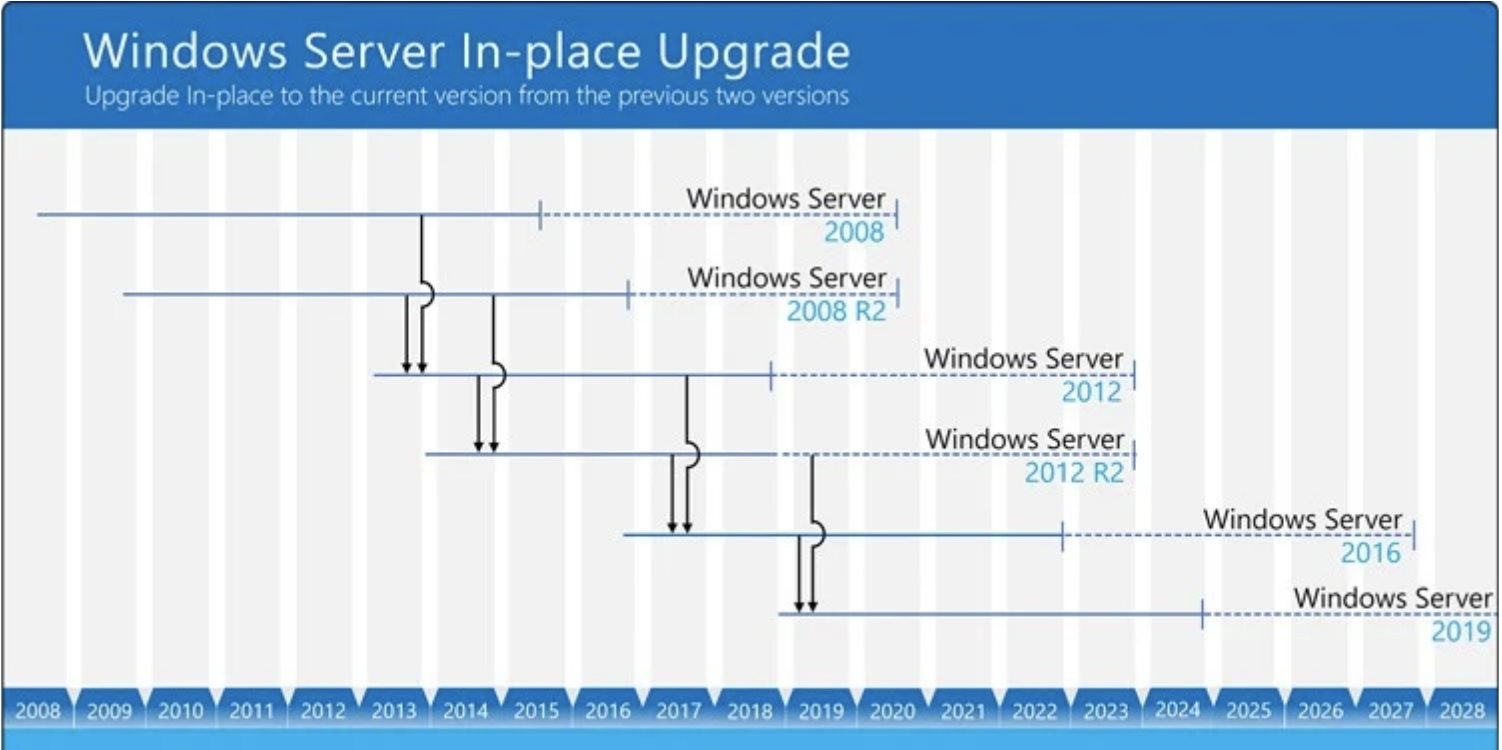 Windows Server 2019 vs. Windows Server 2022: A Detailed Comparison
Firstly, Windows Server 2019 is a good option for businesses seeking a mix of new features and proven stability. Released in 2018, it offers extended support until 2029. But, it lacks some of the features of Windows Server 2022 – more on those shortly.
Windows Server 2019 Key Features And Benefits:
Hybrid Cloud Capabilities:

Integration with Azure and other cloud platforms for a seamless hybrid experience.

Enhanced Security:

Features like Windows Defender ATP and Shielded VMs provide a robust defense mechanism.

Improved Application Platform:

Supports containerization and modern app development.

Performance:

Optimized for traditional workloads, giving reliable performance
If your organization thrives on utilizing the latest technology to gain a competitive edge, Windows Server 2022 may be the ideal choice.
Choosing What's Right for You
Balanced Approach:

If you are looking for a balance between embracing new features and maintaining a stable environment, Windows Server 2019 provides that equilibrium.

Cutting-edge Technology:

Conversely, if you desire the latest advancements in server technology and are prepared for a more radical transition, Windows Server 2022 is tailored for you.
Ultimately, your decision depends on your needs, risk tolerance, and long-term business strategy. 
But, we understand your implementation plan isn't just about choosing new software. Essentially, you need to create a more holistic transition plan that includes training, support, and ongoing management. This will help minimize business interruption. Here are some other factors to consider.
Security and Compliance
Moving forward, the lack of updates in Windows Server 2012 will lead to potential security risks. For example:
Security Vulnerabilities
Lack of Security Patches:

Without regular updates, known security holes remain unpatched. New vulnerabilities won't be addressed, leaving your systems exposed.

Increased Risk of Attacks:

Hackers often target outdated systems. The lack of security updates means they can exploit known weaknesses with greater ease.

Potential Data Breach:

Security lapses can lead to unauthorized access to sensitive data. The damage to reputation and potential legal implications can be severe.
Compliance Challenges
Regulatory Compliance:

Many regulations require maintaining up-to-date software. Continuing to use unsupported software might place you in violation of legal requirements.

Certification Loss:

If you are subject to industry certifications, using outdated software could lead to losing those credentials, impacting your business standing and customer trust.
Operational Inefficiencies
Integration Issues:

Older software might not integrate well with newer applications or systems, leading to operational inefficiencies and increased costs.

Lack of Support:

Finding expertise and support for an outdated system can be time-consuming and costly.
Strategic Implications
Reactive vs. Proactive Stance:

Sticking to an unsupported system means you're reacting to problems rather than proactively managing your technology. This stance can stifle innovation and growth.

Limited Future Planning:

Without the ability to integrate new technologies or adapt to emerging trends, future planning becomes constrained, limiting your strategic agility.
Cost Considerations
Ultimately, upgrading your server involves costs. That's why teaming up with a trusted partner who has expertise in Microsoft solutions can help. SPK is a Microsoft certified partner, so we're well-versed in this matter. Additionally, your trusted partner should take a value-driven approach. Essentially, taking into consideration your budget and ROI.
Upgrade With Support
Given Gartner named Microsoft as Leader this year in their magic quadrant, it's fair to say, Microsoft does care about customers. And, whilst upgrading might be a short-term headache, in the long run, your business will definitely benefit. So, change is inevitable. Anyone working with IT and tech knows this. And, there's a good reason too. The economy changes, technology evolves, and customers expect the best. Ultimately, it's time to upgrade, keep delivering to customers, and protect your business.
The end of support for Windows Server 2012/R2 is fast closing in. But, we can help you to keep your business running smoothly and ensure minimal disruption to your operations.
Whether you're a highly technical IT professional or a non-technical decision-maker, we speak your language. And, we're here to make this transition as seamless as possible. 
Plan your next move post-Windows Server 2012/R2 end of support.