One of the main areas SPK focuses on for our clients is backups. I won't go into a long lecture about why backups are mission-critical for your business because you already know they are. Even the standard backup schemes, such as Grandfather-Father-Son, have been written about and documented quite well. No, the point I want to make in this blog post is that you could be doing mission-critical, enterprise level backups for free right this minute!
One of the solutions SPK & Associates offers as part of our infrastructure support service is backup management. Wether that be backing up terabytes of data to tape, to disk, or even to cloud storage, we manage this and more to ensure your data is safe. One aspect of backup management is good backup software. There are a wide variety of software solutions out there, and all range in cost and features and compatibility. It's bound to happen that a client will ask about free backup software. Up until a few years ago there were not any real solid and easy to use backup software solutions out there. However, there has been one software package that really has come out shining in recent years and that package is Bacula.
What is Bacula?
Bacula is a cross-platform set of programs for managing backups, restoration, and verification of data. In technical terms, it is a network Client/Server based backup program. It can be used to backup 1 server or workstation all the way up to hundreds of machines. It's completely free to download and is fairly easy to setup and get up and going within a few hours. The following is a diagram of how Bacula is setup with all of the key components represented: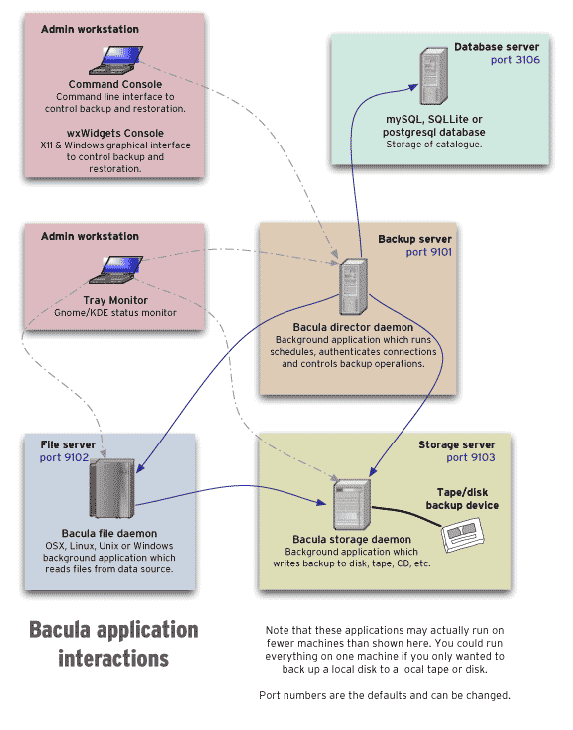 At SPK, we use Bacula to manage large amounts of data for one of our clients and it has been running smoothly since we first set it up. Just recently, we had an accidental erase of a large amount of data and we were able to restore that data from backup within a couple of hours. The end user was pleased and proved that Bacula can be just as reliable as commercial offerings.
Why Bacula?
I think the biggest reason for going with Bacula is the cost factor. If you are a real tight budget, you'd much rather put your money into a nice LTO-4 or LTO-5 tape library (with tapes of course!) rather than spending thousands on backup software, which have annual maintenance renewals, and are often very Windows-oriented. Bacula is cross-platform and that means it can backup Linux machines just as easily as it can backup Windows and even Mac machines! Granted, most commercial solutions offer clients for multiple platforms but you often have to pay for that license. It ends up costing you a lot of money in the long run.
What are some of the features of Bacula?
Here's a list of some of the key features that Bacula offers in a production environment:
Scheduling of multiple jobs at the same time
Jobs can be run simultaneous
File-level verification as well as backup set verification
Configurable TLS (SSL) communications encryption between each component
Support for save/restore of files larger than 2GB
Support for 64 bit machines
Volume Shadow Copy support for Win32 machines
Any SQL database engine can be used making Bacula very flexible. Drivers currently exist for MySQL, PostgreSQL, and SQLite.
Large support of tape drives and autochangers
Backup and restore speed is comparable to commercial offerings
It is also possible to backup clients without any client software by using NFS or Samba
There are many more features for this great backup software besides these, and for my next post I will go into depth and offer some sample configurations which show off these features.
In summary, I highly recommend this software if you are looking for a quick and cost-effective way to get your critical data backed up. It has all the features you'd expect from a much more expensive commercial offering and even goes above and beyond some of those offerings with it's unique and flexibility.
Have questions? Do you already use Bacula and want to mention a feature that I missed that you find amazing? Feel free to comment below!