Last week, SolidWorks held its annual conference, SolidWorks World 2018, in Los Angeles where over 5,000 engineers, manufacturers, educators and enthusiasts attended. Many who could not attend streamed the conference sessions online and scanned the 5000+ tweets that included the event's #SWW18 hashtag. Here's a roundup of that hashtag's noteworthy happenings over the course of the event.

Top Tweeters
According to a data visualization of the event's hashtag twitter stream, Deepak Gupta was the clear winner in this category with 600+ tweets during the conference.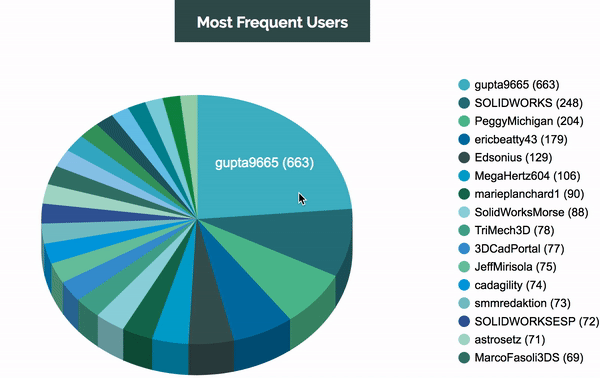 Deepak Gupta

runs the

Boxer's SolidWorks Blog and is a Design Manager, at InDepth Engineering Services India LLP.

SolidWorks

, the official twitter handle of Dassault Systemes

Peggy Frantz

, Mechanical Designer at Dane Systems, and Northern Indiana SolidWorks User Group Leader.

Eric Beatty

, Senior Mechanical Designer, OMAX Corporation, and Mastercam Instructor at Renton Technical College.

Edson Gebo, Owner and Designer, Digital Detail and Design, and Eastern SolidWorks User Group Network Rep.
Daniel Herzberg, Project Engineer, Jenike and Johanson, Inc., Founder and CEO, MegaHertz Modeling and Design, and President of the Boston Area North SolidWorks User Group.
Marie Planchard, Director of Education and Early Engagement, Dassault Systemes SolidWorks Corporation.
Top Links
Emmy Wolfe's blog post "Your Complete Guide to SolidWorks World 2018," posted on January 25, 2018 was one of the top links, and rightly so, with a great preview into the conference.

https://blog.trimech.com/your-complete-guide-to-solidworks-world-2018

Writers, Clare Scott and Sarah Anderson Goehrke, at 3DPrint.com wrote about "

New Software and Services at SWW18

," "

3D Printing, Nature and the industry renaissance

," and "

Rise Printers deepened its partnership with SolidWorks

."

Michael Petch of 3dprintingindustry.com gave

a nice roundup of the 3D printing industry

, including; Xometry, Sindoh, Wacom, and MatterHackers.

This graph represents a network of 440 Twitter users whose recent tweets contained "#SWW18", or who were replied to or mentioned in those tweets, taken from a data set limited to a maximum of 18,000 tweets during the conference.
#SWW18 via NodeXL https://t.co/NGifUKg019@solidworks@gupta9665@marieplanchard1@edsonius@nvidiadesign@solidworksedu@astrosetz@dgaylord3d@solidprofessor@swugn

Top hashtags:#sww18#solidworks#baconbrotherhood#3dprinting#swugn#beerme#solidworkscertified

— SPK and Associates (@spkaa) February 12, 2018
Rare Sightings
@StaceySClement tweeted out some serious content during the event. Her lighthearted snapshot of a SolidWorks tattoo wasn't one of them.
It's not #Solidworks folklore. I met the man w/ a @SOLIDWORKS tattoo. Meet Randall Adams from Norwood Medical & @FISHERUNITECH customer. #sww18 #truefan #engineers pic.twitter.com/lwry9MdHzh

— Stacey Clement (@StaceySClement) February 7, 2018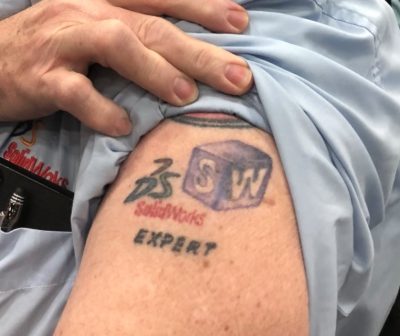 SolidWorks CEO Gian Paolo Bassi tweeted "We want to become the Amazon for engineers," when describing his vision of @SolidWorks 3DEXPERIENCE Marketplace. Kudos to @karennader for snapping this revealing photo of Gian Paolo. Who knew?
Of course SWKS CEO @gpbassi has his own bacon brotherhood card from John! @WMASS_SWUG #SWW18 #baconbrotherhood pic.twitter.com/1PQyw5NPtI

— Karen Nader (@karennader4) February 6, 2018
The 3DEXPERIENCE Marketplace is a cloud-based platform that increases SolidWorks integration between designers and engineers. This new feature will allow your design and engineering teams to easily search for, download and order more than 30 million components. Dassault believes the next stage of innovation will revolve, in part, around automation and integration.
So what's hot coming out of the event?
Here are 5 big announcements and, over #SWW18 you'll hear how these new technologies will come to BOTH the desktop and in the cloud. pic.twitter.com/oj5Yqd1Aaq

— SOLIDWORKS (@SOLIDWORKS) February 5, 2018
With an increasing number of tools and add-ons for SolidWorks, proper integration with your existing business processes is essential. Your engineering and DevOps tools should work together, not against one another. Proper integration can significantly decrease turnaround time for your products in an increasingly competitive marketplace with ever shorter time-to-market timelines. Again, if you don't have the in-house team to complete such integration, SPK and Associates have a proven track record with decades of combined experience executing such integrations, tailor-made for every client.
In fact, many of the most time-consuming — and frankly boring — projects on SolidWorks can now be automated away. Automation saves your organization money on payroll hours while freeing up your engineers to focus on what they love: designing better products. Even if you don't have the in-house team to manage process automation, SPK and Associates can provide this service, providing you hundreds of thousands of dollars of savings annually.
The final rare sightings comes from Suzanne Moran for those who prefer breakfast-on-the-go.
Morning moveable feast at #SWW18 pic.twitter.com/An3j9FQbDi

— Suzanne Moran (@suzannem) February 5, 2018
If you're excited coming out of SolidWorks World 2018 now is the perfect time to start looking at ways to maximize your organization's SolidWorks investment.
Next Steps: