Last time we had a look at how to acquire and install Hudson, a continuous build and integration system beneficial to software engineering. This week we take a look at how to create and run a job using Hudson, and then look at the job output.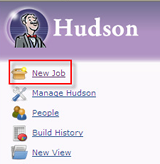 Hudson can run a wide variety of jobs; either manually, or by scheduling them. There are also a wide variety of supporting features for such things as source control, email of results, multiple build steps, generated build numbers, and many others. Hudson is very likely to have the combination that will meet your needs for an automated development process. This blog entry just gives the basics on how to set up a job and run it. Once you see that, we will leave the further investigation to you!
We hope that the example presented proves helpful to you. Have a look at our document on how to set up and configure Hudson jobs and read about all the details. And then please post a comment on how useful you found this post to be. Thanks.