In a recent post, I spent a few minutes with Windows 8 and Office 2013 using a Dell Latitude ST — and in my excitement over the launch of a new Microsoft tablet, I purchased a Microsoft Surface running Windows 8 RT hoping to see how it performs in an Enterprise environment. I'll summarize briefly below before going into very specific examples.
Overview
Windows 8 RT isn't a well-disguised tablet with Microsoft-themed icons, it's a Windows computer with absolutely no legacy application support. Someone accustomed to using Excel 2010 will be able to pick up this device and get back to work; the proliferation of "web applications" means that Internet Explorer becomes a vital tool for so-called compatibility – including access to Exchange.
The single USB port and familiar Windows Explorer file manager makes it easy to transfer documents or photos using external flash drives, at least until you swallow your Microsoft Pills and start depending on SkyDrive cloud storage.
Even if it's missing a few applications (e.g. Dropbox, VPN), the Windows Store [for downloading applications] is a huge and vital improvement over the traditional free-for-all we're accustomed to – hasn't anyone else noticed that viruses and spyware don't run on ARM processors?
It's a first-generation product with typical early-adopter problems included, but I believe this marks a revolutionary change to computing architecture. With a few extra applications and a Windows domain-enabling software update, Windows 8 RT could easily become the staple of corporate number crunchers, leaving more budget for me to buy Engineering tools and Rapid Prototyping machines.
For some excellently written comprehensive reviews, including details about the Microsoft Surface RT hardware, consider reading Tim Cook's Review on Engadget.com and Brian Madden's Blog-Review.
Microsoft Office
Microsoft Word looks like Microsoft Word; there's no "App" to download or learn and I can save in the Documents and Desktop folders that I'm accustomed to. Notably, Word, Excel, PowerPoint, and OneNote are included with RT, which helps reduce overall system cost.
Outlook is missing; I'm not sure why this is. In the meantime, try Outlook Web Access (OWA) in Internet Explorer. It's surprisingly usable – assuming you aren't still using Exchange 2003.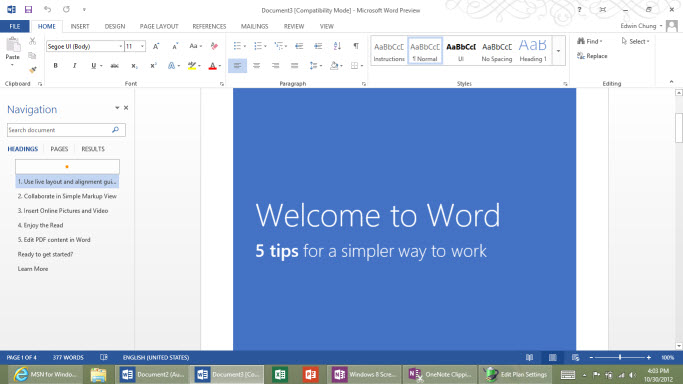 Internet Explorer
I ran some tests (on October 30, 2012) so that you don't have to:
I know the above looks pretty grim, but I went ahead and tested some of the Enterprise applications I use in the office:
Outlook Web App (2007): Works Great.
Sharepoint Enterprise 2010: Identical to my desktop.
Oracle Agile 9.2.2.3.10: Agile switches back to a non-Java 'compatibility mode' and works fine.
PTC Windchill 10.0: This is very functional, but the object-preview plug-in does not download nor run.
Citrix Web Streaming: No way, not even close.
LogMeIn.com: I thought it would fail when I couldn't install the ActiveX plug-in, but it actually worked by automatically reverting to an older Flash-based remote control application!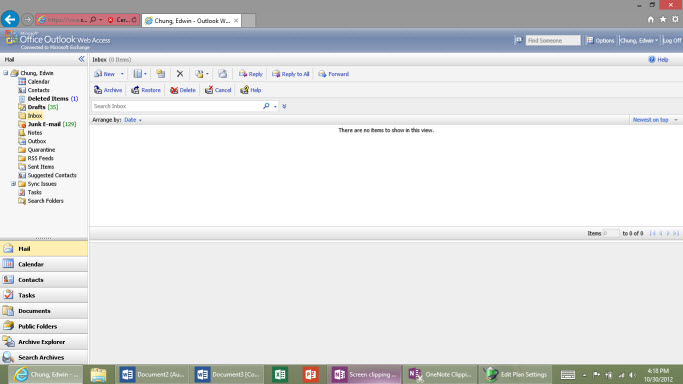 Remote Desktop
This is a big deal for me, and will be very meaningful to other IT-professionals. The Remote Desktop Connection client should immediately be pinned to your Start menu. It's a feature-clone of the RDP client we use on our desktops, including the command line arguments (e.g. /admin) and provides an immediate work-around to have access to Active Directory and Microsoft Exchange management tools.
External Connectivity
Reliable dual-monitor support is a key feature here –it's exactly the same as we're accustomed to using on Desktops with "Extended" and "Cloned" options. PowerPoint aficionados will love swiping pages across the touchscreen with an external projector.
The single USB port will accept your most common expansions, such as a flash drive, keyboard, or mouse; however, ARM-compatible drivers need to be written for your specific device. My Sprint Wireless USB Modem was not usable, nor was my DisplayLink-based USB monitor. HP and Dell both published explicit lists of RT-compatible printers. It's not as convenient as searching online, but you can check compatibility by infiltrating your nearest "consumer electronics" store and testing in their display sample.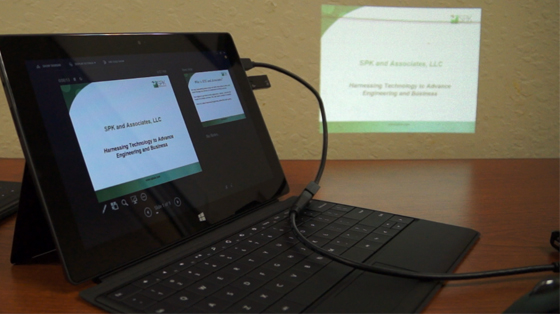 Windows Store
I'm not thrilled with the name, but I love the concept. Asking Google to find me applications is tedious and risky; I hope that this configuration really "sticks" and that companies don't try to subvert the system.
One of the many things I couldn't find anyone else testing is the interaction between the "Pro" store and the "RT" store: if I buy an application from the Microsoft Store on Windows 8 RT, do I get the application in Windows 8 Pro?
Using the Microsoft Surface RT, I bought Angry Birds Space from the Microsoft Store strictly for testing purposes. I waited 20 minutes; I restarted the Store; I rebooted my 8-Pro. I tested Angry Birds Space for about an hour on the 8-RT machine to ensure it was properly purchased and installed. Finally, I hit the "Buy" button on my 8-Pro, at which point the Windows Store decided to give in to my expectations and installed Angry Birds Space without asking for an additional payment.
When you buy an application using Windows 8 RT, you "own" it on Windows 8 Pro, too, but there seems to be some synchronization issue between the devices. Notably, not all applications are available for both 8-RT and 8-Pro.
To be fair, I'll disclaim that I'm generally a fan of Microsoft-products, much to the dismay of my Linux-wielding colleagues. I often take opportunities to setup or test new Microsoft gadgets, and am open to suggestions on what to text next. If you've got an application that you'd like me to try, leave a comment below and I'll add it to the list, above!
Edwin Chung
Engineering Program Manager, SPK & Associates