Redundant and repetitive tasks present a number of challenges for your business. Your engineering team feels bored, like they're wasting their time. Pretty soon, they're done being bored and looking for more challenging and rewarding work. With skilled engineers in high demand, your business needs to attract and retain top talent. Add to that the cost of training new employees, and boring drudge work is costing your company big time.
What's more, repetitive tasks consume thousands of man-hours every year. Assume 1,000 man hours dedicated to redundant tasks annually. Now multiply that by the hourly wage of engineers assigned to these tasks. Considered in concert with annual expenditures, training new employees, plus the intangible costs of the "bored" engineers you failed to retain, and the lesson is clear: repetitive tasks cost your business tens or even hundreds of thousands of dollars every year.
Automation offers a way forward. Rather than alienating your engineering department by delegating repetitive tasks to the lowest possible rung of the food chain, you automate. Virtually any repetitive task with steps can be automated. This is especially true of stable tasks with low levels of complexity and little value for your company in and of themselves.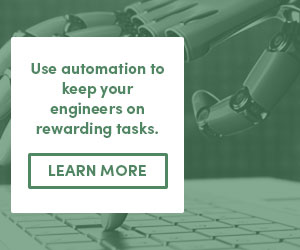 Automation presents a number of benefits for businesses of any size. First, your engineering department can refocus on more rewarding tasks, allowing you to attract and retain talent. What's more, this more rewarding work will almost universally be more lucrative. Automation can speed up your workflow through making serial tasks parallel and removing choke points. Finally, automation can reduce human error. Assuming an error rate of 1 percent, that's a huge plus for your company.
How do you start? Begin by finding the most repetitive tasks in your organization. Now see if someone hasn't automated them already by searching an online resource such as Stack Overflow. If you can't find what you need, reach out to us for a conversation regarding how we can streamline your process.
Whether your business is an SMB or enterprise class, the benefits of automation are clear. Your competitors are already automating. When will you streamline your operations and supercharge your engineering department with automation?
Next Steps
Check out

our on-demand webinar featuring SPK's Engineering Service Manager, Edwin Chung.

Download our whitepaper "Reaching Target Product Launch Dates and Increasing Engineer Morale with Automation".
Call us today to discuss your organization's automation needs.