Cloud-based solutions have become really important for companies in recent years. With their flexibility, scalability, and better teamwork enablement, cloud-based solutions are a bit of a no-brainer. Companies like Atlassian create software tools that do exactly this: creating solutions that help teams work more efficiently. But, if you're thinking about switching to Atlassian's Cloud, you should school-up on the total cost of ownership (TCO). In this blog, we'll explore what TCO means and how it can help businesses like yours. In this blog, we:
Explore what TCO means.

Atlassian's Cloud offerings.

Dissect the components of TCO.

Uncover essential considerations for making informed decisions about embracing the cloud.
What Is Total Cost Of Ownership (TCO)?
Have you ever been excited about buying a new item, like a top of the range smart fridge freezer? Then, you realize that  the price you see on the tag is just the beginning? That's where the total cost of ownership (TCO) comes in. It helps you understand all the costs involved in owning something over time, like fixing it if it breaks or paying for things like the electricity and internet to run it. 
By thinking about the total cost of ownership, you can make smarter choices about what to buy and decide if it's really worth it in the long run. It's not just about the initial price, but also about considering things like ongoing expenses for keeping your laptop running smoothly and secure.
Now, obviously we're not focusing on fridge freezers in this blog, but you can apply the Total Cost of Ownership to any investment commitment. So, it's particularly helpful if your are considering a switch to the cloud.
Now, I'm sure you will have seen jaw-dropping stats already about businesses capitalizing on ROI from cloud migrations. So, are they actually worth it?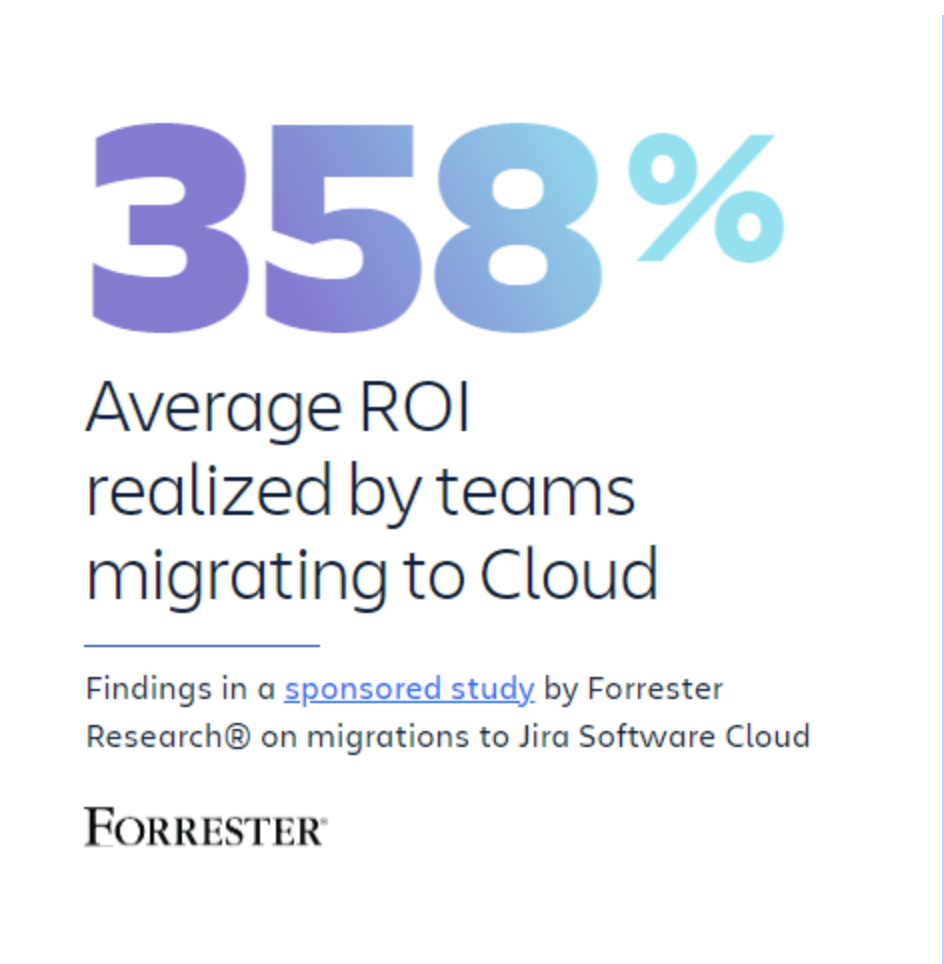 Cloud is Atlassian's Future
Many of Atlassian enterprise customers are already working in the Atlassian cloud at some capacity and starting to realize the benefits. In the pockets of their businesses using Atlassian Cloud and as cloud-based tools spread, they are seeing greater ROI and can deliver business value faster for their customers. 
So, as this trend accelerates, SPK is ensuring we are  best supporting Atlassian Cloud customers. You may already be aware that Atlassian has invested heavily in its Cloud platform. You can check out some of the product and feature releases at Team '22 (part 1 and part 2) and Team '23 in our previous articles. And, most Atlassian customers now see a path to Atlassian Cloud as their long-term plan for a number of reasons:
SaaS technology eliminates the need for upgrades, maintenance, and other hidden ownership costs. This frees up your administrative time and resources. 

Atlassian Cloud comes with enterprise-grade security and data protection out of the box.

With Atlassian Cloud, you unlock the lion share of Atlassian's investment in innovation. This is because Atlassian is spending their resources to develop new features and products specifically for Cloud.
Now, let's dissect the future as it pertains to features and innovation. When we think about innovation on Atlassian Cloud, the value is mainly focused on a team level. We'll break those innovations into three categories for ease.
1. Atlassian Cloud Extensibility
Atlassian is constantly working to make your experience with their Cloud products even better. They want to make it easier for your teams to use Atlassian Cloud alongside other useful tools like Slack. And, by ensuring their products work seamlessly together, Atlassian aims to enhance your workflows and make them more efficient. In fact, they understand that their tools alone might not solve every organization's needs. That's why they embrace an Open DevOps approach. By integrating with other tools, Atlassian allows you to stay focused on important tasks like:
Building your product.

Reducing waste.

Improving its quality.
According to a Forrester report on the TCO of Atlassian Cloud, developers using Jira Software in the Cloud saved an impressive 1.5 hours per day. That's compared to using on-premise Jira. Therefore, this demonstrates how Atlassian's Cloud offerings can bring significant time savings and productivity benefits.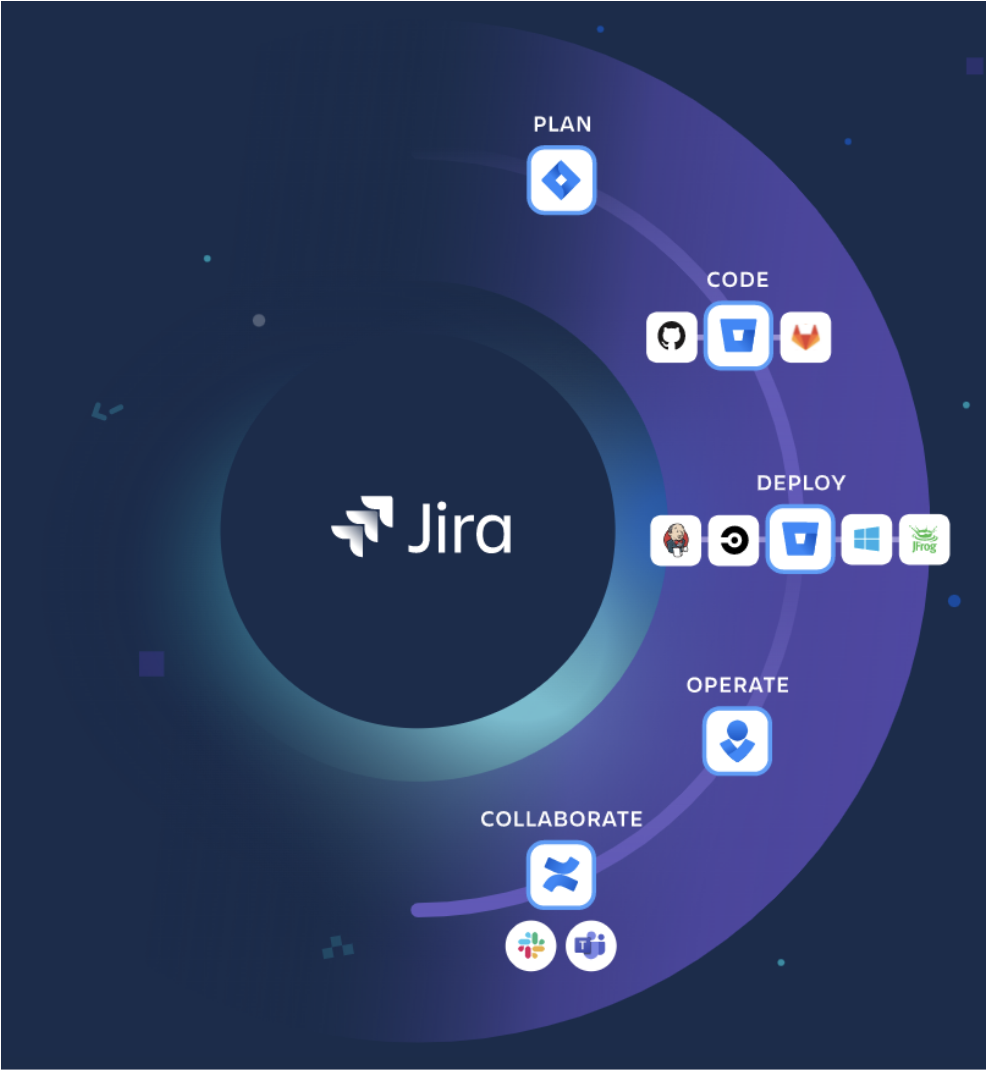 2. Productivity
Atlassian Cloud products are specifically designed to foster collaboration and boost team efficiency. And, they incorporate machine learning technology, which enables personalized and predictive experiences, along with improved mobile and desktop apps. Additionally, the collaborative editor on Confluence Cloud enhances teamwork even further. 
But, while Data Center tools with Atlassian are still productive, let's shift our focus to product development. 
One significant advantage of Atlassian Cloud is the speed at which new features are introduced. Updates and enhancements are rolled out much faster on the Cloud platform compared to Data Center, ensuring teams have access to the latest tools and functionalities.
3. Data and Insights
Atlassian is taking steps to enhance the reporting capabilities of their tools, which will greatly benefit your teams and organization. They are also partnering with third-party marketplace apps that specialize in dashboarding and reporting. These efforts are aimed at improving the way you operate and harnessing the power of data as a competitive advantage. In fact, Atlassian recently acquired Chartio, a cloud-based analytics solution, to bring robust analytics and data visualization capabilities to their Cloud platform. So, with these advancements, you'll have access to powerful tools that allow you to analyze data effectively and gain valuable insights.
Atlassian Cloud Total Cost of Ownership Considerations
The upfront cost of subscribing to the Atlassian cloud service is an obvious consideration. However, much like other SaaS tools, companies are aligning their workforce to absorb SaaS costs and expect it with the hiring process. So, let's cover some of the cost considerations and how you can address them.
1. Atlassian Cloud Calculator: Your Cost Estimation Tool
If you want to get an idea of how much you might be spending on Atlassian Cloud tools like Jira Software and Jira Service Management, the Cloud Calculator is your go-to resource. It helps you review and estimate potential subscription costs based on your specific needs. However, it's important to note that the Cloud Calculator doesn't assess the costs for some tools. For example Bitbucket and Bamboo, so keep that in mind when planning your budget.
Partnering with SPK, a trusted Atlassian Solution Partner, opens up the possibilities of SaaS solutions for your Atlassian licenses. Our services include selling licenses with solution provider discounts and comprehensive license management support. With SPK, you can consult our experienced license team to make informed decisions about transitioning between annual and monthly payment plans. SaaS solutions offer the flexibility of monthly or annual payments, often with discounts for annual plans. However, for lower user counts (under 300 users), Atlassian solutions may not be cost-effective or flexible enough for annual subscriptions. By choosing SPK, you not only maintain a sustainable user count but also enjoy the convenience of NET 30 terms, eliminating the need for credit cards. Experience the seamless integration of SaaS solutions with expert license management by partnering with SPK as your Atlassian license provider.
2. Atlassian Access: Strengthening Security and Streamlining Authentication
Don't forget about Atlassian Access, a commonly overlooked Cloud subscription fee. It's an organization-wide subscription that links your Atlassian Cloud products with your identity provider, like Okta or Azure AD. With Atlassian Access, you can activate enterprise-grade authentication features and gain additional oversight across your company domains. Check out the interactive Atlassian Access pricing page to get an idea of the costs involved in adding single sign-on (SSO) capabilities to your Atlassian Cloud instance. It's an essential tool to strengthen security and streamline authentication processes for your organization.

3. Assessing Infrastructure Costs For Total Cost Of Ownership
Sure, Atlassian Cloud adoption eliminates the need for on-premises hardware. But, you still need to evaluate the infrastructure costs associated with it. For example:
Network connectivity.

Internet bandwidth, 

Potential upgrades or modifications required to support the Atlassian Cloud environment within your facility or offices.
By offloading maintenance and security tasks to Atlassian, your team can focus on their backlog, resulting in up to a +50% reallocation of time for more impactful work. This was indicated in Forrester's Total Economic Impact report.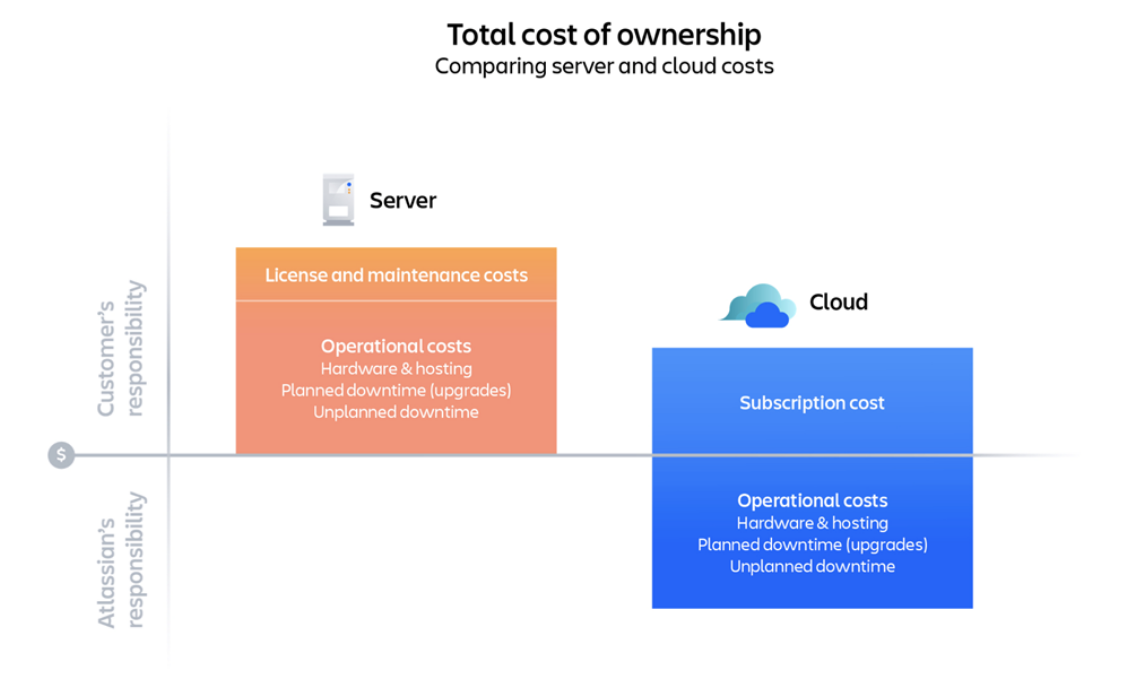 Also, it's important to understand the Cloud's Shared Responsibility Model. You see, even though SaaS solutions may give the impression they don't need backups, they actually do. Therefore, tools like Revyz can add significant value by providing backups and restorations for items. For instance Jira tickets or attachments in case of accidental deletion. Atlassian explicitly states that their backups do not revert customer-initiated destructive changes. So, this underscores the need to continue performing backups of your Atlassian Cloud instance.
4. Customizations and Integrations
In our experience at SPK, many clients do not have serious customizations of their on-premise Atlassian instances. But, there are companies that:
Have built custom plugins.

Connected directly to the on-premise database to perform a certain business outcome.  
However, 90% plus of the companies we engaged with do not have any serious customizations that would prevent a migration to Atlassian Cloud. Or make it more complex. So if you're not sure if you have customizations, you most likely do not.
We recommend you evaluate the potential costs of re-engineering work if you have:
Performed specific API calls for Server or Data Center.

Or are connecting directly to the database to perform a specific action.  
Many clients have found a cloud-friendly marketplace app that does what they need. There is no need to move those customizations forward.  
Additionally, companies often require multiple solutions simultaneously, and the Atlassian Marketplace offers numerous integrations to connect Atlassian Cloud services with existing systems and third-party applications. According to Atlassian's report in May 2022, the Marketplace boasts over 5,300 apps. At the time of writing this blog, we estimate that there are over 1,000 marketplace apps specifically designed for Atlassian Cloud, compared to roughly 3,000 apps available for Server and Data Center. While there may be some minor gaps, our team has successfully identified solutions for all clients seeking to address specific business needs in the Atlassian Cloud. Overall, the level of compatibility is exceptionally high.
5. Data Migration to the Atlassian Cloud
If you're migrating from an on-premises Atlassian instance or another system, consider the costs associated with data migration. This includes:
Extracting, transforming, and loading data into the new cloud environment.

Any data cleansing or mapping efforts required.
SPK performs Server to Cloud migrations for Atlassian products but also non-Atlassian tools to Atlassian Cloud migrations too. Popular tools used by companies that have migrated to Atlassian Cloud include:
ServiceNow

Zendesk

Freshservice

BMC Remedy

Asana

Trello

GitHub Issues

Wrike

Monday.com

Zoho Bugtracker

MS Project and more. 
Our team is even able to provide guidance on what you should do after your Atlassian Cloud migration has completed.
6. Training and Change Management For Total Cost Of Ownership
While Atlassian on-premise tools are similar to those in the Cloud, they are slightly different.  This includes some of the UI, but also things like URL differences, and the way the technologies work. Ensure you have the best possible outcome, by factoring in training costs for your team to use Atlassian Cloud effectively. Even if the training is minimal. This includes:
The initial training.

Ongoing support to ensure successful adoption and maximize the return on investment.
Furthermore, when transitioning to the Cloud, establish a robust change management process to minimize additional workload. This includes the costs associated with:
Staff communication and stakeholder involvement throughout the migration. 

Or adoption of the new Atlassian Cloud platform. 
Additionally, expenses such as project managers and technical engineering time should be taken into consideration too. This is because extensive communication with stakeholders will be necessary.7. Maintenance and Support TCO.
Maintenance and support costs decrease significantly, but evaluate ongoing expenses in Atlassian Cloud. Generally, there are minimal additional costs, but consider factors like Jira administration in the migration. That means you'll need to ensure the Atlassian Cloud applications have at least one person, if not a larger group, that is responsible for changes in the system.  If you feel you don't have the right in-house skills for this, SPK does have Jira administration services that we offer.
7. Atlassian Cloud Security and Compliance 
Atlassian Cloud prioritizes robust security measures to safeguard data and protect user privacy. And it has a comprehensive range of security features and practices. In fact,  Atlassian implements industry-leading standards to ensure the confidentiality, integrity, and availability of customer information. Key security measures include:
Encryption at rest and in transit.

Network segmentation.

Regular vulnerability scanning.

Incident response protocols.

Stringent access controls. 
Additionally, Atlassian undergoes independent audits and certifications, adhering to globally recognized security frameworks. Through continuous monitoring and improvement, Atlassian Cloud maintains a strong security posture. Therefore, it provides customers with peace of mind and enables them to focus on their work. Without compromising data integrity or privacy.
Although Atlassian Cloud has achieved certifications for several compliance needs like HIPAA, APRA, EBA, BaFin, and so on, it may not have all the certifications currently. You can refer to the Atlassian Cloud Roadmap to determine if your specific compliance requirements have been released or are planned for future releases.
When using a different SaaS tool like Atlassian Cloud, it's important to consider the potential need for additional security tools, audits, certifications, or personnel dedicated to security and compliance-related tasks.
8. Scalability and Growth Considerations
Atlassian Cloud offers scalable solutions tailored to meet the evolving needs of businesses. As discussed earlier, Atlassian's focus is on the Cloud platform, which includes introducing new features and products built around the Cloud architecture. You can effortlessly scale your Atlassian Cloud environment to accommodate growing user bases, expanding data storage, and increasing workloads. Currently, Atlassian Cloud supports up to 35,000 users in Jira Software, 10,000 users in Jira Service Management and Jira Work Management, providing ample room for growth.
Furthermore, Atlassian offers subscription plan upgrades, ensuring seamless transitions as requirements evolve. As an SPK Solution Partner, we facilitate licensing payments, enabling easy upgrading or downgrading of monthly accounts within one day. Additionally, Atlassian's cloud offerings leverage advanced cloud technologies, guaranteeing high availability and performance even during periods of rapid expansion. Whether it's adding new team members, integrating with additional tools, or fostering collaboration across departments, Atlassian Cloud provides the scalability required to support long-term growth and enable teams to thrive in dynamic environments.
9. How Do I Calculate the TCO for Atlassian Cloud?
Atlassian provides a free "Cloud Savings Calculator" that considers its various products and user count to compare costs with an on-premise Data Center instance. This calculator factors in the considerations we discussed earlier, including license costs. If you're a technical and billing admin with your Support Entitlement Number (SEN), you can use Atlassian's personalized calculator for a more detailed estimate.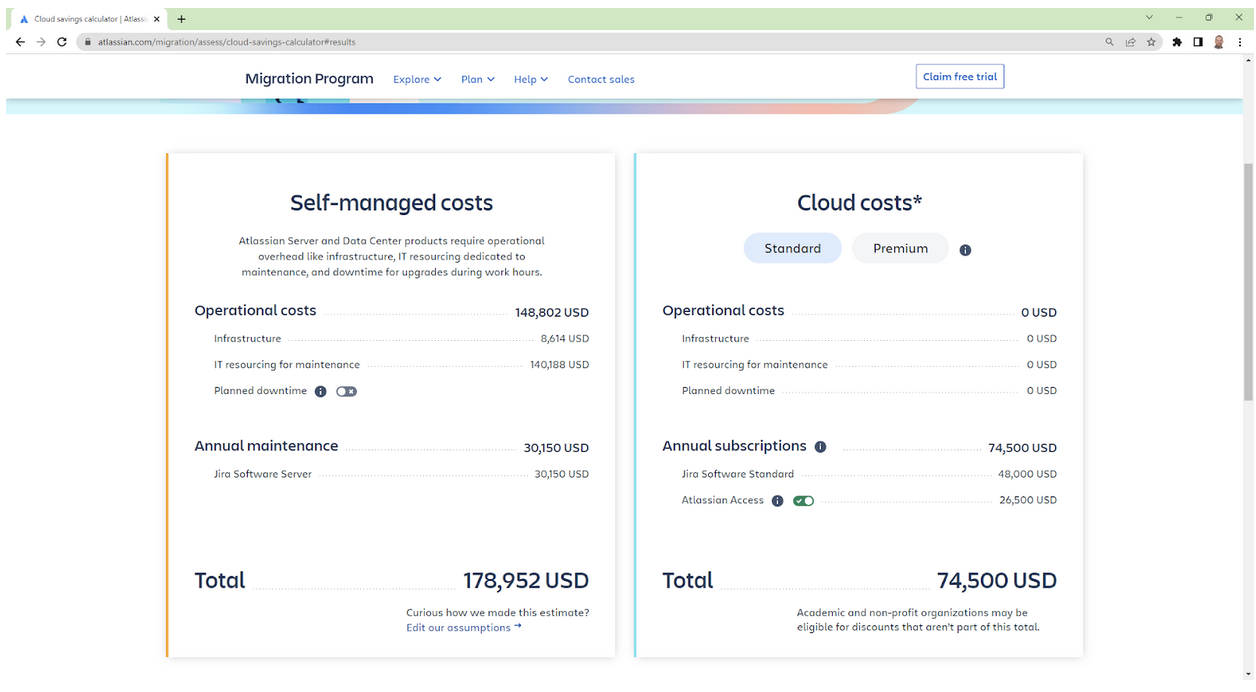 If you need assistance with specific considerations, SPK's team of Atlassian experts is available to help with the assessment and total cost of ownership (TCO) calculation. Contact us to learn more about our experience with cloud migrations and to identify any gaps in your plan.