Certified GitLab Experts
SPK's team of experts has the experience to help you in your DevOps journey.  At a high level, each GitLab implementation/migration is different.  To address those differences and understand the quickest way to value, our team will hold discovery sessions with your software and systems engineers, security specialists, and other IT stakeholders to understand your deployment requirements. Using the GitLab reference architectures as a guide, our team will provide a detailed roadmap that will utilize industry standard architecture and tools to walk your engineers through how to deploy the multi-component, highly available architecture. 
Our DevOps as a Service model allows us to be invovled as much or as little as you desire.  SPK's flexible services can include building a plan for disaster recovery, planning for software version upgrades, infrastructure management and more.  Trust a certified partner for your implementation.

Talk to Our Experts About Your DevOps Journey
GitLab Product Overview
Get a free GitLab demo in 12 minutes.  Watch the video below.
GitLab DevSecOps Quick Start
Designed for organizations that are just starting their DevOps/DevSecOps journey, SPK's GitLab DevSecOps Quick Start package is aimed at clients looking for best practices guidance in an effort to avoid creating technical debt.  Our experts will give you a path forward and help you document your policies, procedures, and technology in an effort to start producing value more quickly.  
Discovery
Our team will review your environment and provide a gap assessment to show you and your team areas of optimization for your DevOps process.  This includes Gitflow, any CI/CD current processes or tools, the security in CI/CD Process, and any existing Infrastructure as Code Process.  This can take anywhere from 3 to 15 days of effort depending upon existing complexities.  The outcome of this stage is to provide our clients with a discovery document that outlines our findings and provide you with a roadmap forward.
Setup / Migration
As we begin to execute the plan from the roadmap created in the Discovery phase, our team will help do the heavy lifting ofimplementing the new platform based upon requirements, or we can migrate existing projects from other systems/tools.  The outcome of this phase of the engagement is to setup and configure GitFlow, CI/CD, IaC, Secret Management Standard Operating Procedures, create user management/issue management Plans, migrate issues and users (as needed) and establish between 1 and 3 projects depending upon your needs.
GitLab Training
Once systems are setup or migrated, our team will work with your teams to perform thorough training in order for all members of your organization to be able to utilize, troubleshoot, and improve the system in an on-going basis.  Training will be in a sandbox environment with references to your production environment.  The outcome of this stage is that our clients will be able to show that they understand the system that has been configured.
Review
The last phase of our engagement will focus on a review.  After the training event, we will determine a "capstone" event.  This could include your internal engineers and security teams briefing IT leaders and other stakeholders in showing they know how to use the system, or it could include an actual demo or deployment of systems into production by your team.  Our team is always available and standing by during this Review stage, but this allows organizations to see the fruits of their investment.
Single Application for Entire DevOps Lifecycle
Complete DevSecOps platform delivered as a single application

One interface, one user-model, one data model

A software "factory" that supports the entire DevOps lifecycle

Deeply integrated, making developers happier and more efficient

Centralized collaboration for a wide variety of roles (collaborate without waiting)
Leading SCM and CI in One Application
The backbone of a DevOps toolchain in one application

Streamlines code review and collaboration

Start with SCM or CI (or both)

One interface, one user-model, one data model

Interoperable with other tools (continue using tools you love!)

Proven enterprise scale
Built In Security and Compliance
Security features out-of-the-box (code scanning, dependency scanning, secrets detection, etc.)

Automated security testing and audit controls to facilitate policy compliance

Shift left: move security testing earlier in the development lifecycle; security testing at the point of code commit

Developers get immediate feedback about new vulnerabilities they introduce

Enables better collaboration between development and security teams

One interface, one user-model, one data model for DevSecOps
Optimized for Kubernetes
Enables adoption of modern cloud-native development patterns such as microservices and serverless

Minimizes the Kubernetes learning curve by enabling setup and use of clusters from the GitLab user interface

View and manage Kubernetes deployment pod details and logs from the GitLab user interface

Automatic monitoring of every Kubernetes deployed application and the clusters they are deployed to

Built-in canary and incremental deployment strategies with automatic canary metric collection and display

Active contributor to the future of cloud native technologies (through the Cloud Native Computing Foundation)
Deploy Your Software Anywhere
Deploy to any environment, any cloud

Support for GCP, AWS, Azure, OpenShift, VMWare, On Prem, Bare Metal, etc.

Workflow portability: one deployment workflow regardless of destination
Rapid Innovation
Releases every month, for 100+ months running

A constant stream of new features –> GitLab gets more valuable over time

Uniquely transparent product development process; customers, partners and community can contribute
End-to-End Insight and Visibility
Common data model uniquely allows for insights across the entire DevSecOps lifecycle

Configurable insights dashboard that shows status of work items over time

Cycle analytics data helps identify areas of improvement of cycle times

Security insights provide a roll-up of vulnerabilities

Program level insights help keep projects on-track
Flexible GitLab Hosting Options
Use in the cloud or install in your own environment (cloud or on-prem)

Feature parity between GitLab.com and self-managed

Migrate from one hosting option to another when needs change

Implement hybrid hosting models to support scaling (like CI Runners in the cloud)

Easy to upgrade and maintain in any environment
Open Source; Everyone Can Contribute
Open core development model allows anyone to contribute to the functionality of the product

Uniquely transparent product development process engaging customers, partners and the community

Strong and growing community (100K+ organizations and millions of users)

Harness open source innovations within the product experience (e.g. Prometheus)
Collaborative and Transparent Customer Experience
We operationalize our core values into how we develop our product and engage with our community and customers

Extreme transparency around roadmaps, issues, company meetings and processes

We use GitLab for collaborating with customers in a transparent way, for both issue resolution and roadmap iteration

GitLab provides an evolving case study of DevSecOps and agile practices at scale, accessible through the public handbook
What makes SPK and Associates different?
On average, clients work with SPK and Associates for 8+ years
20+ Years of experience with medical device, aerospace, automotive and other regulated industries
Uniquely positioned with years of understanding of both hardware and software product development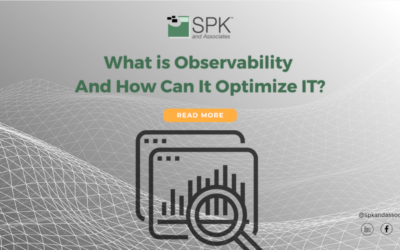 Your IT architecture is anything but simple. In fact, it's more like the complex, yet silent spinal cord of your business functions. But what can you do when something goes wrong? Monitoring tools give you a partial view into business performance (or issues),...