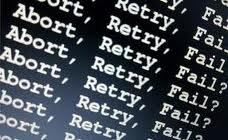 Infrastructure management comes with its own unique challenges whether you are managing a lab network, computer farm, load-balancing application, or a build-and-release system .  As much as people lump things into the term "information technology," every piece of "IT" is its own unique world, and it's easy to miss the differences or even divisions between the pieces "IT."
With infrastructure, it's very important to understand what makes it unique.  Infrastructure systems do not, by and large, directly handle tasks for you. Instead they provide a life support system for the applications that work for you. On a good day you hardly notice infrastructure.
That's the point of good infrastructure.  That's also the problem.  Here are five unique traits that make infrastructure management very challenging.
5. Infrastructure Is Mostly Invisible

Infrastructure is so established as a conceptual term that we forget its original, literal meaning – the structure underneath. It supports everything above, but it is hidden from sight. In fact it is supposed to be hidden. The fact that most users don't think twice about infrastructure is a feature, not a bug; good infrastructure does its job by letting applications do their jobs, so that end users can do their jobs.
Because of this, most people in an organization, including users in the front office and other key players, don't really know much about infrastructure. Indeed, they may hardly be aware of it.  If your infrastructure team or provider is good, no one thinks about it at all.
It needs to be thought of.  Because someday  . . .
4. Infrastructure Will Get Noticed When It Breaks

Once infrastructure breaks?  Then everyone notices infrastructure, and they want it fixed now.  Who can blame them?  You've experienced the same thing when something you rely on but rarely think of – a car, a phone, an air conditioner – breaks.  You want it fixed, and you want it fixed now.
With infrastructure it's even worse – because you're so used to it working you may not have IT  contingency plans.  It always worked until now . . .
3. User-Unfriendly Interfaces
Infrastructure is designed by specialists for specialists. Most end users are not expected to deal with it, or even really be aware of it. They simply use the applications and processes that the infrastructure supports.  This is how it should be.
This means that infrastructure interfaces are built largely by people who have been dealing with similar specialized interfaces for years. Even for IT professionals, if they are not deeply familiar with a particular system, the interface can be full of surprises. And when it comes to critical systems, surprises are never welcome.
Good documentation (so often a dirty word to many) and good planning can ensure this is less of a problem.  It may not be glamorous, but then again that's kind of the point of good infrastructure – it should never be exciting, because exciting means a crisis.
2. The Devil Is In The Detail
Infrastructure systems are devil-rich environments, filled with pitfalls even for the experienced and wary. This, too, is really a feature, not a bug. Good infrastructure keeps the devils down below, safely away from end-user applications. Build and versioning systems keep track of version details so that you don't have to. Computer farms let you crunch numbers without thinking about where exactly the crunching happens.
But the cost of keeping end-user applications running smoothly is lots and lots of technical-detail devils down in the infrastructure – just itching to get loose and cause trouble in the applications up above.
This goes beyond the problems of confusing interfaces and into the realm of sheer complexity.  A good set of documents, a good wiki, and smart recruiting and training can help you keep the devils where they belong.
1. Everyone Depends Upon It And You Can't Get Away

If infrastructure stops working, so does everything and everyone who relies on it.  You can be sure if you work at a company of any size, you are more dependent on infrastructure than you know, right now.
Which means that infrastructure management is, for many organizations, no place for do-it-yourself, casual work, or legacy setups. You want someone who has a deep and broad understanding of infrastructure processes, who can keep the infrastructure running smoothly, and get it back in order quickly when something goes wrong.  You need the right plan and the right resources, from an expanded IT team to outsourcing systems to proper experts.
Each challenge can be dealt with, of course, but being aware of them is the first step to being able to ignore infrastructure again – for the most part.