3DX – 3DEXPERIENCE World 2023 is the biggest gathering of its kind. Hosted annually by Dassault Systèmes. And, this event brings together the brightest minds from the aerospace, automotive, and industrial equipment industries to share their knowledge and expertise. The last in-person event for 3DX took place in 2020. It provides exploration, classroom activity and the 'playground' showcasing designers' work, it was also a chance for networking. With an energetic three-day agenda, Dassault reinvigorated the industry with 3D inspiration. 
There were keynote speakers, hands-on training sessions, and product showcases. Our team at SPK had the opportunity to explore the latest software updates and technologies for 2023. And, in case you missed out on the in-person or virtual event, we asked our team to share the highlights for this blog. Discover how the latest in 3D design and engineering can drive innovation and success in your industry.
The Power Of Imagination At 3DEXPERIENCE World 2023
Firstly, this year, the theme for 3DX was the power of imagination. And Gian Paolo Bassi, Executive Vice President of 3DEXPERIENCE World best summed up the event as "The visual world that you created with the platform, giving everybody the freedom to imagine and create new solutions for an emergency that came out of nowhere and could not have been expected. It showed that knowledge is less important than imagination because knowledge is limited while imagination has no limit. Our imagination empowered us to fight back and so the power of imagination is the theme of 3DEXPERIENCE World 2023."
3DX Announcements And Hot Topics
Digital twins were a hot topic. In 3D printing, for instance, they are frequently scanned parts converted into a design and produced. These are helpful when duplicating spare parts or for medical purposes. For example, replicating organs. 3DEXPERIENCE has been released to business users, allowing for the same streamlined, data-based procedure but focusing on aiding corporate development. 

Every Solidworks seat will include cloud services as of July 1st, 2023. Also, starting on the same date, anyone with a Solidworks license will be able to share 3D drawings with anyone on the globe. This will enable excellent collaboration and the opportunity for essential design feedback.

Dassault

will continue to focus on the environment of the 3DEXPERIENCE World's ecosystem. This was created to bring all of Dassault's applications together and provide customers with faster access to their needs. Additionally, it should enhance the caliber of the work that consumers would have access to. AI was hailed as essential for acquiring the required data and producing even better ideas.
The 3DX 3D Theory
3DEXPERIENCE World offers a vast number of sessions covering a number of software suites and topics. You're sure to find an intriguing session if you are a Solidworks PDM Admin, a Solidworks Simulation aficionado, a Solidworks API developer.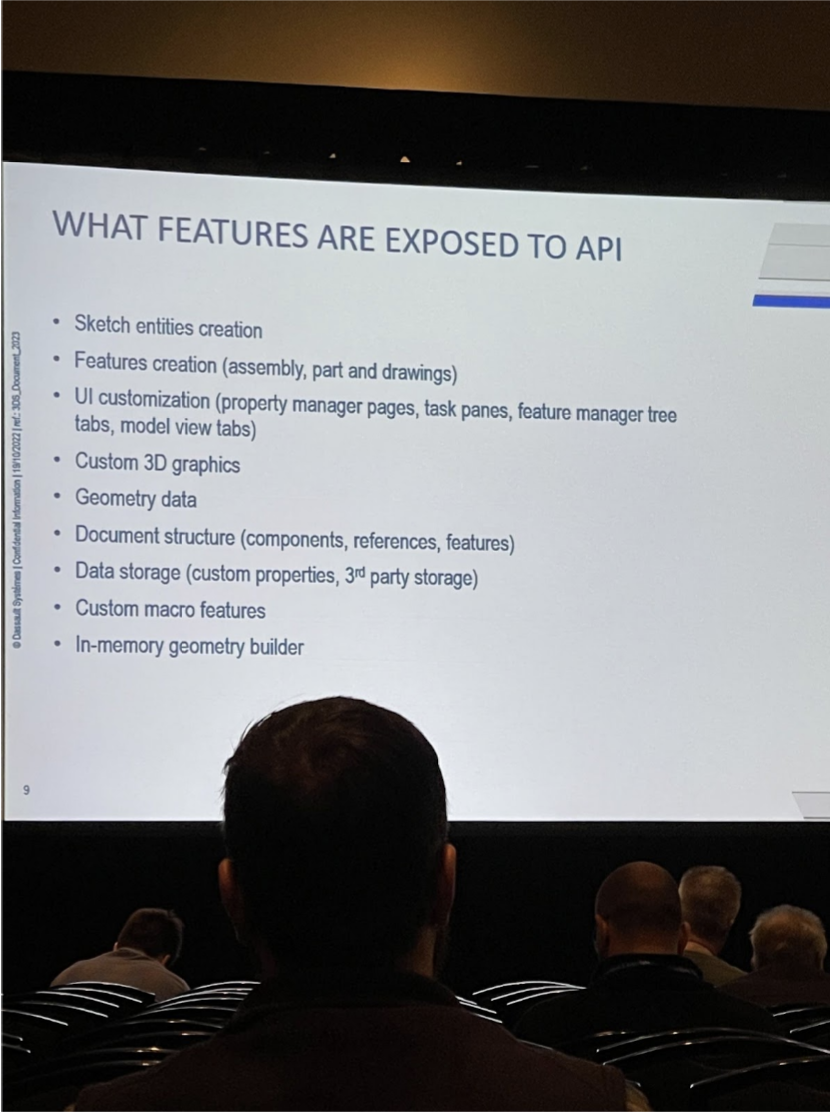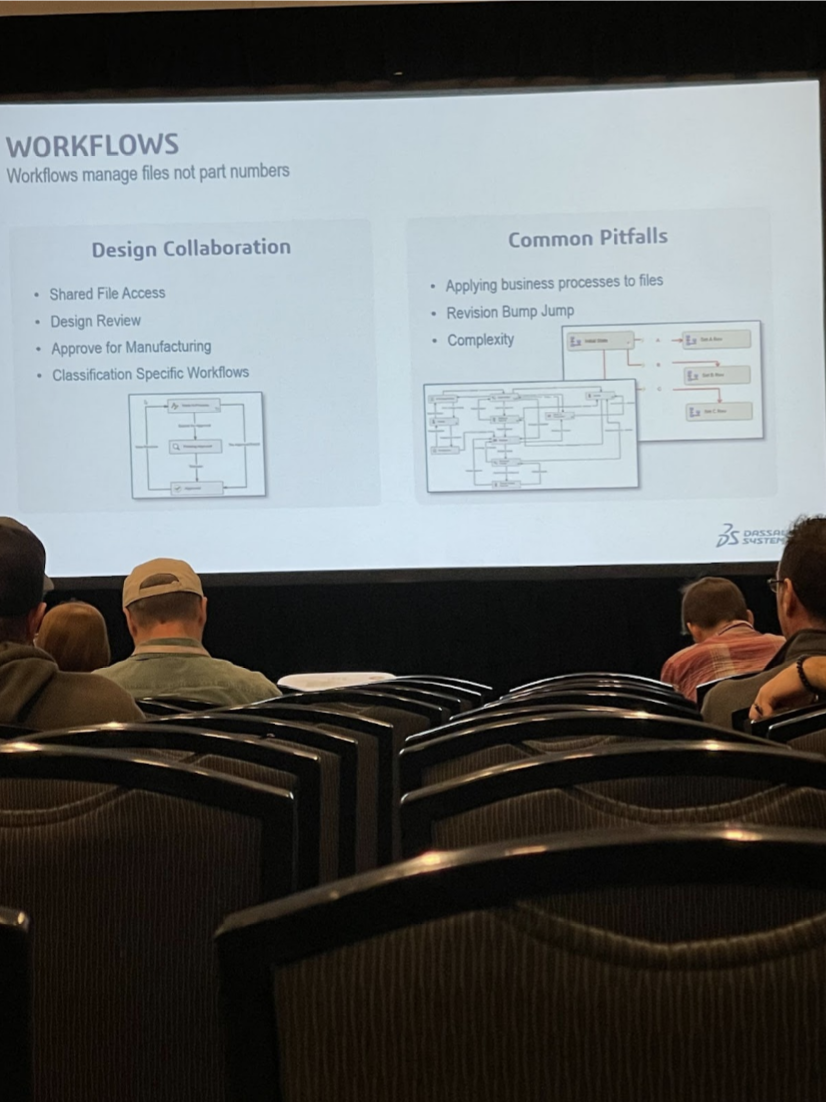 Solidworks Generative Design Features At 3DEXPERIENCE World 2023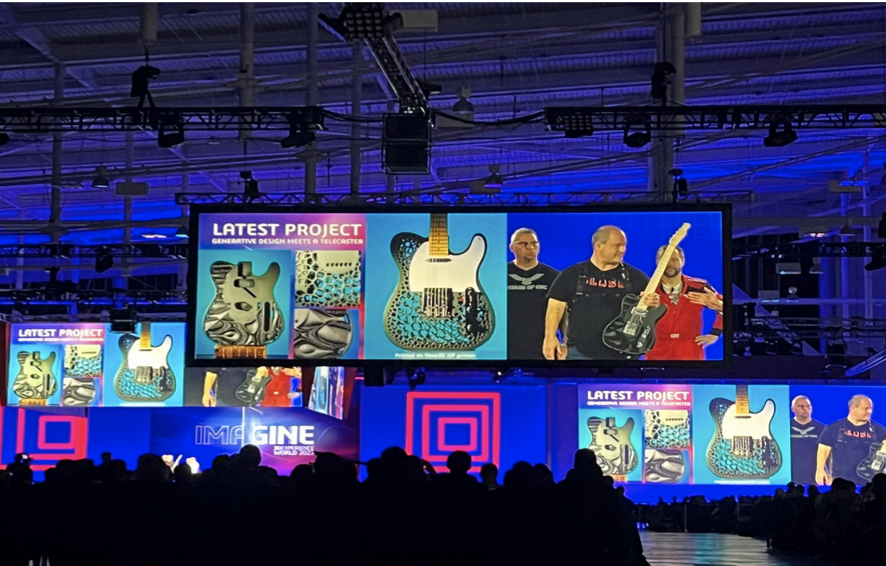 The team at Verve Motion gave some insights on how Solidworks, 3DExperience and additive manufacturing (using Nexa 3D printers) allowed them to innovate and scale their novel exoskeleton design in ways that would not be possible using traditional design and manufacture toolsets. 
Verve Motion Head of Marketing, Ilya Mirman, demonstrated how they used Solidworks generative design tools to create a unique, functional, Telecaster concept with the power of machine learning. And, how they realized that concept by printing it on Nexa 3D printers.
3DX Playground Highlights
The 3DExperience Playground offered a wide variety of booths and displays.3DX 'playground' showcased the latest and most outstanding products from Solidworks, partners, machinists, resellers, and creators. 
Doosan Robotics Designing The Future With…
1. Robo-Coffee
Dr. Presso created by Doosan Robotics, acts as a robot-controlled barista doling out specialty drinks.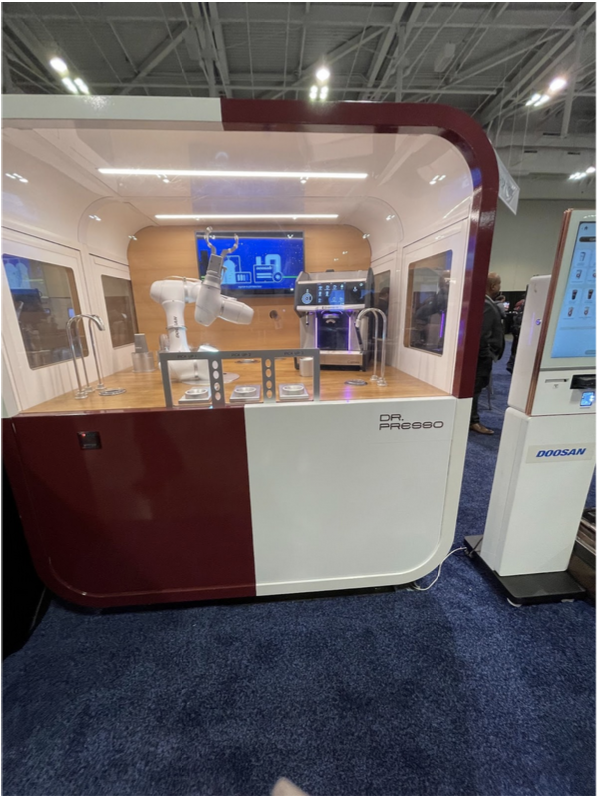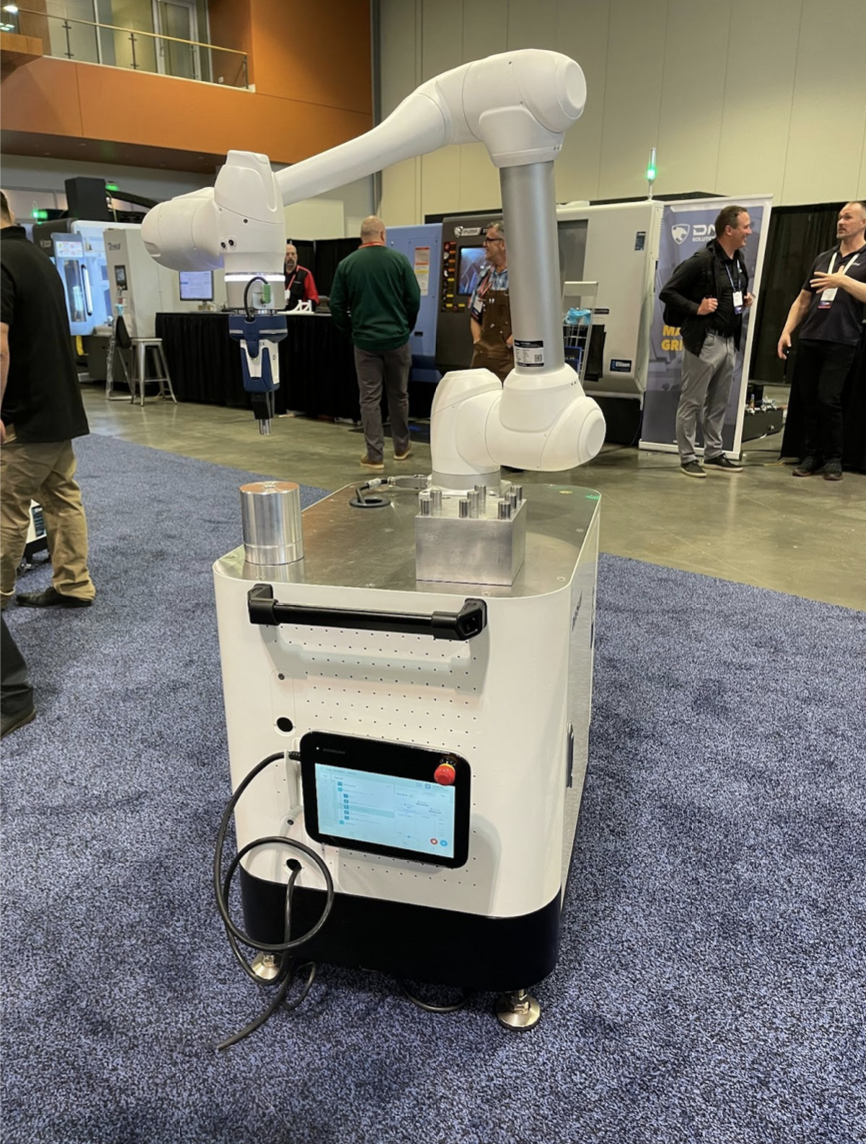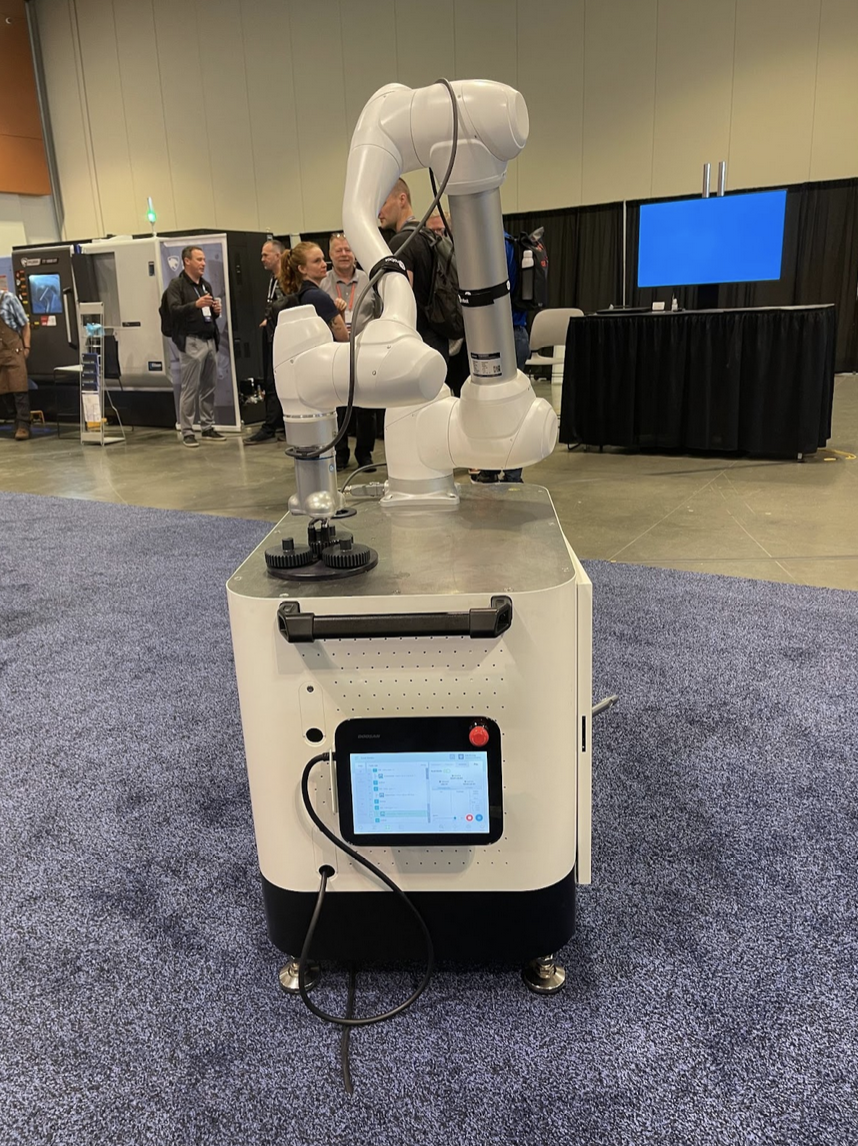 Also, the 3D Experience Playground also featured a number of cobots (computer-controlled robots), designed by Doosan Robotics. These cobots completed various tasks and are capable of handling precise tasks. All while equipped with obstruction sensors that allow people to safely work alongside the cobot.
Solidworks Makers Made Waves In 3DEXPERIENCE World – 3DX Playground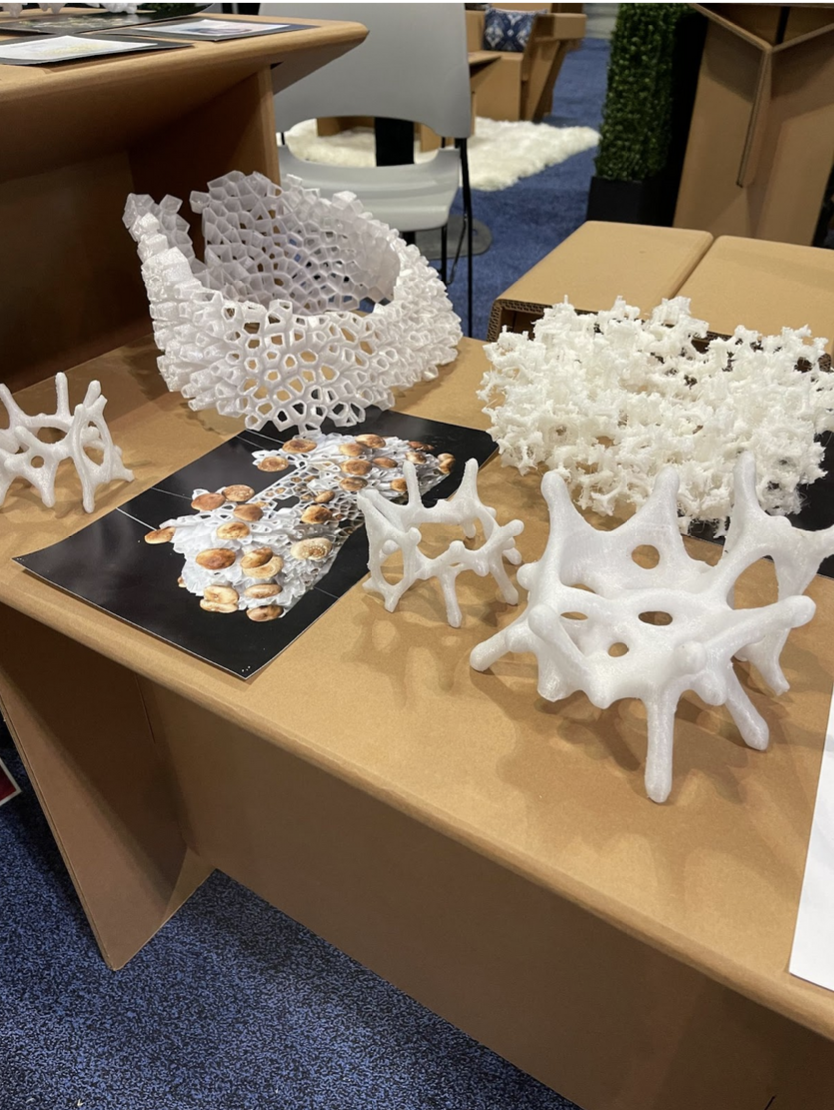 Solidworks artist in-residence Kate Reed displayed some of her pieces at the 3D Experience World Playground. Kate Reed is an artist/designer who focuses on wearable technology and is an ardent user of Dassault products. Her pieces focus on biomimicry and the concept of nature taking over the role of the designer.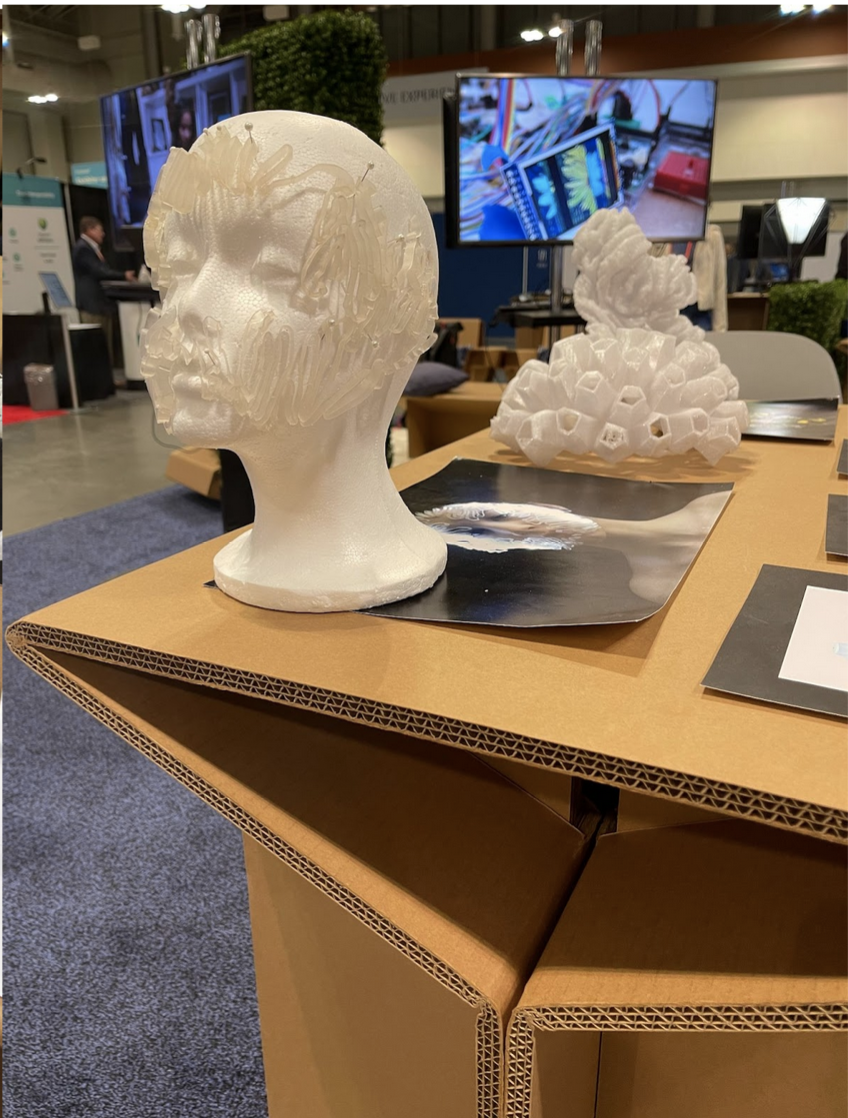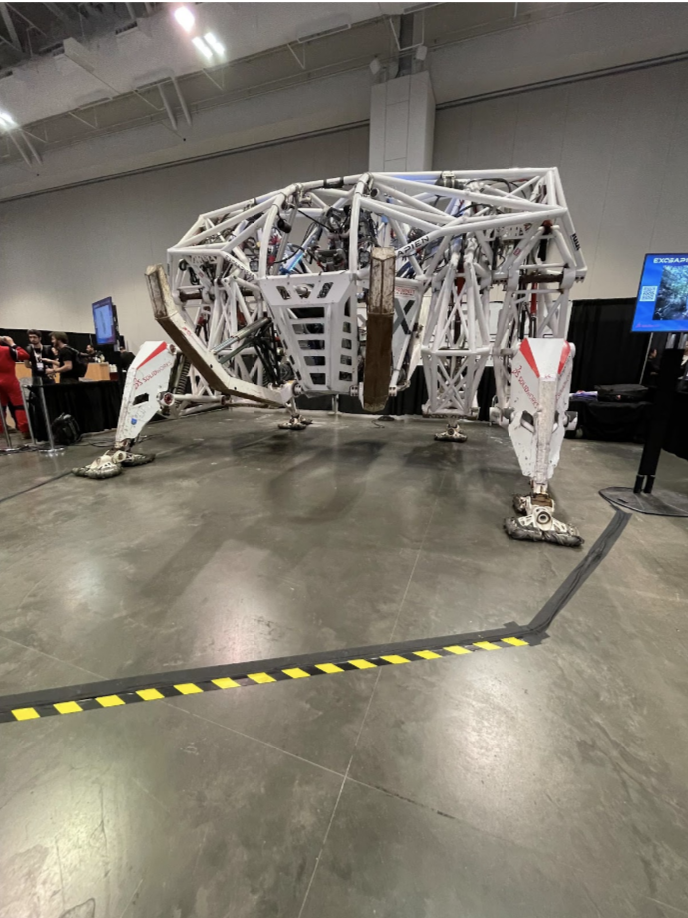 Exosapien Technologies displayed their mech suit. Essentially a large, mobile suit of armor worn by a pilot at the 3D Experience World Playground floor. Notably, Exosapien used Solidworks during the engineering process while creating their mech suit.
CNC For Yourself
The tie between CNC machining and Solidworks is strong. The CNC process often begins with designing and developing your parts via CAD Software. CNC Machine manufacturer Tormach displayed their compact CNC mills including the Tormach 1100MX. This model is designed to fit nearly anywhere and utilizes servo motors and a BT30 spindle.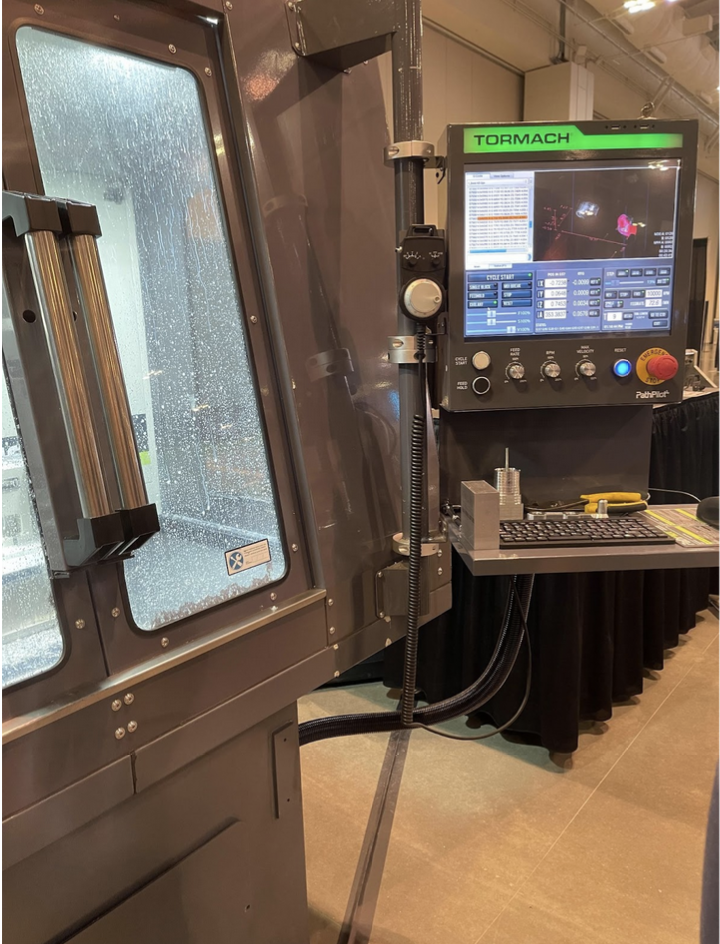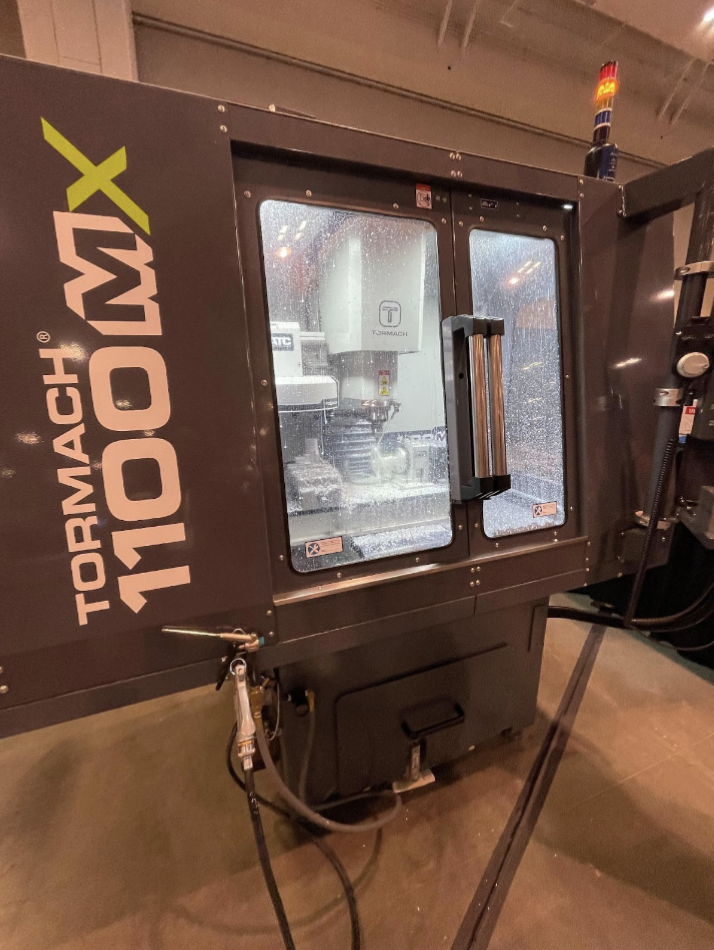 PLOT a course for STEM!
The FabFoundation together with the MIT Centre of Bits and Atoms showed off their latest creation aimed at low-cost, high-impact, fabrication for educators, community organizations and individuals: Fab-in-a-box.
This pilot program offers the capability to 3D print, vinyl cut, and CNC mill using only a Chromebook and the 3D Experience platform, all for under $5,000. Incredibly impressive.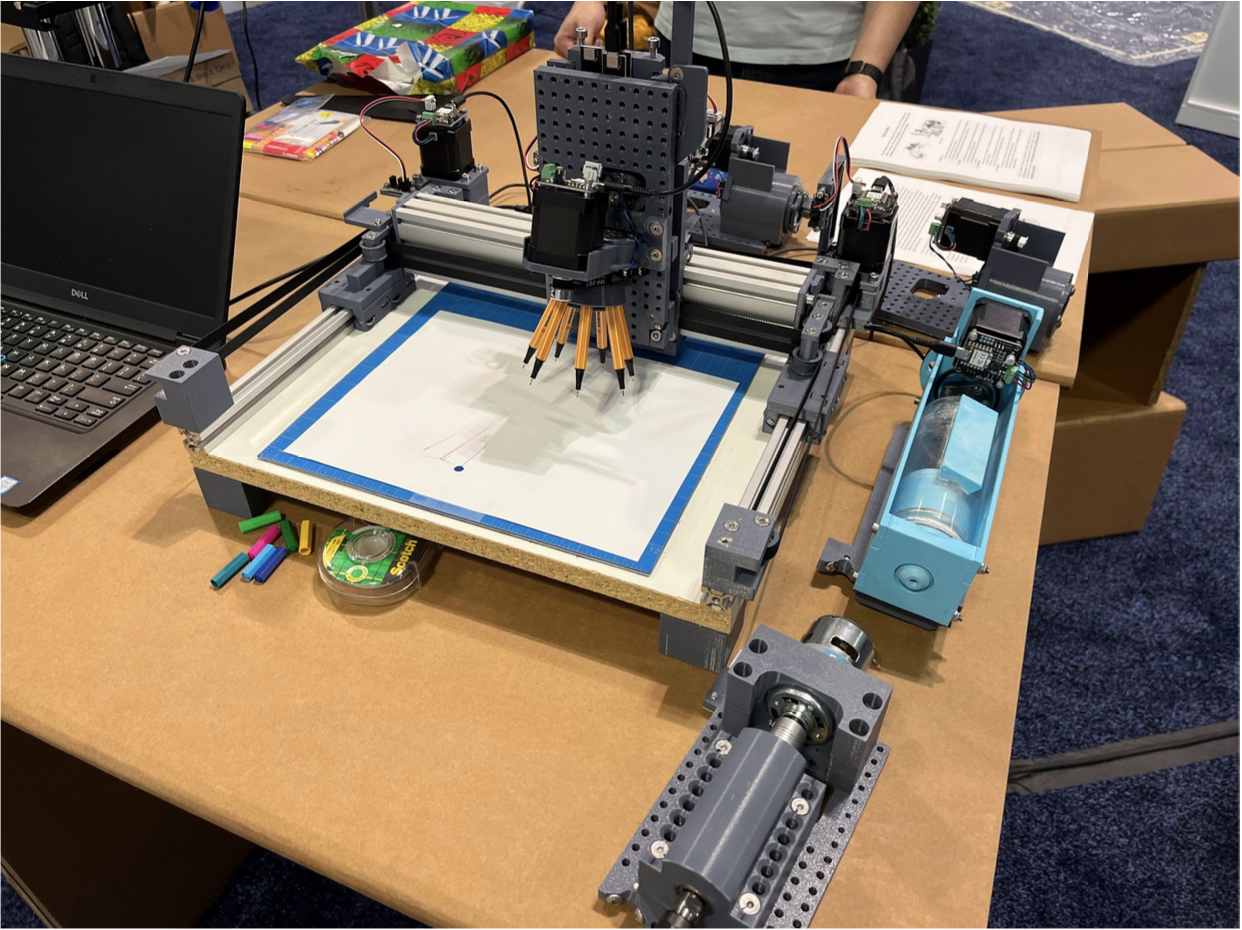 Pitch Perfect Networking At 3DX 
Day 3 wrapped with the coveted "Special Event", which saw the conference goers descend on the Nashville strip for networking/socializing.
Aside from some well-earned food and drinks, the more vocally-confident resellers were given the opportunity to show off their karaoke skills. Complete with a supporting band.
For the more vocally-inhibited attendees, there was a silent disco plus multiple stages of live music spread across four venues.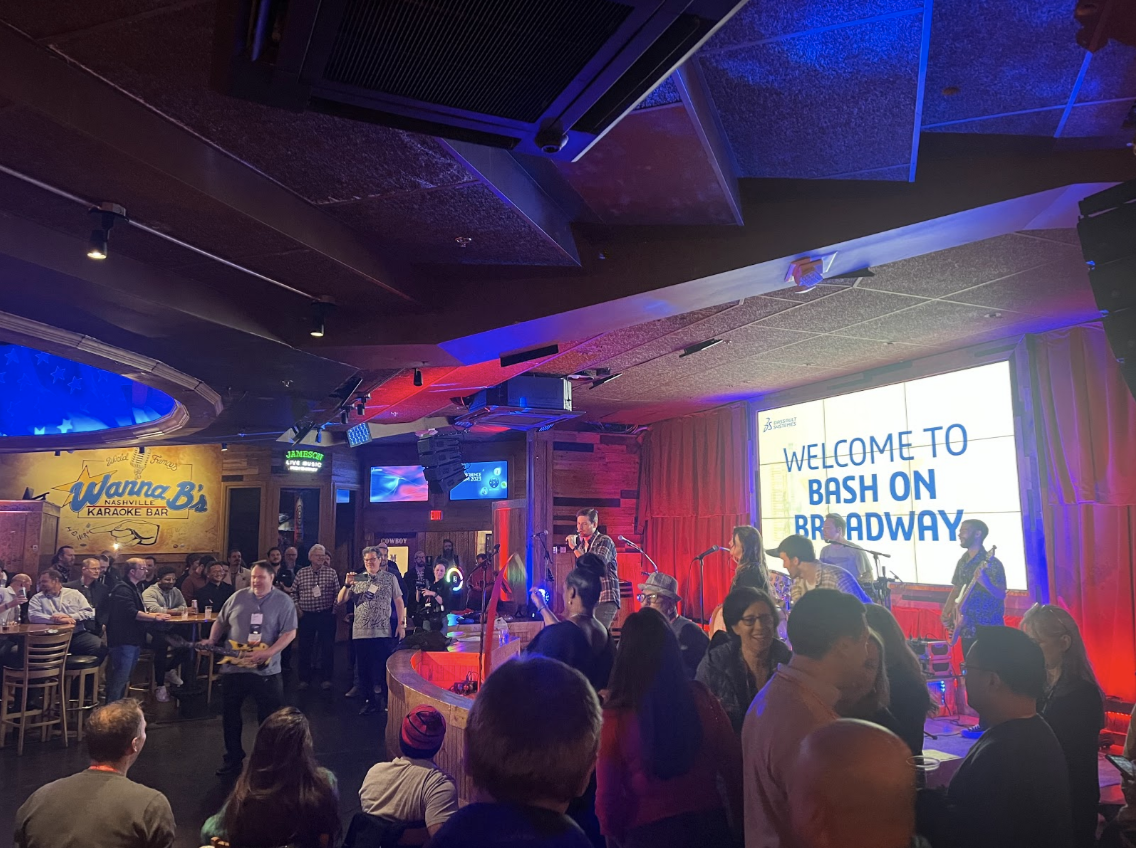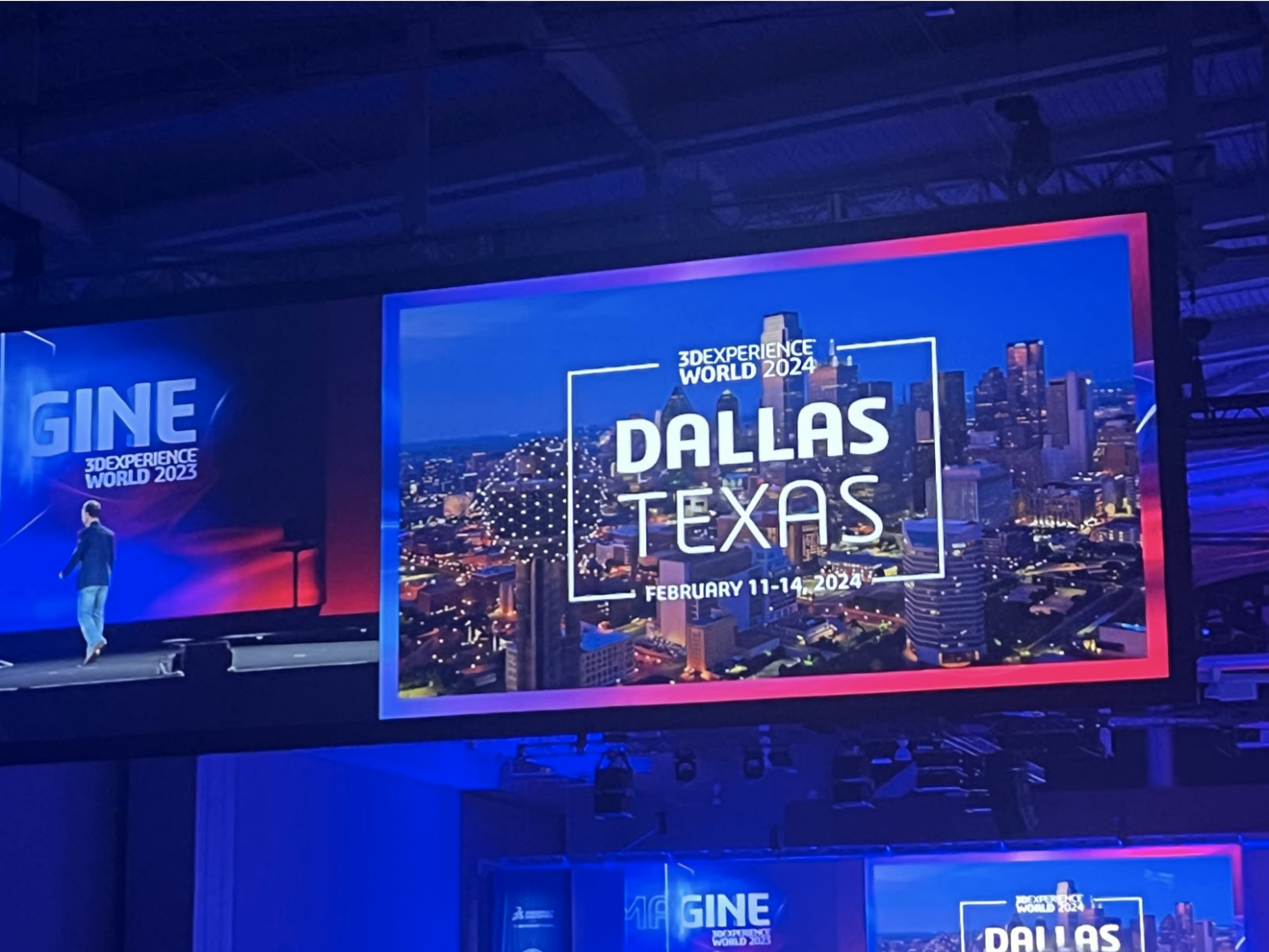 (3DX) 3DExperience World 2023 concluded with a cheesy and hilarious skit, seeing "Platform Jones" seeking out "the new features" with some trusty sidekicks.
Of course, these new features are already available for use in the cloud on the 3DExperience platform, but the big reveal is that 3DExperience World will be returning to Dallas TX in 2024.
Conclusion
Through the various keynotes, technical sessions, and training opportunities, attendees can expand their knowledge and stay on top of the latest trends and innovations in 3D design and engineering.
Additionally, 3DEXPERIENCE World provides a platform to explore and test new software and technologies, which can help 3D design engineers improve their workflows and boost productivity. By seeing firsthand how others use the latest tools and techniques, engineers can gain new insights and find inspiration for their work. 
One of the key outtakes for our team from 3DX was that collaboration is key to success.
So, ask yourself, what does the power of your imagination hold? And, how could collaborating help you realize that dream faster? 
If you are in need of a 3D designer looking to take your designs to the next level or deep dive into 3D training, contact us here to collaborate.