Cloudbees CI Consulting
A unified governance engine to support compliance, standardization, and shared best practices, CloudBees CI provides a flexible and scalable solution for CI/CD.  In order to enable DevOps teams, CloudBees CI empowers teams to innovate, enables shared services to support multiple diverse teams help DevOps practices.  SPK's team is a CloudBees CI Certified partners that allows teams to to scale best practices, structure compliance and limit risk while achieving high-velocity delivery of value.  

Talk to CloudBees CI experts
Why CloudBees CI?
CloudBees, the Enterprise Jenkins Company, adds enterprise-class security, stability and manageability to businesses. If your goal is to securely build, test, deploy and manage your workloads while automating the software delivery process,  CloudBees CI could be your solution.
As a certified CloudBees CI partner, SPK helps clients to increase the quality of their applications being developed and enables continuous delivery at scale, both on-premises and in the cloud. We offer our technical expertise, consulting and integration services as well as advisory services to help businesses drive continuous integration and delivery in order to accelerate your product delivery.
The Benefits of CloudBees CI
Centralized Management
Just like with Jenkins, CloudBees CI plugins can be managed centrally, ensuring that each team has the integrations they need without any platform stability concerns.  Whether you're trying to address the Islands of Jenkins, or the Jenkins Monolith, CloudBees CI has the capability to scale with governance.
Compliance & Security
Separation of duties via template jobs, pipelines, and folders, which can be used with shared libraries. Onboard new projects and teams quickly, via a pre-configured security model available out of the box. Role-based access controls enable granular control of access to pipelines & jobs.
Developer Flexibility
Provides developers the appropriate level of autonomy while still enabling shared services to maintain control and standardization over the core platform – A lightweight team-centric architecture created with turnkey provisioning.
Our company had a plan for cloud implementation but we weren't sure if we were making the right decisions on a few areas, including security.  When we engaged SPK, not only did they validate our plan, they provided so much more insight than we originally thought about and helped revamp our cloud plan for the better.
The personalized attention and detailed communication we receive working with SPK and Associates  is pretty special.  The accessibility of SPK team members is impressive, as is their flexibility accommodating the needs of our team and project.
SPK is proactive and from what I have observed, other IT firms are reactive. SPK is always doing things and solving problems before they make an impact. They drive innovation and suggest ideas to not only fix but improve systems and processes. They have the expertise to maintain and sustain our tools year to year.
Related CloudBees Resources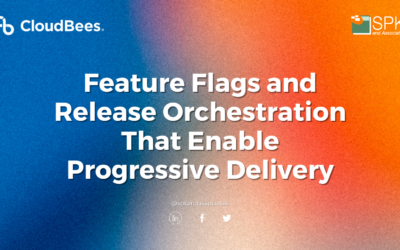 Building out a great release process? You may benefit from using CloudBees feature management solution. When you're building your release process, you may notice issues arising. For example, as a result of working at the wrong layer of abstraction when you deploy a...